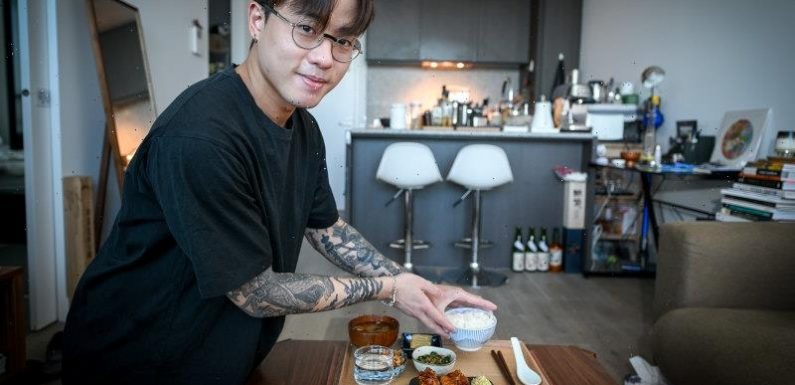 Japan has mastered intimate dining: small, dimly lit izakaya venues line the busy streets, offering space for only about 10 people to eat and drink in quarters so close the setting could easily be mistaken for a dinner party.
When Alex Cheah, a 27-year-old university student who moved to Melbourne from Malaysia about six years ago, travelled to Tokyo, he was immediately intrigued by the cosy, communal nature of these little spaces. He became determined to bring it Down Under.
Alex Cheah wants to unite chef and patron by brining the Japanese "izakaya" experience to Melbourne.Credit:Eddie Jim
And so Teishoku Tuesdays began. Melbourne's very own izakaya, but even smaller and homier than the real deal, largely because it was run entirely out of Cheah's living room.
Every Tuesday, he welcomed a maximum of two people into his Carlton apartment for homemade Japanese food, chosen from a select menu he changed every few weeks, bespoke cocktails, relaxing vinyl records and friendly conversation – all in the surprising comfort of a stranger's home.
"I really wanted this just to be a small location so that I could host some people over, get them to enjoy a slice of my life, and most importantly to share my cooking with them. I really didn't expect it to get this big," Cheah said.
Tiny restaurants, although still somewhat rare, are on the rise in Victoria as people seek less conventional dining experiences.
Korean restaurant Chae, initially located within a one-bedroom apartment in Melbourne but now operating in the hills of Cockatoo, seats only six people.
Fine diner Greasy Zoe's in Hurstbridge is run by two people and seats a maximum of eight. Underbar in Ballarat is slightly larger, seating up to 14 people.
These types of restaurants are usually booked out months in advance and seats are relatively difficult to secure – Chae has become so popular that it randomly selects guests through a lottery system for bookings. Some venues also require a deposit to secure a spot: Underbar requires a deposit of $210 per head.
Teishoku Tuesdays only launched in the second half of last year, but Cheah said he was booked out for the rest of this year by January and the waiting list seemed never-ending.
A Teishoku Tuesdays dinner set, prepared by Alex Cheah.Credit:Eddie Jim
A main at Teishoku Tuesdays, such as pork katsu or miso leek beef, costs anywhere between $25 and $30. Cheah, who isn't a professional chef but whose passion is food, said because he didn't use a wholesaler, he didn't profit much. But it was the shared experience he valued most.
"At the end of the night, everyone's just friends. It's a cosy experience that is something I think only Japan has on offer because of the limited space," he said.
Though people paid Cheah for his hospitality, he didn't just consider them customers. Between mouthfuls of his belly-warming food, the hierarchy between chef and patron dissipated and connections were made that likely wouldn't develop in a crowded restaurant where chefs remain firmly relegated to the kitchen.
There remained just one hitch: Teishoku Tuesdays wasn't registered.
According to Melbourne City Council, this is an offence under the Victorian Food Act. Cheah was also selling alcohol without liquor licensing.
Cheah said he received a notice from the council in February saying he must shut down operation and apply for proper registration.
"I didn't have any knowledge on this [registration]," Cheah said. "They [customers] were really just paying for the ingredients, so I wasn't really sure if that was illegal or not."
He complied with the council, cancelling all future bookings immediately and posting a shutdown update on his socials, leaving Teishoku Tuesdays' fate in the air until further notice.
But Cheah isn't planning on stopping there. He remains committed to bringing the izakaya to Melbourne, and is actively seeking alternative commercial venues to rent and renovate before registering his official Teishoku Tuesdays restaurant.
It may not be quite as small as his home – he's thinking of expanding to a six-seat restaurant and eventually adding a sous-chef – but he plans to recreate the cosy ambience of his apartment as closely as possible, paying homage to its roots and offering Melburnians a taste of Japanese-style intimate dining.
"I'd want them to feel like they've enjoyed a home-cooked meal in someone's house, that their whole experience was warm," Cheah said. "A cosy place where people can go and sit down after a long day of work."
A cultural guide to going out and loving your city. Sign up to our Culture Fix newsletter here.

Most Viewed in National
From our partners
Source: Read Full Article