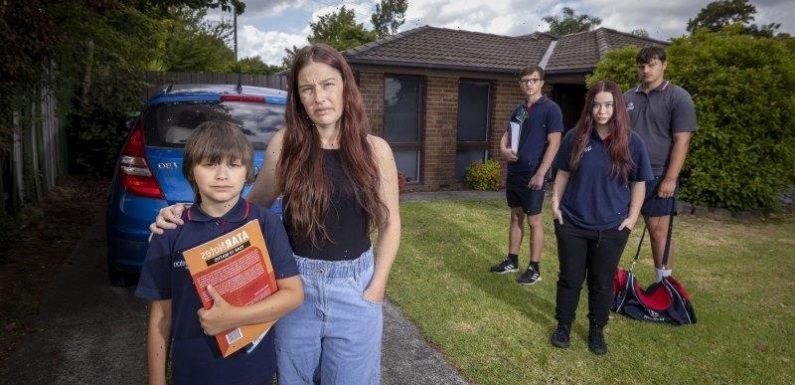 As students prepare to go back to school this month, many parents say they can't afford to buy their children uniforms or school supplies, with high inflation and rising costs of living pushing families to the brink.
A survey by the Smith Family of almost 2000 families across Australia who have received help from the charity found nine out of 10 parents and carers are worried about being able to afford back-to-school supplies.
Chelsea Ulyatt, with her four children at home, said the rising cost of living is making school supplies much harder to afford.Credit:Wayne Taylor
More than half of the respondents thought their children were likely to miss out on the digital devices needed for their schoolwork because they couldn't afford them, nearly 22 per cent said they wouldn't have internet access at all, 40 per cent would miss out on school supplies such as exercise books and stationary, and three in 10 parents and carers would forego school uniforms or shoes.
Anton Leschen, general manager of The Smith Family, said it was "dire times", as the rising costs of essentials – including food and petrol – forced some families to choose between vegetables and uniforms.
"The challenge with free education is it doesn't cover uniforms, it doesn't cover subject levies – it leads to families choosing cheap subjects," he said.
"If you are a great cook, you want to be a chef, if you are adventurous, you might want to be in outdoor education, [but] if you can't afford the knives, the tools … you don't do those subjects," he said.
State Schools' Relief, a Victorian charity partly funded by the state government that provides low-income families with school supplies, was inundated with a record-breaking number of applications for support in December, receiving more than 800 in two days.
On the advice of a school, the charity provides items such as school shoes, uniform items, travel passes, calculators and stationery to students.
The organisation said there has been a 14 per cent increase in welfare applications this financial year. When comparing December 2022 with the previous December, it was a 103.7 per cent increase in welfare applications.
"Our financial hardship category has also increased by 82.54 per cent for the month of December, from 2423 applications in 2021, to a huge 4423 in Dec 2022," State Schools' Relief CEO Sue Karzis said.
After Chelsea Ulyatt, from Endeavour Hills in south-east Melbourne, adds up the family expenses, there is little left over for school supplies for her four children.
Chelsea Ulyatt said she is worried about her children being bullied for not having the right school uniform items.Credit:Wayne Taylor
"You don't want your child going to school having to wear clothes that aren't uniform – that's where the bullying starts: 'Your parents can't afford this'. I find it very, very, very difficult," she said.
For mother-of-three Lisa Hicks, from Dromana on the Mornington Peninsula, back-to-school costs have been challenging.
All three of her children have autism and her youngest also has DiGeorge syndrome, which can cause learning difficulties.
"When I see these specialist experts, they all tell me diet [is important], but healthy food is expensive," she said.
She said back-to-school costs were a big hit, and buying a $60 year 6 graduation jumper and T-shirts for $27 was tough.
"When they start secondary school, you can't buy from Kmart," she said.
"For an 11-year-old to be wearing something different from his peers, he doesn't have the emotional resilience, and kids can be cruel. They know he's not wearing the same jumper as us because they don't have money.
"Education is so important, I don't want the kids to be in my financial situation. I want them to get a good education."
Hicks has joined Brotherhood of St Laurence's Saver Plus Program, partnering with ANZ, which helps lower-earning Australians build financial skills and receive up to $500 in matching savings to help with education costs.
Lisa Hicks, from the Mornington Peninsula, with two of her sons.
She said it has helped her budget and made a difference to her life, with 75 per cent of participants using it to save for their children's education.
Parents Victoria president Gail McHardy said they usually start to hear how parents are feeling about back-to-school costs soon after they return.
She said students sometimes have to pay for locker hire and student ID cards as well as the technology-related costs, which vary from school to school; one was $258 per student.
McHardy said some teachers paid for resources out of their own pockets.
"Parents Victoria remains frustrated around the lack of funding to public schools and the December announcement by the federal minister to delay (a new funding agreement) by one year is not acceptable," she said.
State Education Minister Natalie Hutchins said the department was supporting families by easing cost-of-living pressures through measures such as the Affordable School Uniform program, the School Breakfast Club program, covering course material costs for VET classes and free school camps.
"Every child deserves the same opportunity for a high-quality education, and as they prepare to head back to school, we're helping those students who need extra support," she said.
The Morning Edition newsletter is our guide to the day's most important and interesting stories, analysis and insights. Sign up here.
Most Viewed in National
From our partners
Source: Read Full Article