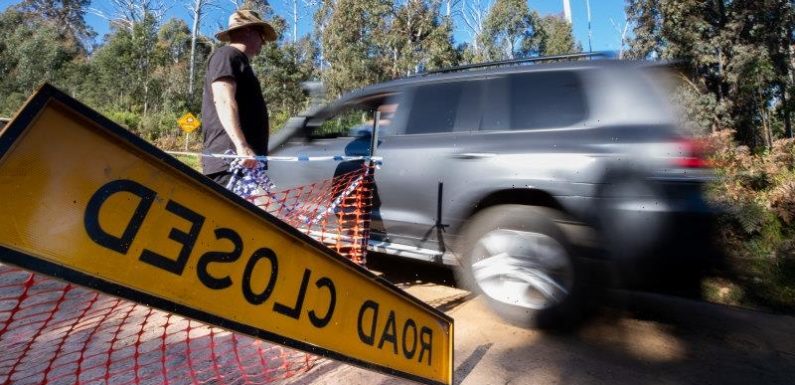 Earthmoving equipment and specialist forensic experts have arrived to help in the high country search for the remains of missing campers Russell Hill and Carol Clay.
Search crews got an early start at first light on Tuesday; the second day they had scoured the Grant Historic Area near Dargo and further north-west towards the Wonnangatta Valley.
Victoria Police continue their search for missing campers Russell Hill and Carol Clay on Tuesday. Credit:Jason South
Among the search party were Victoria Police detectives, search and rescue crews and forensic investigators, including one of the state's leading forensic anthropologists.
Harry Hall, from local earthmoving company H and H Contracting, returned to the site with a larger digger mid-morning, and explained the team was working in rough, mountainous terrain.
Dargo earthmoving contractor Harry Hall is part of the search party trying to find the remains of Russell Hill and Carol Clay.Credit:Jason South
However, he said police appeared confident they were searching the right area, which is not far from the Grant camping area.
"We're just trying to do the best we can, helping out the police, helping out the families [and] eventually hope to get a bit of closure for everyone," Mr Hall said.
"I feel pretty privileged, just really happy to help."
Roadblocks remained in place at the entrance to the Grant Historic Area on Tuesday, about 17 kilometres north of Dargo, as investigators honed in on their search area and tried to keep out prying eyes.
On Monday, campers in four-wheel drives were turned back from the unsealed track into the Grant Historic Area, once one of Gippsland's largest goldfields, after they arrived to find police tape across the entrance.
Others who spent the weekend camping in the old goldfields area said they were approached by Parks Victoria staff and told there was a police operation commencing in the area, which is littered with old abandoned mine shafts.
Earthmoving equipment arrives to help in the search for missing campers Russell Hill and Carol Clay on Tuesday.Credit:Jason South
Now a secluded area mainly frequented by four-wheel drive and off-road motorbike enthusiasts, the area near Crooked River and Good Luck Creek was once home to more than 1000 people when the gold rush exploded in the early 1860s.
Now it's nearest populated area is Dargo to the south, said to be the most remote town in Victoria.
It's unclear how long search efforts for Mr Hill and Ms Clay will take, but police said the landscape was challenging as they brought in an all-terrain vehicle on Monday to help them access the area.
Mr Hill and Ms Clay went missing while camping in the Wonnangatta valley in March last year before their burnt out campsite was reported to the authorities.
On Friday, pilot and frequent camper Greg Lynn, 55, was charged with two counts of murder following days of questioning at Sale police station.
During a brief court appearance, he made no application for bail and was remanded in custody to reappear in court in May.
Fascinating answers to perplexing questions delivered to your inbox every week. Sign up to get our new Explainer newsletter here.
Most Viewed in National
From our partners
Source: Read Full Article