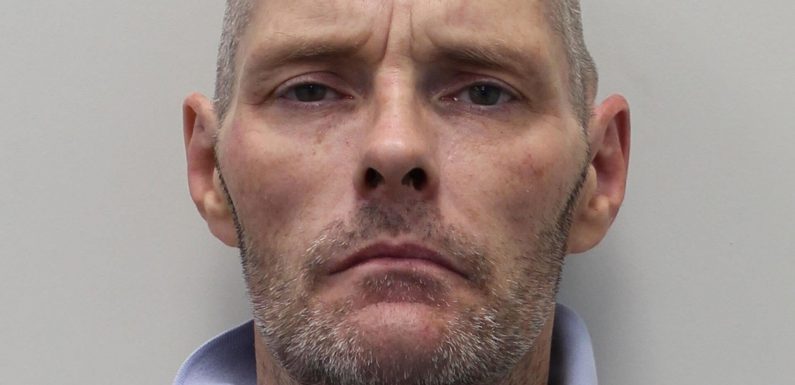 A "WARPED" killer was today jailed for life for murdering his girlfriend and her pal just weeks after being released from jail.
Lee Peacock, 50, will spend a minimum of 39 years behind bars for the horrific attacks on Sharon Pickles, 46, and Clint Ashmore, 59, during a two-day spree of violence in August 2021.
A jury yesterday found him guilty of the double murder and Mr Justice Murray today handed down his sentence.
The Old Bailey in London was packed with grieving relatives who gasped with relief and embraced each other when they heard he will likely die in prison.
Peacock refused to attend.
Addressing the killer, who will receive the remarks in written form, Mr Justice Murray said: "The minimum term I must impose in this case means that even if you live a long life, there is a strong possibility that you will die in prison even before you are eligible for consideration for release by the Parole Board."
READ MORE UK NEWS
Warnings for travel chaos and power cuts as wind set to batter Brits
Cops searching for missing mum-of-two are speaking to key witness
He said that "jealous" Peacock, who had been freed from prison on licence on June 4, "lashed out at Sharon in a fit of rage" over her sexual relationship with another man.
He concluded that while the killing of Ms Pickles was not premeditated, the later murder of Mr Ashmore was.
The court previously heard how Peacock, who was under supervision by probation services at the automatic halfway point of a 40-month sentence for aggravated burglary, was "out to punish" his partner and her associate.
He admitted killing the pair but denied it was murder, claiming the death of his "other half" was a "pure accident" and that Mr Ashmore "went mental" and punched him in the head after Peacock confessed to killing Ms Pickles.
Most read in The Sun
Retailer 'to disappear from the high street' within weeks
Missing mum's daughters broke down in tears as dad told them 'mummy's lost'
Molly-Mae Hague reveals baby daughter's name after birth of first child
Cops searching for missing mum-of-two are speaking to key witness
CCTV images of the last sighting of Ms Pickles show her walking outside her flat on the day of her death.
Footage also shows Peacock coming and going on a bicycle on August 19.
Later that day, the defendant was captured walking with Mr Ashmore towards his Westminster flat, about half a mile away, then leaving alone 15 minutes later.
Cops discovered his body the following day.
Both victims died from similar knife wounds to the neck.
During the trial, prosecutor Edward Brown KC described Peacock as having a "warped and angry mind" and his actions as "cold-blooded".
The court heard how police found Ms Pickles' body wrapped in a duvet and hidden under the bed at her home in Marylebone in the West End of London on August 19.
Peacock's father had alerted officers that his son had visited him and confessed to killing three people by slitting their throats.
In a note at the scene, Peacock allegedly wrote that Ms Pickles was "meant to live" and he had sworn "revenge" against those who took advantage while he was in jail.
'WARPED AND ANGRY MIND'
Peacock, of West London, tried to slash his own throat when he was tracked down to a houseboat on the Grand Union Canal on August 25 after a five-day manhunt.
After being treated in hospital, he gave a "chilling" account of events, saying he had used the same knife in both killings and the attempt on his own life.
He said he had argued with Ms Pickles about her seeing someone while he was behind bars.
Peacock claimed he lashed out with the blade after Ms Pickles laughed at his plan to kill whoever she had been with.
He also wanted to kill others who were exploiting her, he said.
Giving evidence, Peacock insisted he was "not a monster" and he never intended to harm either of his victims.
But Mr Brown told him: "You committed two terrible murders with your warped and angry mind, that's the reality and you confessed to two terrible murders, didn't you?
"You were determined to punish Sharon Pickles and you were determined to punish Clinton Ashmore.
"You intended nothing less that to kill each of them, didn't you?"
Ms Pickles' dad said losing his daughter two years after the death of his wife had left him "numb".
"I have found it impossible to celebrate birthdays or even Christmas because my daughter wasn't at rest and had no peace," he said in a victim impact statement.
"It doesn't feel real that Sharon is gone, I miss her more than words can describe."
Her brother Robert added: "The last 17 months have taken a toll mentally and psychically.
Read More on The Sun
My healthy husband died at just 26 years old – the silent killer was in our home
Aldi fans are rushing to get new perfume dupes for as little as £1.99
"The hardest part was listening to someone trying to excuse and justify their actions."
Mr Ashmore's sister Claire said: "No words can share the pain caused, our world is shattered and changed forever."

Source: Read Full Article