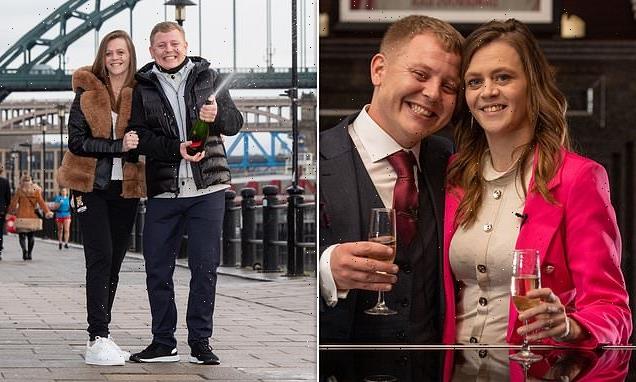 Father-of-three care worker, 32, wins biggest payout in Betfred's history as he scoops £5.4million on the bookmaker's King Kong Cashpots game from a £1.40 spin
Michael Clark revealed moment he realised he had won £5.4m jackpot on slots
The father said he was 'overwhelmed' by win – the biggest in Betfred's history 
Mr Clarke, 32, said he plans to spend his newly-found fortune with his fiancée, 27
A punter has won the biggest payout in bookmaker Betfred's history to a become multi-millionaire overnight.
Father-of-three Michael Clark first thought it was a mistake when he found out he had scooped £5.4 million on a £1.40 spin on the bookmaker's King Kong Cashpots game.
The care worker, 32, from Newcastle-upon-Tyne, described the amount as life-changing and revealed how he plans to spend his newly-found fortune.
He said: 'I would have never dreamed of hitting the jackpot but that's what's happened.
Michael Clarke – who won £5.4 million payout from Betfred on a £1.40 spin – and his fiancée Sherelle Pooley
The couple, from Newcastle, plan to spend their winnings on a no-expense-spared wedding and their dream 'forever home' in the countryside
'At first I thought I won £5,000 and I was happy with that but to hit the jackpot was just mind blowing.
'I rang my mum and dad and I was crying my eyes out. I couldn't help it because it was a big win and it was overwhelming.'
He added: 'We thought it must have been a mistake at first, and then we started hugging each other when we realised it was real.
'I just couldn't stop crying, and there was no way I was going to go to sleep that night having won such an enormous amount of money.'
Sherelle Pooley and Michael Clark pictured celebrating after winning Betfred's biggest payout in the bookmaker's 56-year history
Mr Clark said he planned to spend some of his winnings on his wedding to fiancée Sherelle Pooley, 27, having upgraded her engagement ring to a more sparkly model.
As an ardent Newcastle United fan, the couple are also exploring a no-expense-spared wedding at St. James' Park and hope to honeymoon in Jamaica.
They also plan to buy their dream six-bedroom 'forever home' in the countryside.
Coral bookmakers refuses to pay out to furious punter who won nearly £15,000 off a £10 World Cup bet – and offer him £660 instead 
He said: 'It would be a beautiful venue and I've looked at some of the wedding packages, so to do one of them would be amazing.'
'Now we can easily afford to get married and buy our forever home in the countryside. Six bedrooms will do very nicely indeed.' 
Nicknamed 'Mickey Millions' by family after his win, Mr Clark said he has decided to take a break from working in the care industry.
He said he now wants to explore a career in property investment, adding: 'If I can continue my fortune and leave a legacy for my kids then that will be life complete. 
'Your job in life is to enjoy yourself and set your kids up. I'm 32 years old and I feel like I can do that already, so it's still mind blowing.'
He continued: 'I absolutely loved my job helping people in the mental health unit where there are people of all ages, but the boss understood when I explained I would have to leave for a bit with all this going on.
'Sherelle's told her grandmother not to worry, she'll still look after her doing all the shopping and everything else.
'Season tickets for us both at Newcastle United are definitely on our wish list, or maybe even a match day box for we're true Geordies and the team under Eddie Howe are doing very well at the moment.'
'We've been engaged for seven years, and we'll be replacing Sherelle's engagement ring and getting something a lot more expensive than the £1,000 we spent in 2016. I might even buy myself a posh new watch. Everyone's calling me "Micky Millions" now!
'It would be brilliant to have our wedding reception at St. James' Park.
'The honeymoon will probably be in the Caribbean – maybe Jamaica – and we'll be travelling first class.
'Sherelle has never been on a plane so we're already sorting out a passport for her.
'I've only got a provisional driving licence so I'll be getting myself a few more lessons and then a new car, possibly a Tesla.
'For New Year, we fixed up a party for 35 friends and relatives and had a brilliant time. What a start we've had to 2023.
Michael Clarke and Sherelle Poolley have celebrated by holding a New Year's party and now have big plans for their upcoming wedding
'I'm absolutely determined that we don't waste the money, so that not just us but the next generations of our family can also flourish. 
'It's just unbelievable what has happened to us – a total transformation of our lives. To be starting 2023 as not just a millionaire but a multi-millionaire has blown my mind.
'I can't thank Betfred enough, it's massively appreciated what they have done for us.'
Ms Pooley added: 'I am just so happy for Michael, me and the whole family. It's totally overwhelming. We are so lucky to have a new and better life ahead of us."
Betfred boss Fred Done said: 'This proves nice guys can win. Michael is the most worthy of winners. It is brilliant news for this smashing couple.'
Source: Read Full Article