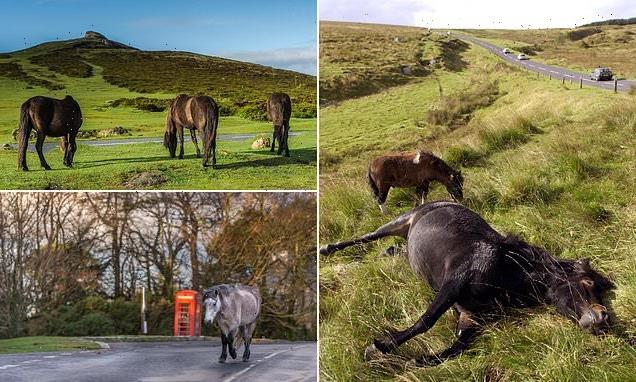 Fears for animals in Dartmoor after spike in ponies being hit by cars – with seven collisions last month alone
The famous pony breed, which roams free on the moors of Devon, is in danger
Officials say crashes involving the animals and vehicles are a 'really big problem' 
WARNING – GRAPHIC CONTENT 
Fears have been raised over the safety of Dartmoor's iconic ponies after five were killed following collisions with vehicles last month.
Officials say there were seven crashes involving the animals in one week alone and have pleaded with motorists to be careful when travelling through the national park. 
Police say they are increasing patrols in the area, after the number of deaths reported to them by livestock owners suggested that the people hitting the animals are not reporting the collision to the police.
Dartmoor's livestock protection officer, Karla McKechnie, has warned that the crashes are a 'really big problem' and that people should contact police so someone can check the pony is ok. 
Her warning comes as she revealed seven ponies were hit by vehicles in just one week before February 13, with five of these sadly killed or having to be put down.
Three wild ponies graze on grass next to a road in Dartmoor National Park, Devon. Park officials say there is a rising problem with crashes involving the animals
A dead pony lies next to a road on Dartmoor last month after allegedly being hit by a vehicle in the national park
The Dartmoor Pony is one of the most well-known breeds in the UK and has become synonymous with the moorland that spans vast swathes of Devon.
The ponies roam free over the moors, often crossing the roads which wind their way thought the terrain, bringing them into potential contact with fast moving traffic.
Ms McKechnie told the BBC: 'We've got a massive problem on Dartmoor, especially at the moment.
'We had seven ponies hit only last month and we just had another one reported to us which was stood not far from the road with a broken back leg.
'It's a really big problem but what we're really trying to urge is that people get help to that animal, not to leave it there suffering.
'So, even if you've hit an animal, and you think it may be OK, please call it in. Let somebody come out and check for themselves.'
The head of road safety at Devon and Cornwall Police, Adrian Leisk, added that the force is going to deploy officers on motorbikes, cars and speed camera vans in a bid to stop the collisions, which seem to be under reported from members of the public. 
He said: 'We're seeing a difference between the statistics that are being reported from livestock owners and the statistics being reported to the police so there's under-reporting.
The ponies roam free on the moorlands and can be seen crossing the roads that wind their way through the national park
A dead pony lies by the side of a road alongside wreckage from a vehicle that is thought to have hit it
'People are being involved in collisions with animals and not reporting it to the police and they must do so – it's a lawful requirement.'
In the past officials and livestock owners have resorted to unusual methods in a bid to stop collisions, with a number of ponies given a lick of glow-in-the-dark paint to stop them being hit by cars.
In 2015 a total of 78 animals, including ponies, sheep and cattle, were killed in crashes around the national park, and at the end of the year the Dartmoor Livestock Protection Society (DLPS) took the radical step of finding a solution involving paint. 
It contacted a company which produces branding fluid for cattle and asked it to develop an equivalent that would be visible at night. 
Nettex, based in Hoo, Kent, combined its product with reflective beads to create a luminous yellow paint which was tested on some ponies. The trial was featured on BBC's Countryfile.
Speaking at the time Ms McKechnie said: 'The pigment is non-toxic and was found to cause the horses no problems when it was tested on a handful of animals in early November.
'It worked well for three or four nights, but unfortunately the reflective beading became less effective after that so the paint has gone back to the manufacturers to be reformulated.
'It is imperative that we cut down the number of road accidents involving ponies, cows and sheep on the moors.'
Source: Read Full Article