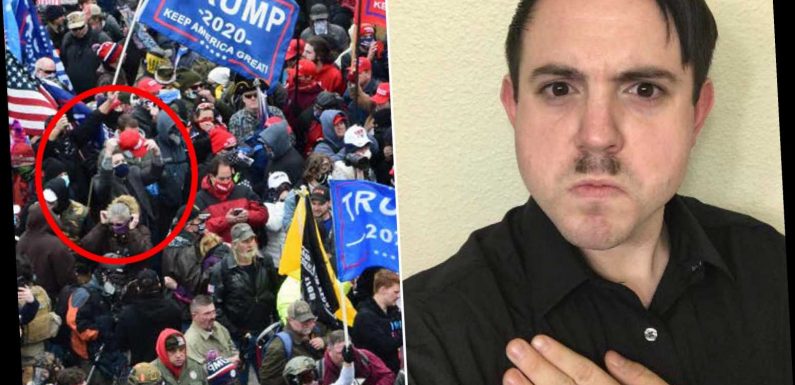 More On:
capitol riot

Sen. Ron Johnson: Capitol rioters 'love this country' — but BLM sparks fear

Oath Keepers 'commander' charged in Capitol riot to be released from jail

National Guard head objected to extension of US Capitol deployment

National Guard member stationed in DC dies after medical emergency

The federal government wants an Army reservist and security contractor at New Jersey's Naval Weapons Station Earle kept behind bars for his role in the Capitol riot because of his history as a Nazi sympathizer, including parading around wearing a "Hitler" mustache, and his support for civil war, according to court papers.
Timothy Hale-Cusanelli had a "secret" security clearance for his work at the Colts Neck Navy base, but he made his political leanings known to co-workers.
Court papers say Hale-Cusanelli frequently made anti-Semitic and anti-minority jokes and comments to colleagues. One Naval petty officer told investigators from the Naval Criminal Investigative Service that he constantly talked about Jewish people, and remembered him saying, "Hitler should have finished the job."
Another colleague from the Navy remembered Hale-Cusanelli stating that "Jews, women and blacks were on the bottom of the totem pole." And a work supervisor said Hale-Cusanelli drew a reprimand for wearing a "Hitler mustache" to work, according to court papers filed Friday.
Investigators found multiple photos of Hale-Cusanelli sporting the distinctive 'stache on his phone, which they submitted to the US District Court for the District of Columbia Friday.
"Defendant's affinity for Hitler and the Nazi party went far beyond facial hair, however," the court papers say, providing multiple other photos from his phone depicting hostility toward Jews. One image is a cartoon depicting the Nazi Party as the savior of white Americans from the Republic (sic) and Democratic parties," the court papers said. Other images showed animosity toward Black people, including George Floyd, whose killing by Minneapolis police officers set off worldwide protests last summer.
View Slideshow
Source: Read Full Article