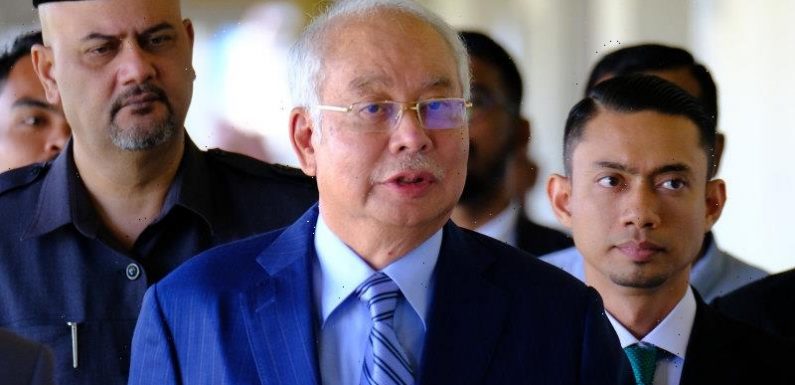 Putrajaya: Former Malaysian prime minister Najib Razak has failed in his appeal to overturn a 12-year jail sentence for his role in the multibillion-dollar 1MDB corruption scandal.
Appearing by Zoom before Malaysia's Court of Appeal on Wednesday, the 68-year-old was attempting to overturn convictions on seven charges of criminal breach of trust, money laundering and abuse of power in the first of his five trials related to the plundering of state funds from the sovereign wealth fund he set up in 2009 and oversaw.
Najib Razak, Malaysia's former prime minister, set up the 1MDB sovereign fund.Credit:Bloomberg
In a unanimous decision, however, the three-member panel of judges upheld last year's High Court decision, which related to the misappropriation of 42 million ringgits ($14 million) from SRC International, a subsidiary of the 1Malaysia Development Berhad investment fund.
"This has not been done in the national interest," said Abdul Karim Abdul Jalil of the transfer of the money into Najib's bank account.
"There is no national interest here. It is a national embarrassment."
In what has become one of the world's most notorious financial frauds, as much as $US4.5 billion ($6.3 billion) was looted from the investment and development fund, according to the US Department of Justice, with $US731 million allegedly making its way into a Najib account.
Najib's lawyers had on Tuesday tried to have Wednesday's long-awaited verdict postponed, by seeking to introduce new evidence and calling for a delay because a member of the defence team had tested positive for COVID-19.
However, both requests were rejected and Najib and his team were ordered to appear via video link at a hybrid, in-person and remote, court session.
He took notes occasionally as he digested a scathing hour-long judgment, which threw out his defences including his claim that he believed the money he had received had been a gift from the Saudi royal family to help fund a re-election bid. For the most part, however, he stared blankly at the screen before him as he learnt his fate.
The lead judge said Najib had "deliberately closed his eyes" and not attempted to identify the source of the money in his account.
Najib, who was prime minister from 2009 to 2018, had been jailed for 12 years and fined 210 million ringgits when found guilty in July last year but he has stayed out of prison on 2 million ringgit bail during his appeal.
Meanwhile, he has remained a highly influential figure among the ruling United Malays National Organisation party, which has resumed the political reins in Malaysia, having being removed by voters over the 1MDB affair in 2018 after six decades in charge.
Najib, who has claimed the allegations against him are politically motivated, last month fronted a campaign for a key state election in Malacca in which the UMNO-led coalition won 75 per cent of the seats, thrashing Anwar Ibrahim's opposition bloc.
The landslide result has further fuelled speculation that Najib could seek to mount a return as prime minister should he win his appeal and beat the 35 other charges he is facing in upcoming trials.
The verdict on Wednesday is a hammer blow to those ambitions, although his legal team told the court immediately that he would appeal to the Federal Court and would seek a stay on his sentence.
His wife Rosmah Mansor is also on trial after hundreds of designer handbags, jewellery and other luxury items were seized by Malaysian police in a raid on their house soon after Najib's election defeat.
The alleged mastermind of the scandal, Malaysian financier Jho Low, has reportedly been living in Macau to avoid facing charges in Malaysia and the US, although his exact whereabouts are unknown.
More to come
Get a note direct from our foreign correspondents on what's making headlines around the world. Sign up for the weekly What in the World newsletter here.
Most Viewed in World
From our partners
Source: Read Full Article