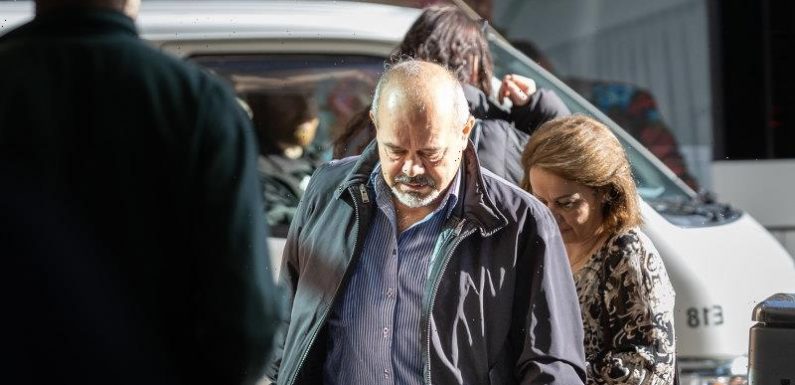 An electoral officer fielding calls from the public during the 2020 Merri-bek Council election was the first to raise concerns of alleged voter fraud, a court has heard.
Former councillor Milad El-Halabi, wife Dianna and their daughter, Tania, faced Melbourne Magistrates' Court on Monday accused of stealing ballot papers from mailboxes and fraudulently filling them out to support Milad El-Halabi in his candidacy for the north-west ward of Merri-bek City Council, which was then the City of Moreland.
Former Merri-bek councillor Milad El-Halabi (left) and wife Dianna arrive at Melbourne Magistrates' Court on Monday.Credit:Jason South
All three maintain they are innocent and are contesting the charges.
Keegan Bartlett, the Victorian Electoral Commission's director of integrity and regulation, revealed in court on Monday it was one of his election officers who first blew the whistle on suspicions of fraud during the 2020 local government elections.
The El-Halabis outside court.Credit:Jason South
The officer told police at the time it was uncommon to receive that many calls from people saying they had not received their ballot papers, especially in a small suburb in Melbourne's north-west. And when she checked the database, the ballots had been reported as lodged.
The court heard that following a restless night, the officer raised concerns of ballot paper tampering with her manager before police were noticed.
Bartlett said this was soon moved through the chain of command before a crisis management team was formed to investigate.
During day one of a two-day hearing to determine if the trio should face trial, Merri-bek councillor Oscar Yildiz said he was first tipped off about alleged suspicious behaviour around El-Halabi's election campaign when he received a voicemail from an unknown woman days before the election, in October 2020.
Yildiz said the woman told him she had seen a man doorknocking and checking residents' mailboxes for ballot papers in the Glenroy area.
Yildiz said the woman approached the man, who told her he was doing it for Milad El-Halabi. Yildiz said he later reported this to police and the VEC.
Yildiz denied any longstanding animosity between him and El-Halabi.
He agreed he and El-Halabi – two of 51 candidates in the election – had an agreement to preference each other fourth as part of an initial deal.
But Yildiz denied he called El-Halabi a "prick" and said "I'll get you" when learning he would instead be preferenced 10th.
"I never relied on Milad's votes to win the election," Yildiz said.
He also denied telling El-Halabi he would "f— him up" after an agreement to ensure Yildiz later became mayor fell apart 10 minutes before he was preparing to read out his mayoral acceptance speech.
Yildiz said he held no animosity towards El-Halabi, and instead blamed councillor Annalivia Carli Hannan, who he said had agreed to back him for mayor before making a last-minute agreement with the Greens.
"I take that as really offensive – I have never ever had that conversation with [El-Halabi]," Yildiz said.
"My issue afterwards was with Annalivia. No one knew we were being blindsided. I'm still really upset."
Forensic experts analysed 83 suspicious envelopes containing ballot slips as part of the police investigation.
Financial crime squad detectives charged Milad, Dianna and Tania El-Halabi in February 2022 with more than 20 offences each, including ballot paper forgery and interfering with postal ballot materials.
Police allege that between October 6 and 24, 2020, the trio stole ballot papers from voters in Pascoe Vale, dishonestly completed them and submitted them to the electoral commission.
The hearing will continue on Tuesday before a magistrate decides on whether to send their case to trial.
The Morning Edition newsletter is our guide to the day's most important and interesting stories, analysis and insights. Sign up here.
Most Viewed in National
From our partners
Source: Read Full Article