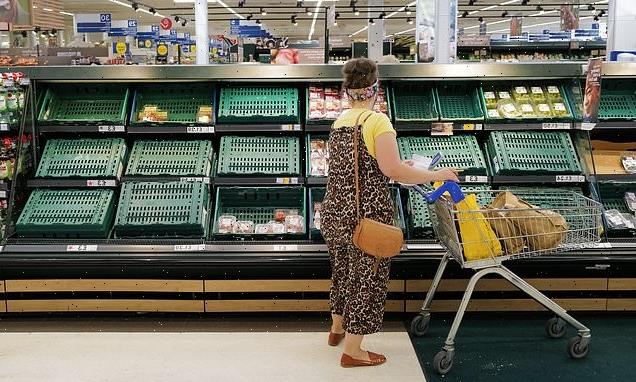 Supermarket fruit and vegetable shortages are blamed on 'just in time' supply chains which causes stores to keep a limited stock of most food
A major supermarket executive says: 'Any hiccup and shelves look empty'
Read more: UK's second biggest supermarket Sainsbury's trials four-day week
Shortages of fruit and vegetables on shelves are being part-blamed on 'just in time' supply chains at supermarkets.
Stores hold limited stock of most food, particularly fresh produce, to keep down costs and cut waste.
Now, with flooding, snow and cold weather in Morocco and Spain hitting supplies to Britain, there is no slack in the chain.
A major supermarket executive said: 'Supply chains are run as "just in time". To stop it spoiling, we get produce just in time for it to go on shelves and be sold. Any hiccup and shelves look empty.'
Asda, Morrisons, Tesco and Aldi rationed salads this week.
Supermarkets such as Morrisons and Aldi had to ration salads this week
Cold weather and even snow in southern Europe and north Africa have hit harvests of tomatoes, lettuce, peppers and cucumbers. A quarter of all tomatoes in Britain come from Morocco.
British farmers would normally grow some tomatoes, peppers, cucumbers and lettuce in heated greenhouses at this time of year.
But National Farmers Union president Minette Batters said energy is too expensive for many to do that now. 
She said UK growers don't get the same help as other businesses, so greenhouses are uneconomical and at the lowest levels of production since records began. 
Extra paperwork and subsidy cuts after the UK left the EU are also factors.
Turnips sold out in stores this week after Environment Secretary Therese Coffey suggested families eat them instead of tomatoes.
But supermarkets said they stock very few turnips, compared to more 'fashionable food', so if there is a run on them, they soon go.
Source: Read Full Article