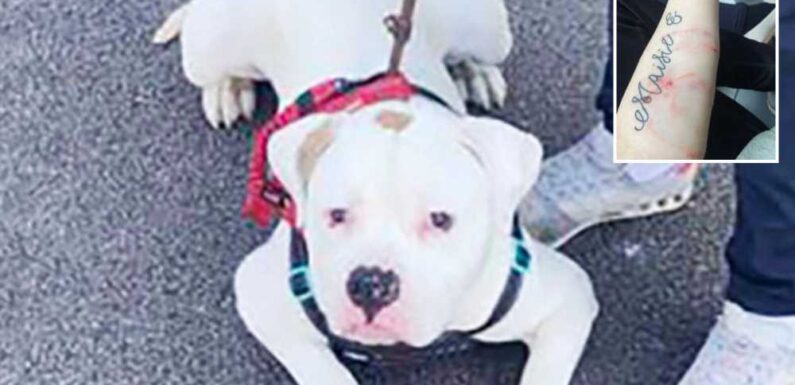 A TEENAGE girl is lucky to have escaped with her arms after being savagely attacked by an eight-stone American bull dog.
The 17-year-old was walking her dog George in Thorpe Willoughby, near Selby, North Yorkshire, when he went berserk in a kids' playground.
She desperately tried to stop the mutt attacking other children and was brutally bitten multiple times in the process.
Speaking of her ordeal for the first time she said: "I was bit multiple times and am lucky to still have my arms."
"I may need to be back in hospital soon if it gets worse and an infection sets in."
She also explained: "While he had his jaws around my arm I got someone to ring 999.
Read More
Woman, 40, arrested after mystery body found in home as cops launch probe
Boy, 17, & girl, 12, die after 'major incident' off UK beach as man arrested
"I never wanted the poor lad to be put down. I am not like that. He is a lovely dog. I just wanted him taken to someone who could teach him not to bite."
An eye-witness described the horrific event, she said: "The owner was bitten badly.
"Her arms are a state.
"She was protecting the smaller kids by holding onto the dog that kept biting her so it didn't go and possibly attack a small child."
Most read in The Sun
Loose Women star Kerry Katona breaks silence on Phillip Schofield after affair
Harry and Meghan to stop making royal-bashing shows & books after backlash
C4 axes huge show after eight series – leaving spin-off series in its place
Boy, 17, & girl, 12, die after 'major incident' off UK beach as man arrested
Police were called to the scene at playing fields in Thorpe Willoughby, near Selby, at around 10.30am on Tuesday.
The playground and surrounding field were evacuated and the dog was brought under control within a high fenced area before being sedated by a vet.
The eight-month-old pup had launched its attack just one day after being re-homed by the teenager's family.
Laura Wicks, on behalf of the dog's previous owners, said: "I had this dog with me.
"He also lived with my sister and her children.
"He wasn't aggressive. An eye witness said he was not aggressive towards anyone at the park. It was just because of the breed of him."
The attacked 17-year-old's sister, also from Selby, posted on social media: "My sister's fine – thanks all for asking.
"Badly shaken and in pain but otherwise OK. My sister hasn't had the dog long. It was in a new area with new people.
"Poor thing got scared and reacted.
"My sister is heartbroken over what's happened but she kept the younger ones safe.
"My sister loves animals and obviously wanted to give this dog a home."
A spokesman for North Yorkshire Police said: " No-one, other than the owner of the dog, was injured during the incident. Their injuries are described as bite marks."
This comes as Britain's deadly dog attack epidemic continues.
The Sun recently looked into beasts being sold on Snapchat amid calls for the breed American Bulls to be banned.
American Bully XLs are at the centre of an attack epidemic that has killed ten Brits in the last 12 months.
The youngest victim was Bella Rae-Birch, just 17-months when a family dog – bought a week before the attack – savaged her to death.
Other victims of the breed, including Ian Symes, 34, had their throats bitten and vital organs torn into during attacks.
Read More on The Sun
Shoppers go wild for Matalan's 'dress of the summer' & it's just £17
Mum issues warning over why you should never put 'cute' headbands on your baby
Mum-of-two Joanne Robinson, 43, was savaged to death by her Bully XL Rocco after he "turned mad and snapped", pinning her throat to the floor with his jaws last July.
Plus, the worst places in the UK for dog bite attacks have been revealed.
Source: Read Full Article