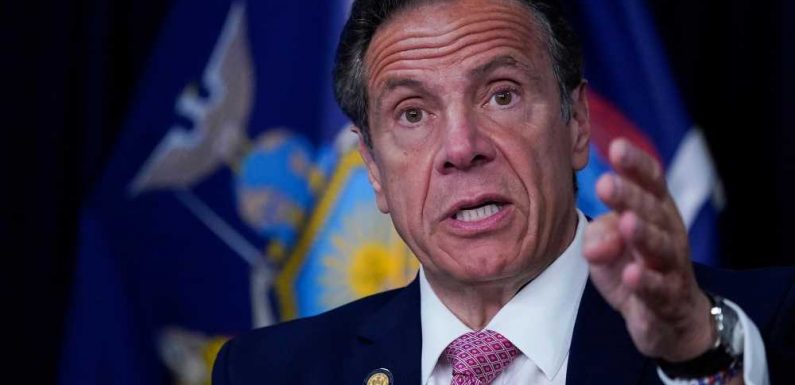 More On:
andrew cuomo

NYC Marathon returning, NBA playoff capacity increasing as COVID restrictions ease

No masks in most indoor places starting Wednesday: Cuomo

Insisting on masks despite the science is just partisan posturing gone mad

County execs urge Gov. Cuomo to adopt CDC's latest guidelines on masks

Gov. Andrew Cuomo — whose controversial directive for nursing homes to accept COVID-19 patients has been tied to as many as 1,000-plus deaths — sold the rights to his best-selling pandemic memoir for $5.12 million, according to tax returns he made public on Monday.
The amount exceeds the $4 million-plus figure that was reportedly the top offer for Cuomo's "American Crisis: Leadership Lessons from the COVID-19 Pandemic," which was published in mid-October as the public health crisis still raged in New York and elsewhere.
Cuomo's contract — which he got despite his administration being accused of sending COVID-positive patients back into nursing homes, potentially spreading the deadly virus among the vulnerable elderly there — paid him $3.12 million last year and he was left with a little more than $3 million after editing expenses, according to his tax returns.
Tracey Alvino, whose dad, Daniel, was infected with COVID-19 in a Long Island nursing home and later died, called Cuomo's literary earnings "blood money."
"These resources could have been used to fight the pandemic instead of giving him a payday," Alvino said.
Cuomo is under investigation for his handling of the nursing homes during the pandemic and efforts by his administration to cover up total COVID deaths among the elderly patients, which hover at more than 16,000.
He's also set to receive another $2 million this year and next, the returns show.
Cuomo donated $500,000 to the United Way, representing about 10 percent of his total gross proceeds.
Share this article:
Source: Read Full Article