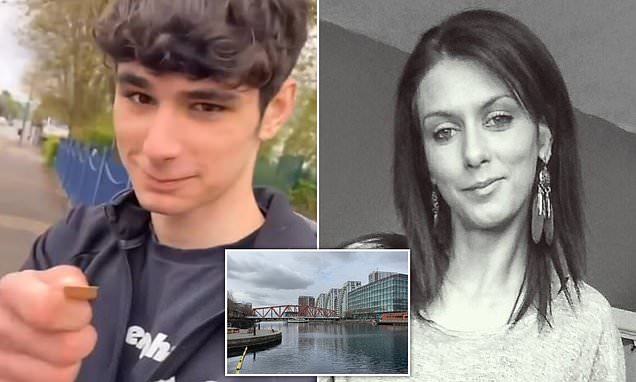 'I beg you all, please don't do it': Grieving mother's heartbreaking plea after her 16-year-old son drowned while 'cooling off' in open water with his friends
Kalen Waugh passed away after 'getting into difficulty' in Salford Quays last year 
The mother of a 16-year-old boy who drowned last year has issued a heartbreaking warning about swimming in open water.  
Kalen Waugh tragically passed away after he was seen 'struggling in the water' in Salford Quays, Greater Manchester in July last year as he and his friends were 'cooling off' during the warm weather.
As it approaches the one year anniversary of his death, the teenager's heartbroken mother Vicky Waugh has issued a plea for others.
Vicky posted the chilling plea on her Facebook profile, writing: 'I seriously beg you all please don't do it. Find other ways to chill in the sun.'
Kalen had just finished his GCSE exams and had a bright future ahead of him, set to go to college after the summer holidays.
Kalen Waugh, 16, was due to attend Salford College after passing his GCSE exams later that summer
Vickyy Waugh posted the chilling plea on her Facebook profile, which read: 'I seriously beg you all please don't do it'
Flowers were left on a bench by Salford Quays on July 26 2022
Kalen's friends all tried to save the boy, however they had to be rescued because of the currents. 
READ MORE: Girl, 12, and boy, 17, killed in Bournemouth beach tragedy 'were playing on a sandbar before pleasure boat swept them out to sea', sources claim 
In a separate post, Ms Waugh paid tribute to her son, saying: 'I spent your whole life worrying about who would be there for you, or who would look after you if something ever was to happen to me, Kalen Waugh.
'For me to be here in this s*** world living this s*** life without you.
'Never once in all them years of worry did I think it would be this way round.'
Kalen was described by New Park Academy as a 'cheeky chappy who certainly kept staff on their toes'. 
The school's headteacher Almut Bever-Warren said: 'Kalen was a very popular student with us, he had a college placement for September, mum was very proud of him that he had sat his GCSEs, the first in the family.
'I had spoken to the parents of the Year 11 lads who Kalen had been with on Saturday night while we were waiting [at the scene] because I didn't want them to hear it via social media.
'You might be aware we are a special school, I didn't call an assembly, I went class by class, I've been here for 17 years and I've never cried, but I cried whilst I told them what it was like waiting with mum for the body to be retrieved.
'I said to them I do not want to stand there again with one of your mums and the children were very respectful and accepted that.'
Salford City Council have warned locals to avoid getting into bodies of water such as Salford Quays (pictured), even if the weather is warm
At the time of Kalen's death, Detective Inspector Joanne Johnston, of Swinton CID, added: 'Yesterday evening's events are nothing short of devastating and my thoughts are with the friends and family of the young boy who lost his life in such awful circumstances.
'We remind the public to avoid being tempted to cool off in reservoirs, rivers, canals or ponds. We all want to enjoy the warm weather; please make sure you do so in a safe way. Think of your family – look out for your friends.'
Ms Waugh's post on Facebook followed a warning from Salford City Council, asking residents to be aware of the dangers of water even on a warm day.
It tweeted: 'As we head for summer please remember – no matter how hot the weather, open water in Salford Quays, rivers, lakes and reservoirs is always cold. The risk of drowning through cold water shock is real. Please stay out of the water and stay safe.'
Source: Read Full Article