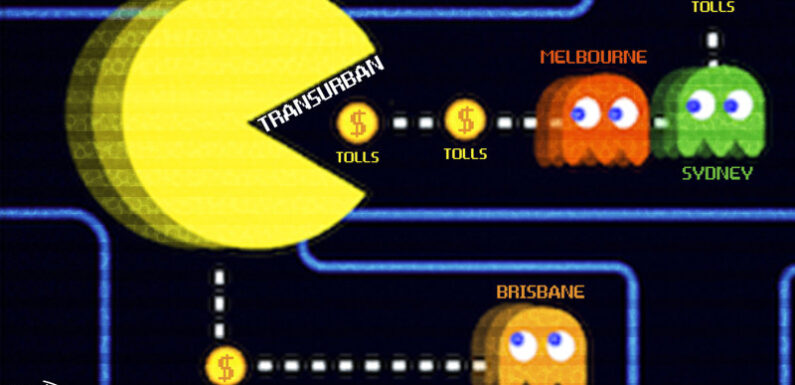 Save articles for later
Add articles to your saved list and come back to them any time.
In his frenetic barn-storming years as premier, Jeff Kennett's government rolled out all manner of enormous reforms, ranging from mass council mergers, the world's biggest casino, private prisons and a $30 billion utility sell-off.
However, for sheer long-term impact, it's hard to go past the 1996 legislation which granted an extraordinarily generous 34-year CityLink toll road concession to a start a company called Transurban.
Transurban, the Pac-Man of toll roads, still wants more.Credit: Illustration by Matt Davidson
At the time, Transurban comprised of nothing more than a folder of contracts, put together by Macquarie Bank and Transfield – then a privately owned construction and engineering company.
Fast-forward 27 years, and it is now the world's most valuable listed tollroad company. Before its estimated $20 billion corporate debt, the largest non-government debt pile in Australia, is factored in, it boasts a market capitalisation of $41 billion.
After winning every competitive tollroad bid over the past decade, Transurban has a stranglehold over toll roads in Melbourne, Sydney and Brisbane.
Yet, the Pac-Man of toll roads still wants more and is currently negotiating with the Australian Competition and Consumer Commission and a foreign consortium to buy a controlling interest in EastLink at a reported enterprise valuation of $7 billion. The ACCC will announce its decision on September 21, but has never previously knocked back a Transurban takeover.
The Bracks government originally promised a government-owned Mitcham to Frankston freeway ahead of its November 2002 election landslide but later backflipped and went with a privatised tollroad model.
If successive Victorian governments had just stuck to the 34-year CityLink contract, which was meant to expire in 2034, taxpayers would be assuming ownership of what was originally conceived as a $1.2 billion construction job to build the 22 kilometre project.
Under that original deal, Transurban was required to pay Victorian taxpayers $2.8 billion in concession fees over the life of the contract. Instead, successive governments have traded this away for endless extensions, widenings, renegotiations and bolt-on projects, which have now seen the concession contract extended to 2045. Why people in Melbourne's south-east should be paying CityLink tolls for an extra decade to deliver the West Gate Tunnel is hard to comprehend.
The original prospectus forecast that toll revenue would hit $211 million in 2011, albeit in 1995 dollars. Adjusted for inflation that 2011 figure would have been $322 million. In 2022-23, CityLink enjoyed a 23.8 per cent increase in toll revenue to a record $894 million ($456 million in 1995 dollars).
The Victorian government keeps extending Transurban's control over revenue from the state's toll roads.Credit: Jessica Shapiro
If Transurban is allowed to buy EastLink (which reported $179 million of toll revenue in 2009-10), once its West Gate Tunnel project is completed towards the end of 2025, it will likely be pocketing almost $2 billion a year in gross toll revenue from Melbourne motorists.
It will also be in the box seat to buy the tolled component of the $15 billion North East Link project, which the debt-laden Andrews government is building itself with a completion date of 2028.
Surely, there is a better way.
The Morrison government set a major precedent when it approved the Reserve Bank of Australia lending $188 billion to our major banks for three years at just 0.1 per cent to get through COVID-19.
Due to be repaid to the RBA by June 30, 2024, what could the federal government do when $188 billion lands in their lap 10 months from now? Why not go to the next election promising to recycle even just one third of that into nationalising Transurban?
Based on the current share price of $13 and assuming an offer price of around $14 per share, nationalising Transurban would cost around $60-$65 billion. Given it was initially floated with 510 million shares in 1997 and today has 3.08 billion shares on issue, a takeover would also generate billions in capital gains tax revenue for Canberra.
What's more, the political potency of nationalising would come with the ability to promise and deliver significant reductions in tolls for millions of Australians – many of whom are tradies living in marginal seats – and be enormously popular.
For instance, a one-way trip from Bulla Rd on the Tullamarine "Freeway" to Toorak Rd on the Monash "Freeway" will now set a plumber in his light commercial vehicle back $17.85. A nurse doing the same one-way trip in a Toyota Yaris will pay $11.16. Under government ownership, these exorbitant charges could be cut.
But the bigger benefit would be with transport infrastructure planning. Transurban only became the tollroad Frankenstein that ate our biggest cities because our state governments are so strapped for cash. It has repeatedly out-smarted various state governments with extensions of its concessions because it takes a 50-year view while politicians focus on and think in electoral cycles.
Given that all of these toll roads will ultimately return to state ownership anyway, all this would do is bring the process forward while allowing future project planning and delivery without a private monopoly effectively corrupting the process and delivering super profits to its shareholders.
If the state government wants to get the process moving, perhaps it should start with EastLink. Buying that would certainly be better than seeing it fall into Transurban's hands.
Stephen Mayne is a journalist and shareholder advocate who founded Crikey in 1999 before selling it in 2005.
The Opinion newsletter is a weekly wrap of views that will challenge, champion and inform your own. Sign up here.
Most Viewed in National
From our partners
Source: Read Full Article