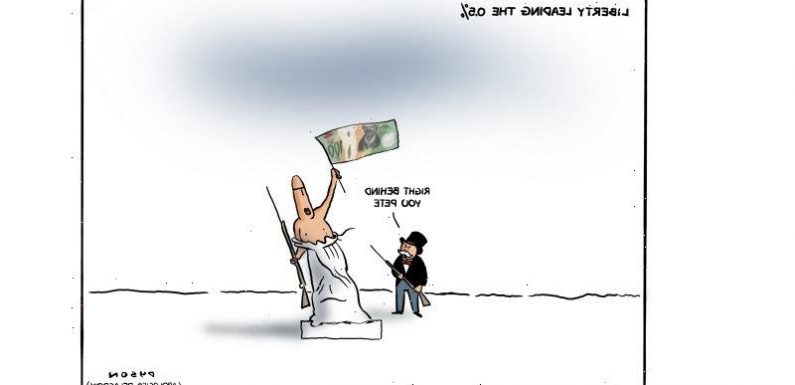 Credit:Illustration: Andrew Dyson
To submit a letter to The Age, email [email protected] Please include your home address and telephone number. No attachments, please include your letter in the body of the email.
Politics
We are some of those fortunate enough to be impacted by the changes to superannuation tax – and we are very supportive of the changes ("Albanese on track to seal Senate deal on super tax", 1/3). We worked and saved hard for our retirement, and we are grateful for our super balances. We didn't expect what has happened since – despite taking out our required pension amount every year, our superannuation balances have grown, not shrunk, partly due to the tax treatment on revenue. If we held those balances outside super, or earned the same income from working, we would be paying tax.
How can this be fair? Why should young people who have no hope of buying a home – or even finding a rental they can afford – pay more tax because superannuants like us pay little or no tax? How can we live in a society where some older women are living in cars, while others pay no tax? The only problem I have with the government's changes is they do not go far enough.
Name withheld on request
Not the bold change many hoped for
After generating a lot of attention for over a week, it seems Jim Chalmers' important conversation on super is over. A lot of people will be wondering, is that it? It is hard to see how the government's stated goals of achieving greater sustainability and equity are much assisted by modest changes to be introduced in 2025.
Either this is just the first step in a series of much larger reforms the Albanese government plans, or this is not the bold, nation-changing government many people hoped it would be. The prime minister's repeated reassurance that 99.5 per cent of taxpayers will be unaffected by the changes suggest it is the latter.
Rod Wise, Surrey Hills
A fix for broken system
As much as the Liberals and other pro-Liberal commentators may support the 0.5 per cent of Australians who will be affected by Labor's super changes, a little perspective is needed. Super was designed to provide a retirement income for Australians and take pressure off the pension system. An unintended side effect has been the disproportionate distribution of the tax concessions.
The concessions have effectively taken money away from the age pension pool and put it into the pockets of people who don't need it. Labor has simply taken a step towards redressing this mistake.
Ross Hudson, Mount Martha
Dignity in retirement
If the opposition is sincere in its rejection of modifications to tax concessions for just 80,000 of Australia's richest people, I look forward to hearing their proposals for making retirement dignified for the rest of the population. I can think of a few.
They could support a rise in the age pension to provide for a dignified retirement. They could support a rise in payments to the unemployed to a level that provides a dignified life, meaning the capacity to pay rent, pay for food and medical expenses, let alone costs such as school uniforms and school excursions, while giving them the capacity to get to job interviews.
All in the interest of social equality rather than savings for inheritance for the children of the richest Australians. I won't hold my breath.
Juliet Flesch, Kew
Policies locked in
Does the Coalition want a staccato government where everything is locked in at election time with no changes to be made? Perhaps parliament wouldn't need to sit. After election day the implementation could be carried out by public servants.
Joan Segrave, Healesville
Any other solutions?
It is well to talk about broken promises. But what would the Coalition do about Australia's almost trillion-dollar debt level, reached after their decade in power. What would be their answer?
John Lyons, St Kilda
THE FORUM
Concocted outrage
It's a bit rich that the opposition is accusing the Labor government of breaking election promises. Who can forget Tony Abbott's foray into broken election promises?
I'm delighted to see all the sensible commentary in The Age about the proposed changes to superannuation; it is very difficult to concoct outrage about such an overgenerous taxation system.
As the enormous gap between advantage and disadvantage grows and entrenches, we must question policies that contribute to this.
Fiona White, Alfredton
Speaking out
It was refreshing to read Coalition MP Russell Broadbent's views on the superannuation changes being mooted by government ("Lib MP backs debate on super tax rules", 28/2). Surely, the interest of the national economy and our future outweighs hysteria about broken election promises.
As situations evolve, we need the government to respond responsibly. We are looking down the barrel of recession and any measures to reduce this crisis should be applauded not harangued.
It doesn't stop there: more must be done by government to reduce the massive profits being made by multinationals and banks at the cost of the average worker and the economy. Wage growth has been stagnant while the cost of living is rising. Our education, policing, and medical systems are in crisis. It's time for courage from government and a bipartisan approach would be applauded.
More MPs like Broadbent should stand up and speak out for the prosperity of our nation.
Bev Goss, Parkdale
Meek as a lamb
Remember Labor in 2019 threatening to remove the payment of excess franking credits? Forecasts predicted the measure would over time save up to $30 billion per annum, or even more. Now they are settling on $2 billion in savings to start in two years. They howl like a wolf but act like a lamb. Chalmers is a nice man but lacks courage.
John Rome, Mt Lawley, WA
No tears
Ross Gittins nailed it ("No tears for 'self-funded' retirees", 1/3) when he succinctly explained the inherent necessity and fairness in the forthcoming changes to tax rates on super funds. His most powerful argument being that the poorest are currently subsidising the wealthy. He quoted research showing that 90 per cent of the tax breaks go to the wealthiest 20 per cent. How can that be fair?
Peter Randles, Pascoe Vale South
Join the queue
When people living on substantial incomes supported by investment concessions such as those available in property speculation, superannuation and franking credits claim they have never had a government handout, it makes me wish they were required to line up (in person, no tax agents or financial advisers to mediate the system for them) at Centrelink in the same queue as those on JobSeeker to access their concessions. Maybe they would be shamed out of claiming concessions that are often vastly greater than what recipients of JobSeeker receive in order to survive.
Gill Riley, Doncaster East
Green space shortfall
The state government is intervening in the planning decision that would potentially allow seven new high-rise residential towers to be crammed into the already over-developed Box Hill CBD ("Tower proposal 'fatally flawed'," 1/3). Does the government expect all the new residents to be childless and healthy? Box Hill has no primary school and the "new" hospital is already at capacity.
Adding to the population problem is that no new open space has been provided for these or any of the other new developments.
Already, Box Hill and the adjacent suburbs of Surrey Hills and Mont Albert have among the smallest amounts of green public open space in Melbourne. The Suburban Rail Loop, with its associated high-density plans, is to take over the limited parkland of Box Hill Gardens.
Further, a large part of the Box Hill area's sporting grounds have been taken over for the dumping of soil from the Surrey Hills level-crossing removal excavations.
Green open space is important for mental health and wellbeing, especially in children. Where are the plans for the missing infrastructure needed for a reasonable lifestyle and wellbeing?
Elizabeth Meredith, Surrey Hills
Boxed in
The seven-tower proposal cannot proceed for Box Hill. During my time on Whitehorse and Nunawading councils (over 19 years), I could never imagine an overdevelopment like this could ever be presented for planning approval. There are already enough towers either built or being constructed in Box Hill. We are already well on the way to becoming Hong Kong or the New York of the east. I pity anybody living close by: thousands of units and many more thousands of people and cars.
It's no surprise that the developers have sought to bypass council and go to the state government for approval.
Peter Allan, Blackburn
Already overcrowded
As a resident of Box Hill, it has become necessary to avoid Box Hill Central. Its interminable overdevelopment is cramming more and more people into a confined area, causing crushing traffic and pedestrian congestion. Unpleasant wind-tunnel effects are already a problem as anyone can attest to when walking towards the corner of Station Street and Carrington Road in the shadow of the 36-storey Sky One tower.
Paul Miller, Box Hill South
Spin city
I have a suggestion for this mega-tall, multi-building precinct that the government is so keen on: let's pop in a few wind turbines between the buildings to support energy for these monoliths. The wind-tunnel effect will be more than adequate for this. Local residents can then be lulled to sleep at night by the whirring of the blades.
Carmel McNaught, Balwyn North
Avoidable risk
I encourage your correspondent who thinks proper safety measures should prevent the banning of engineered stone (Letters, 28/2) to learn about developments in workplace safety.
As an emergency services worker, I have had the displeasure of hearing several times over, at tragic workplace incidents, complaints from the boss that "he should have known better".
There is a workplace safety framework called the Hierarchy of Controls. Behaviour and PPE are the last lines of defence and the least reliable. Most hazards should be controlled in ways that don't rely on these.
In my line of work, we deal with uncontrolled hazards and rely on PPE, but there is no reason why such a risk should be taken in situations where it is avoidable.
Russell Edwards, Kilmore
Gift difficulties
Rana Erdal suggests that instead of gifts of wine, champagne and beer (Comment, 1/3), there are other "healthier" options such as sweets and caffeinated products — and gift vouchers (putting the onus of the beneficiary to redeem them). Alternatively, she suggests taking the beneficiary out for food or coffee. But what if that person hasn't got the time?
Peter Drum, Coburg
Inner-city solution
Yes, it would be nice if we could all skip down to our local greengrocer to avoid having to shop at those nasty big supermarkets, as your correspondent suggests (Letters, 1/3). But those of us in the outer suburbs don't always have the luxury of a community grocer, fishmonger, artisanal fromager or patisserie a short stroll, bike or tram ride away. Driving long distances on congested roads and jostling for scarce parking spots tends to detract from worrying about the packaging of our fruit and veg once we get to the supermarket.
Greg Hardy, Upper Ferntree Gully
A twin win
Thanks to your correspondent for asking Coles and Woolworths to be transparent and accountable in their management of REDcycle's plastic stockpiles. Thanks also for reminding us that as consumers, there is power in our purchasing.
In addition to buying fruit and vegetables at the local greengrocer, we can say "no" to purchasing the ubiquitous single-use plastic boxes that now hold most supermarket meat and fish. Buy instead from your local butcher or fishmonger – a win for small business and the environment.
Karen Campbell, Geelong
Support is out there
Just like your correspondent ("Living life in a vacuum", 28/2), I, too, struggled to find help, understanding and support for ME/chronic fatigue syndrome. It took years of being regarded as neurotic, a hypochondriac or attention-seeking before I found a doctor who recognised my condition. Even now, I find people have little understanding of this debilitating condition. People tend to respond with dismissive comments such as "oh, that just means you get tired sometimes".
After years of seeking medical support and understanding, I am fortunate now to have a doctor who believes that ME/CFS is real, and is aware of the extent of symptoms.
Fellow sufferers, don't give up. There are doctors who believe. The crime is they are not easy to find. Maybe with long COVID, more can and will be done to support us.
Marion Pritchard, Ringwood North
Gambling doesn't pay
I am always bemused when major sporting organisations defend their reliance on club gambling and sports-betting advertising on the basis it helps fund grassroots sport. As a long-time volunteer administrator of local football and cricket, I have not experienced the riches that are supposed to have come to community sporting groups as a result of the reliance on gambling. I am happy to supply my details to the AFL or Cricket Australia and they can forward a cheque to my local clubs.
Shane Hartney, Bendigo
And another thing
Credit:Illustration: Matt Golding
Super changes
Super changes affecting those who find ways around the tax system. I'd say that passes the pub test.
Michael Cormick, Carnegie
Why on earth do we have to wait until July 1, 2025, before changing the tax rate on enormous super fund earnings? Thought we needed the money now.
Lois-Ann Davey, Leopold
Peter Dutton should ask Tony Abbott if he ever broke an election promise. It's as plain as A.B.C.
Alan West, Research
A change to superannuation tax concessions after the next election. How is that a broken promise?
Pauline Brown, Woodend
Tower proposal
Box Hill. Never was a suburb so aptly named. What prescience! "Minor" suburbs like Chelsea Heights beside Carrum Downs can only dream of being top dog.
Greg Curtin, Blackburn South
Could designing high rise towers in a way that minimises shadowing ("Seven tower Box Hill plan attacked", 1/3) involve buying credits for surplus sunshine elsewhere, then claiming this as an off-set?
Rod Duncan, Brunswick East
Box Hill: Docklands without water views or a Ferris wheel.
Lawrie Bradly, Surrey Hills
Furthermore
Yes, dress codes for dining out should be, and mostly are, observed. Attending the opening season concert by MSO, some patrons appeared to be dressed more for a dinner at McDonald's.
Jerry Koliha, South Melbourne
Since "woke" means awakening to injustices and racism, does it then follow that those who condemn others of being woke, recognise themselves as being unjust and racist?
Henry Herzog, St Kilda East
Could someone explain to players of these machines that the more they play, the more they lose.
Winston Anderson, Mornington
Patrick Elligett sends an exclusive newsletter to subscribers each week. Sign up to receive his Note from the Editor.
Most Viewed in National
From our partners
Source: Read Full Article