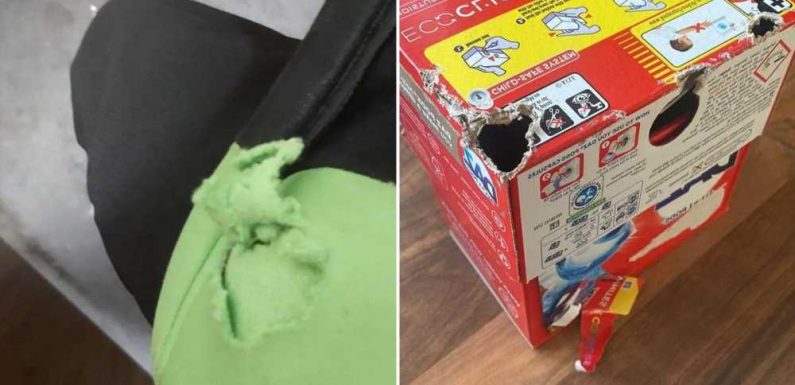 A MUM has told how giant vermin have taken over her home and even nick her biscuits and sweets.
Colette Frederickson, from Knowsley, Merseyside, says she is too scared to go into her own garden because of the huge rats.
And the critters have already made their way into her house and "make her skin crawl".
She told the Liverpool Echo: "They've been in my cupboards, my window ledge, on my work top, they moved the biscuit barrel and got the sweets out the sweet jar.
"I've got OCD, my house is always clean. There was rat droppings in the living room, the smell of rat wee. It even chewed through my boyfriend's jacket for a sweet, it had a right field day.
"I struggle with money, as we all are, I paid for pest control and luckily he came out the next day and said I had a problem and put bait down. He had to come back out and put stronger stuff down.
MORE ON RATS
We live on UK's 'grossest street' with 7ft rubbish mound infested with RATS
I keep RATS & let them climb over me – people say it's gross but I don't care
"My son heard scratching in the walls, that was well before Christmas, and after that there was no more scratching and the bait had gone so we assumed it died."
Pest control were unable to find the dead rat in her home – which is now making the whole house "stink".
She explained: "Now there's a dead rat that we don't know where it is and there's bluebottles in the house which is getting me all worked up.
"The smell is that bad I thought my son was dead and I had to go make sure he was alive. It's doing things to my mental health."
Most read in The Sun
Pregnant Gogglebox star shows off baby bump as she returns to Channel 4 sofa
Una Healy dumps David Haye & Sian Osborne after row over holiday
Mason Greenwood becoming dad for first time weeks after charges dropped
Worst Towie feud in the history of the show explodes in Thailand
"We wear masks in the house because this rat is missing and there's nothing we can do, we don't know where it is. It's horrendous. I'm even dreaming they are biting my legs."
Knowsley Council has said: "We work with partners, residents, businesses, and landlords to tackle any incident of rat infestations in the Borough. This includes sewer baiting, pest control, identifying issues that may be contributing to the problems and offering advice about prevention.
"We have a regular programme of action days to target issues impacting on our residents. Our Environmental Health Team will be carrying out a day of action on Wednesday 1 March, in the Shevington ward area of Kirkby. During the day, from 10am – 12noon, officers will be based at Tower Hill Community Centre (Ebony Way, Liverpool L33 1ZQ) where residents can speak to officers about any issues they'd like to raise.
"We've received calls for service relating to this area and have responded to them. The area has been baited and will be baited again in the coming weeks. Residents are encouraged to report any issues they have with rats. You can contact our Pest Control team at www.knowsley.gov.uk or our Environmental Health Team on (0151)-443 4712 or by emailing [email protected]"
Source: Read Full Article