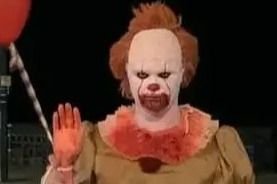 A MAN who loves to roam the streets dressed as a killer clown has told how he doesn't care that people are terrified of him.
The Pennywise impersonator has appeared in Thanet, Kent, during Halloween for the last four years.
In the past he has dealt with abuse from the public – including being threatened with phsyical violence – but he now says nothing deters him.
The 39-year-old anonymous man, who wears the costume from Stephen King's horror book It, took to Facebook yesterday to tell locals he will be back on the street today.
Pennywise told KentOnline: "I do it for fun and if I go to events and private houses, I donate the earnings to charity.
"I am trying to bring joy to Halloween. When it was Covid, everyone was down but everyone enjoyed what I was doing.
MORE ON CLOWNS
PLAYGROUND HORROR
Man 'in clown mask' arrested on suspicion of 'sexually assaulting child'
CLOWNING AROUND
Ex-Arsenal man unrecognisable dressed as CLOWN after taking bizarre new job
"I get threats, such as asking me why I do it, why I am scaring old people, why I am running after people and some said if they see me, they will slap me.
"I do not want myself in that situation."
The clown, who says he is a government worker, says he always lets people know which streets he will be on so they can avoid him if they wish.
It comes after he had recently announced his retirement – but after tens of messages from fans he decided to once again roam the streets.
Most read in The Sun
SARAH'S STRUGGLE
My marriage is hanging on by fingernails after cancer, says Sarah Beeny
STREWTH
Soap legend in talks to join I'm A Celebrity after 28 years on show
BACK AT IT
This Morning legend returning to show after year off after Holly & Phil 'feud'
JUNGLE SQUAD
Confirmed I'm A Celebrity line up so far – plus all the rumoured stars
One person wrote on Facebook: "I am not a fan of clowns or scary things but I remember all the positive comments you were getting last year and it became like a competition to spot you and get a photo.
"Please have a re-think and don't let the negative Nellies and Normans spoil it for everyone else.
"The world has enough misery, have some fun."
Another wrote: "It is not like you are running after people randomly. You always say where you're going to be and therefore it is not like it's a complete shock."
Yesterday evening the clown wrote: "Due to all your love and support and a lot of consideration, I have decided to bring Pennywise out of retirement for one last time. I will update you all in due course."
It comes after a terrifying clown craze came to the UK after started off in the US in 2016 – with people dressing up as Pennywise from Stephen King's IT. 
Police received dozens of reports of clowns terrorising people on the streets, chasing lone people or driving by while wearing the scary masks. 
Thames Valley Police received 14 reports of people being intimidated by clowns over just two days that year and Gloucestershire cops were called six times in 48 hours.
Most were just pranksters trying to scare people but some were criminal in nature, with some of the clowns  wielding knives, chainsaws and other weapons.
The craze continued into 2017, with youngsters clad in creepy clown gear standing outside schools to scare kids.
In 2018 thieves wearing clown masks reportedly burst into a Sainsbury's Local in Prestwich, threatening to shoot the workers if they did not open the till.
During the same year two boys reported being chased by a knife wielding clown shouting "run or die" in Dartford, Kent.
Read More on The Sun
BANK BOOST
One-off payment worth £185 set for thousands – check if you're getting one
STREWTH
Soap legend in talks to join I'm A Celebrity after 28 years on show
Another two lads were reportedly chased by a clown brandishing an axe by a Co-op in Sittingbourne, Kent.
During the pandemic the craze slowed down, but the killer clowns could soon rear their heads again.

Source: Read Full Article