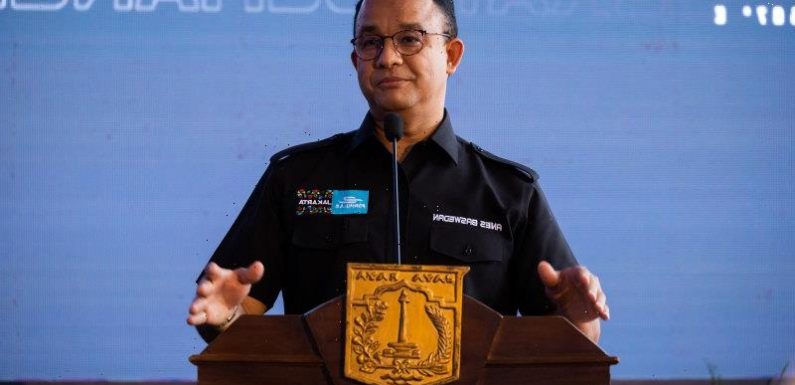 Singapore/Jakarta: Indonesian presidential contender Anies Baswedan is headed to Australia to burnish his international standing before voters elect a successor to Joko Widodo.
Until recently the governor of Jakarta and a former education minister, the 53-year-old is one of three likely candidates for the presidency along with Central Java Governor Ganjar Pranowo and Defence Minister Prabowo Subianto.
Anies Baswedan led Jakarta's response to the pandemic as governor of the city until last October.Credit:AFP
Baswedan trails the populist Pranowo in opinion polls but as political parties decide whom to put on their tickets for the February 2024 election, he is hitting the road early to press his claims.
The governorship of the capital is seen as a launchpad to the presidency in the world's third-largest democracy – Widodo himself held that position before winning the 2014 election – and having toured Indonesia since his five-year term ended in October, Baswedan is now looking abroad.
The United States-educated former university president met with Japanese Prime Minister Fumio Kishida in Tokyo last August and after recent trips to the United Kingdom and Singapore he is planning to meet government and business figures in Canberra and Sydney in March.
The overseas jaunt is seen by supporters as an opportunity to reinforce his stature abroad and his comfort on the world stage before Indonesians choose only a third president in 20 years.
Indonesia President Joko Widodo and Anies Baswedan mark the opening of Jakarta's underground rail system in 2019.Credit:Getty Images
But analysts also view his upcoming Australian jaunt as part of an effort to distance himself from the legacy of the religiously charged 2017 Jakarta election when he came to office.
Baswedan was accused of courting the Islamist vote in that contest against the metropolis' Christian governor Basuki Tjahaja Purnama, known as Ahok, who had been charged with blasphemy and was soon after found guilty and sentenced to two years in prison.
"All things being equal, foreign policy and a candidate's global outreach don't matter much in Indonesian elections, but if the race is tight, it may well be decided by a handful of middle-class voters who want their president to be internationally presentable," said Associate Professor Marcus Mietzner, an expert on Indonesian politics at the Australian National University.
"The interesting aspect of this is that Anies should have the least need for such globetrotting: he has a US PhD. And yet Anies seems the most interested in his overseas image. This suggests that this is not only about foreign policy; it also appears designed to show doubters at home that he is not seen as an Islamist by his Western partners."
Baswedan meets with then Australian minister for foreign affairs Julie Bishop while education minister in 2016. Credit:Irwin Fedriansyah
Widodo, known as Jokowi, is also due to fly to Canberra for this year's edition of the annual leaders' meeting, which resumed after the pandemic with Prime Minister Anthony Albanese's visiting Jakarta and Makassar just two weeks after Labor's election victory in May.
That is likely to occur mid-year, according to Indonesia's Ministry of Foreign Affairs, although no date has been fixed.
With Widodo to finish his second and final term in October 2024, though, much attention is turning to who will follow him.
Anies Baswedan, centre, is mobbed by the press after casting his vote in 2017..Credit:AP
Baswedan is in the mix having spent the past three years leading Jakarta's response to the COVID-19 pandemic and having been credited with measures such as expanding public parks while running the megacity.
He also actively demonstrated pluralist credentials while in charge of the capital, including by directing emergency cash support during the pandemic towards other religions' places of worship as well as to mosques, and by overseeing the introduction of Christmas carols in public.
But Asra Virgianita, an international relations scholar at the University of Indonesia, said Baswedan still faced a battle to detach himself from the identity politics of six years ago. He was backed in 2017 by Gerindra, the party headed by Subianto, who was also perceived to have played the religious card in his defeats to Widodo in the 2014 and 2019 presidential elections.
"I think this is the point that [Baswedan feels he needs] to fix in the context of the presidential election," she said.
"He wants to ensure the international public do not see him as someone who will make discriminatory policies. I think this is the most crucial thing he has to do. This is Anies' biggest problem."
Basuki Tjahaja Purnama, known as Ahok, was defeated by Baswedan in the 2017 Jakarta gubernatorial election before being jailed for two years.Credit:AP
An endorsement from the hugely popular Widodo also looms as key as the pre-election picture takes shape this year but Baswedan, who was dumped from cabinet in 2016 and is regarded as a political opponent of the president, won't be the recipient of that.
Even so, Mietzner believes his election prospects are solid.
"His chances are good. The race is tight between Ganjar, Anies and Prabowo, and a few percentage points may decide [the winner]," he said.
"Anies' biggest disadvantage, as an ethnic Arab, is his lack of appeal in the Javanese heartland. He also struggles to convince religious minorities that his dog-whistling campaign in the 2017 gubernatorial elections in Jakarta, when he courted the Islamist vote, was an isolated incident.
"But he is young, energetic, eloquent and charismatic, and is seen as having done a good job as governor. He is far from the front-runner, but he has a chance."
Get a note directly from our foreign correspondents on what's making headlines around the world. Sign up for the weekly What in the World newsletter here.
Most Viewed in World
From our partners
Source: Read Full Article