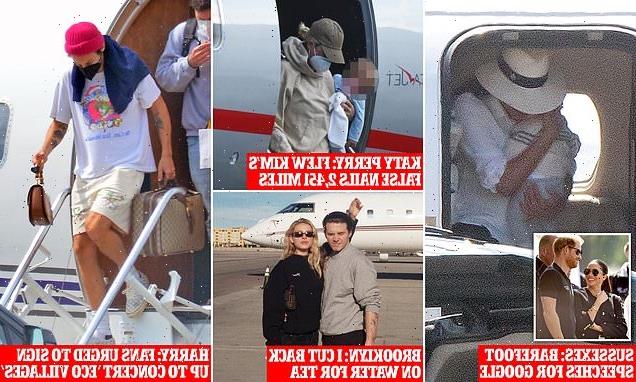 The jet-setting hypocrisy of the super-rich climate preachers! It's not just Harry and Meghan who lecture the world on saving the planet but don't walk the talk
Last week, Harry and Meghan were accused of 'enormous hypocrisy' after flying back to California from the Queen's Platinum Jubilee in a private jet. 
The eco-preaching Duke and Duchess of Sussex returned to their £11million Montecito mansion with their children Archie and Lilibet on the gas-guzzling Bombardier Global 6000 before the grand finale of the Jubilee pageant even began on Sunday. 
Climate experts believe the journey will have resulted in ten times more carbon being emitted than if the Sussexes had taken a commercial flight. 
The royal couple's flight from Farnborough to Santa Barbara will have emitted nearly 60 tonnes of carbon dioxide into the atmosphere, according to chartered flight provider Paramount Business Jets. 
But, as the Mail on Sunday can reveal, it is not just the Duke and Duchess of Sussex who are guilty of jet-setting hypocrisy while lecturing the world on saving the planet… 
Katy Perry: Flew Kim's false nails 2,451 miles 
When Orlando Bloom accepted an award for environmental campaigning in 2018, he urged: 'The urgency of climate change has never rung louder… The world is changing and we need to change our habits along with it.' 
However, it later emerged the Hollywood actor, 45, had flown to the event in Monaco with his fiancée, pop singer Katy Perry, on a private jet.
In 2015, Perry, 37, told fans: 'Share your story on how you are helping to reduce climate change with the hashtag #FightUnfair.' 
Three years later she reportedly flew false nails for Kim Kardashian by private jet 2,451 miles from LA to New York after the reality star forgot to pack them. 
Perry was seen leaving a private jet in France in July 2021.
Katy Perry, right, and with daughter Daisy, above, last July 
Brooklyn: I cut back on water for tea
The whole Beckham family has advocated action on climate change. 
David and Victoria's eldest son Brooklyn told GQ Magazine in April last year: 'I do the basics, like not letting the water run when I brush my teeth, measure out my water for tea and I do not let the water run when I shower. Easy things like that make a difference.'
Yet the 23-year-old and his wife, heiress Nicola Peltz, 27, travelled by private jet on their first Christmas together in 2019. 
He also flew with his family by private jet to Miami in December 2020. 
Victoria and David flew by private plane to Brooklyn and Nicola's Palm Beach wedding in Florida in April.
Brooklyn Beckham, wife Nicola and one of their dogs on the runway in 2020
Harry: Fans urged to sign up to concert 'eco villages'
Harry Styles may have launched a climate change campaign with his former One Direction bandmates – but that hasn't stopped him zipping around the globe on private jets to venues where he is performing.
In July 2015, One Direction worked with Save The Children to urge young fans to play their part in protecting the Earth and 'put pressure on our leaders'. 
The Watermelon Sugar singer also set up 'eco village' stands at gigs on his Love On Tour, which encouraged fans to 'take action for the climate'. 
Yet last October, Styles, 28, was seen landing in Orlando, Florida, on a private jet. 
He was also in attendance at the 'Camp Google' climate summit in 2019, where VIPs including Prince Harry arrived on 114 different private jets. 
A source close to Styles said he uses commercial flights as well.
Last October, Styles, 28, was seen landing in Orlando, Florida, on a private jet
Djokovic: Educate children to recycle
Novak Djokovic has spoken candidly about how much he cares for the natural world. 
Last August, the Serbian tennis legend, right, said: 'Environmental issues are essential. Not just for me, I think it should be essential for anybody else. This is the only planet we've got and so we might as well try to take care of it.'
A blog on his Novak Djokovic Foundation's website in 2019 urged parents to be 'eco role models' for their children by getting them to recycle and not waste water.
Yet Djokovic, 35, flies around the world on a private jet supplied by rival Roger Federer's firm NetJets, which hires its fleet to VIPs. 
The company has sponsored Djokovic since 2015 and he 'owns' part of a plane under a fractional ownership arrangement.
Sussexes: Barefoot speeches for Google 
The Duke and Duchess of Sussex have spoken out to urge more action to protect the planet. 
In June 2019, the couple told their nearly 10 million Instagram followers: 'With nearly 7.7 billion people inhabiting this Earth, every choice, every footprint, every action makes a difference.'
A month later, Prince Harry, 37, travelled to the island of Sicily via private jet to make a barefoot speech at a Google summit on climate change. 
In May last year, he said: 'We need to do better about stopping or allowing the things that are causing so much harm.' 
Yet just last week, the couple hopped on a Bombardier Global 6000 – one of the most polluting types of private jet – back to California after a three-day stay in the UK for the Platinum Jubilee. In the past year, they've taken at least six private jet flights.
Meghan exiting a jet with Archie in 2019
Source: Read Full Article