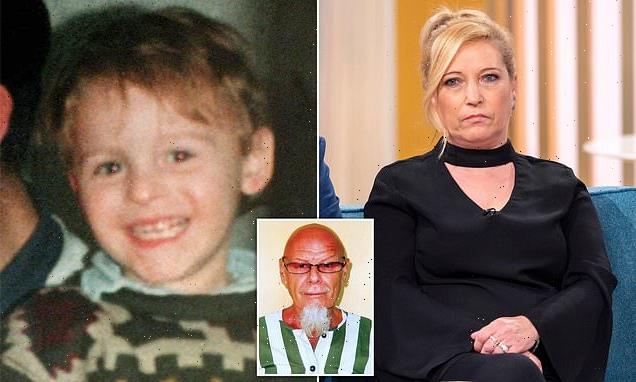 James Bulger's mother says it is 'inevitable' killer Jon Venables will reoffend like Gary Glitter as she urges Parole Board to throw out his latest bid for freedom
Denise Fergus has begged parole chiefs to keep Jon Venables in prison 
In 1993, Venables and Robert Thompson murdered  Fergus' son James Bulger, 2
The mother of James Bulger has warned parole bosses that if Jon Venables is re-released he will 'kill a child again' and urged Justice Secretary Dominic Raab to prevent that happening to 'another family.'
James Bulger, 2, was killed by the men formerly known as Venables, 40, and Robert Thompson, 39 – who were then both aged 10 – after they snatched him from a shopping centre in Bootle, Merseyside, on February 12 1993.
They were both released on licence under strict conditions after serving eight years in secure children's units and were given lifetime anonymity in 2001. 
Although Thompson has not re-offended, Venables has been recalled to prison twice, in 2010 and 2017, having found to be in possession of indecent images of children.
The boy's mother, Denise Fergus has pleaded with parole bosses to keep her child's killer in jail
Venables and Robert Thompson were both 10 when they kidnapped, tortured and killed two-year-old James Bulger (pictured) before leaving his body by a railway line in Liverpool 25 years ago
Jon Venables pictured above, has a new parole hearing date set for next month
Now Bulger's mother Denise Fergus has warned that Gary Glitter's reoffending one month after his release shows that Venables can never be released – after learning that a parole hearing for the killer was planned as soon as next month.
The Probation Service confirmed on Monday that Glitter was being recalled to prison following a breach of his licence conditions.
Details of the breach were not given, but it was reported that Glitter was caught trying to access the dark web.
Speaking to the Mirror, Denise, 54, said that Venables could 'never change' and that if she had to go to his parole hearing to see him face to face for the first time in order to stop his release she would.
She said: 'Seeing Gary Glitter, who is a prolific reoffender, slipping back into his old ways is frightening and just shows that people like him, and Venables in my opinion, never change.
'I just hope the Parole Board see what has happened with Glitter and realise that Venables would offend again too. It's inevitable if he is freed.'
'I've never seen Venables face to face. I have no desire to. But having to see him would not put me off going. I'm not scared of him.
'I was pretty deflated when I was told it was being readied but I've got it in my head it's going to happen now.
'This hearing feels like D-Day in our justice for James. If his parole is blocked, I would be hopeful he would never see the light of day again.'
Freed paedophile Gary Glitter (pictured) has been recalled to prison after breaching his parole conditions 
Glitter (pictured) was filmed apparently discussing the sinister 'Dark Web'
Justice Secretary Dominic Raab has said he intends to introduce legislation to keep dangerous offenders locked up
The Ministry of Justice (MoJ) has said Justice Secretary Dominic Raab, who is also deputy prime minister, will 'do everything in his power' to keep dangerous offenders in jail.
A spokesperson said: 'The Deputy Prime Minister will do everything in his power to keep dangerous offenders behind bars and has set out plans to overhaul the parole process and put victims at the heart of the process.'
In preparation for the hearing, Denise has written a victim statement to be read to parole chiefs. 
It reads: 'If you let him free, you could be ruining the lives of another family like ours.
'When you look at Venables' file just remember what he is capable of. He killed my son James, has reoffended time and time again and I have no doubt he would kill another child if he is released.
'He has clearly got evil still in him and if he is released, whoever has that final say, will have that on their heads when he inevitably goes on to commit another crime. Don't let it happen.'
Last month, James' mother Denise said she hoped that new laws being worked on by Mr Raab would mean Jon Venables would never 'see the light of day again'.
She claimed Mr Raab promised her his Reform Bill would keep her child's killer in jail.
He added to her peace of mind when he told her Venables, 40, would not walk free again under his proposed new 'two strikes and you stay in' policy.
Speaking for the first time about the meeting with Mr Raab last summer in his office at Westminster, Denise, 54, told the Mirror: 'In that meeting I was hearing words I'd always wanted to hear.'His lips were moving, but I couldn't hear it all because I never believed I would hear those words.
'The words that under his plans, Venables would never walk free again.
'I didn't think this day would ever come. I froze.'
James Bulger: How the murder of a toddler shocked the nation 
The murder of James Bulger was a vicious crime that shocked Britain.
Jon Venables and Robert Thompson were both 10 years old on February 12, 1993, when they abducted the two-year-old before brutally torturing and killing him.
The crime made the boys the youngest killers in modern English history.
The duo snatched James from outside a butcher's shop in Bootle, Merseyside, in 1993, while his mother popped into a store for just a few seconds.
James' mutilated body was found on a railway line in Walton, Liverpool, two days later. 
The boys were playing truant from school, and CCTV showed them observing local children at the shopping centre, appearing to be 'selecting a target'.
They were then captured on camera taking the boy away at 3.42pm, before leading him on a two-and-a-half mile walk through Liverpool to the village of Walton.
Venables and Thompson were seen by 38 people during the walk, and were twice challenged by bystanders because James was crying and had a bump on his forehead.
But they were able to convince the concerned people that James was their little brother and continued on their way.
They led James to a railway line near the disused Walton & Anfield Railway Station where they began torturing him – including throwing paint in his eye, pelting him with stones and bricks and dropping an iron bar on his head.
After the body was found, police launched an appeal showing the low-resolution CCTV images of the boy.
The breakthrough came when one woman recognised Venables, who she knew had skipped school with Thompson on that day, and contacted police.
They were charged with murder on February 20 and forensic tests confirmed they had the same paint on their clothes as was found on James' body.
Around 500 protesters turned out for their initial magistrates' court hearing due to the public outcry against the crime.
The subsequent trial at Preston Crown Court and the boys were considered to be 'mature enough' to know they were doing something 'seriously wrong'.
Venables and Thompson were found guilty on November 24, 1993, with the judge describing them as 'cunning and wicked'.
Reporting restrictions on their names were also lifted as it was considered in the public interest to do so.
Their parents were moved to different parts of the country and also received new identities due to death threats against them.  
Source: Read Full Article