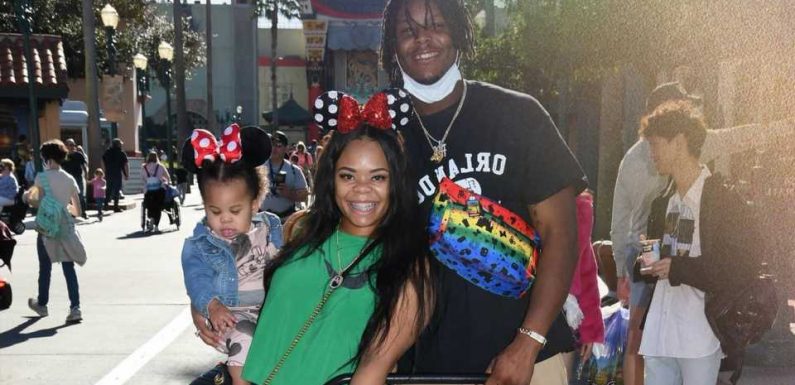 JAYLON Ferguson's fiancée Doni Smith took to social media to share photos of the Baltimore Ravens star with his children after his tragic death.
As the Baltimore Ravens announced the news of Jaylon's passing on Wednesday morning, Doni took to Instagram and Twitter to mourn her deceased loved one.
In the early hours of Wednesday, Doni shared a photo of her and Jaylon embracing each other on her Instagram story, with the caption: "Never in a million years, I thought I'll be saying RIP to you.
"My soul aches sooo bad baby. I know I'm dreaming baby… please watch over us! Please…"
The next photo she shared on her Instagram story was of Jaylon and two of their children.
"The legacy will continue!!! Ferguson Forever," she wrote alongside the photo of Jaylon and two adorable toddlers.
"I've got our babies, thank for you giving me you. I'll forever have you with me through them!!!!!"
Read More on Footballer Deaths
NFL star's heartbreaking post about future memories with son before death
The heartbroken mom shares two children with Jaylon, Jrea Oneis and Jyce O'Neal.
In another photo, showing Jaylon's daughter sitting on his lap and looking into his eyes, Doni wrote: "They're going to be so lost with [out] you!!!!"
The touching photos continued, with Doni adding: "I won't ever be able to love them the way Daddy did, I need you."
In an additional post to her story, Doni said: "I love you so much!! I'll never in my life feel the love you gave me baby! It's always been us.
"You really left me in this world alone baby. I'm broken. I'm hurt.
"I want you back!! This sh*t is not f***ing fair!!!!!"
Most read in The Sun
'fix it'
Love Island fans beg producers to help after spotting issue with Tasha Ghouri
Love Island rocked by new girl Antigoni who has famous parent like Gemma
Love Island issue warning as Paige & Jacques get frisky in the Hideaway
Love Island bosses plot to bring in NEW hunk – and he knows one of the girls
Doni's posts come as a statement was released by the Ravens team.
It reads: "We are profoundly saddened by the sudden passing of Jaylon Ferguson.
"He was a kind, respectful young man with a big smile and infectious personality.
"We express our heartfelt condolences to Jaylon's family and friends as we mourn a life lost much too soon."
Jaylon's cause of death was not disclosed.
Source: Read Full Article