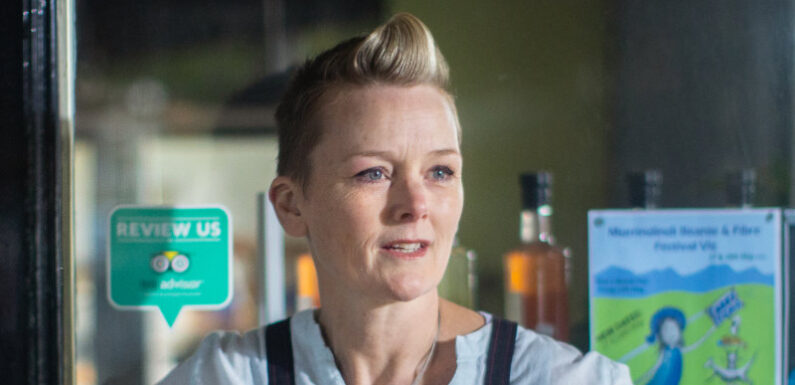 Save articles for later
Add articles to your saved list and come back to them any time.
Key points
Almost 170 bank branches have shut since the beginning of 2021 in Victoria.
Westpac has closed the most branches: 32 in Melbourne and 11 in regional Victoria. The company also closed 43 Bank of Melbourne branches.
Communities across the state are looking to Bendigo Bank or other community banks to fill the void.
Robinvale and Sale communities had a win last week when Westpac announced it had backflipped on a plan to close their branches.
A Senate inquiry is  taking place into regional bank closures and is due to report back before the end of this year.
The last of the big banks has finally departed Alexandra, but locals in the tourism town are determined to protect it from the economic decline they fear so often follows when branches shut their doors.
Residents in the town – 130 kilometres north-east of Melbourne – are among communities from country Victoria and inner-Melbourne fighting against the unrelenting wave of bank closures. New data reveals the big four banks have closed nearly 170 branches across the state since the start of 2021.
Grant St Grocer owner Lisa Harding outside her business. She is fighting for more banking services in her community. Credit: Simon Schluter
Lisa Harding, co-owner of Grant St Grocer in Alexandra, said the closure of the town's NAB branch earlier this month meant she would need to find somewhere else to deposit cash, which she does about three times a week.
The Commonwealth Bank (CBA) and ANZ had already closed branches in the town, and the closest NAB branch is now almost an hour away in Healesville.
"It's really disappointing," she said.
Cash still accounts for about a third of the cafe and grocery store's takings. But beyond the convenience of banking locally, Harding said banks were also important to a community's identity.
Now she is part of her town's campaign to lobby the Bendigo Bank to expand its sub-agency in Alexandra.
Alexandra shopkeeper and livestock business owner Andrew Embling has led the campaign for more banking services, but accepts Bendigo will not establish a full branch.
He wants a loans manager and business development manager to be located in the town.
Embling said bank closures hurt local businesses.
"We want people to keep banking here. If they go to a bigger town they'll probably shop there too," he said. "It's hard to keep a little country town viable."
A Bendigo Bank spokesman said it had opened two community branches since 2022, and proposals for further branches were evaluated on a case-by-case basis. He said the bank had an agency agreement with the newsagency in Alexandra, but declined to say whether the existing service would be expanded.
However, some communities are scoring unlikely victories against branch closures.
Westpac last week announced it would retain eight regional branches previously earmarked for closure, including Robinvale on the Murray River and Sale in Victoria's east, after community pressure and the establishment of a Senate inquiry.
In its submission to the inquiry, the Murrindindi Shire, which takes in Alexandra, said banks had reduced opening hours and staff numbers, resulting in lower foot traffic and fewer face-to-face transactions, which was then used to justify closures.
Banks have steadily shut branches since the 1990s, but COVID-19 forced the trend to gather pace, prompting the Senate inquiry, which is due to report back at the end of the year.
Data from the Financial Services Union showed at least 169 Victorian bank branches closed or were set for closure since the start of 2021, including 53 in regional Victoria.
Across greater Melbourne 116 branches were earmarked for closure in the past two years.
Most recently, CBA announced plans to vacate its Fawkner branch in Melbourne's north, prompting a 1200 person-strong petition.
The Fawkner closure, slated for May 26, will leave the suburb with no banks and has sparked fears elderly residents will be more vulnerable to telephone banking scams.
"It's a massive issue," local petition organiser and cybersecurity specialist Hassaan Gul said.
"We have a higher than average level of senior people who speak languages other than English and who don't have the internet – and it's very easy to con them."
Towns and suburbs that have lost two or more bank branches since 2021
Metro Melbourne: Berwick (2), Carnegie (3), Ferntree Gully (2), Fitzroy (2), Fountain Gate (2), Hampton (3), Hawthorn (2), Monash University (2), Mt Eliza (3), Niddrie (2), North Melbourne (3), Port Melbourne (2), Reservoir (2), Seaford (2), South Yarra (2), St Kilda (2), Toorak (2), Werribee (2).
Regional Victoria: Warrnambool (2), Torquay (2), Port Fairy (2), Mildura (2) and Bacchus Marsh (2).
Without the branch, those without a car will need to take a 28-minute bus ride and cross two major roads on foot to visit their closest branch in Coburg.
"For a senior person with a trolley it's going to be a nightmare," Gul said.
The activist is now appealing to community banks, such as Bendigo Bank, to fill the void left if the Commonwealth closure proceeds.
The banking industry has justified branch closures as a response to a drastic decline in over-the-counter transactions.
An ANZ spokeswoman said most customers preferred the convenience of phone, mobile and internet banking, with 96 per cent of transactions conducted through digital channels last year.
However, the bank has postponed any further regional branch closures until the Senate inquiry concludes in December.
NAB retail executive Krissie Jones said some of her branches had, "fewer than 20 in-branch transactions a day while in others we have advertised vacant roles for up to six months and still been unable to fill those vacancies". When NAB branches closed employees were offered alternative roles, she said.
A CBA spokeswoman said the bank adopted a new operating model in 2021, and now has 20 "multi-channel branches" in regional Victoria, where face-to-face services are available from 9.30am to 1pm.
Finance Sector Union national secretary Julia Angrisano said Westpac's decision to reverse the eight branch closures was simply an effort to save face during the inquiry, while another 12 branch closures were still going ahead.
"If Westpac can cancel closures in some areas because of a Senate inquiry, it should cancel
closures everywhere," she said.
"Westpac's massive $4 billion half-year profit demands that it stops leaving members of the
community stranded without financial services."
A Westpac spokesman said the bank decided against closing the eight regional branches after talking to customers and employees.
He also pointed the bank's 10-year agreement to provide [email protected] services, which allowed many transactions to be done in-person at post offices.
The Morning Edition newsletter is our guide to the day's most important and interesting stories, analysis and insights. Sign up here.
Most Viewed in National
From our partners
Source: Read Full Article