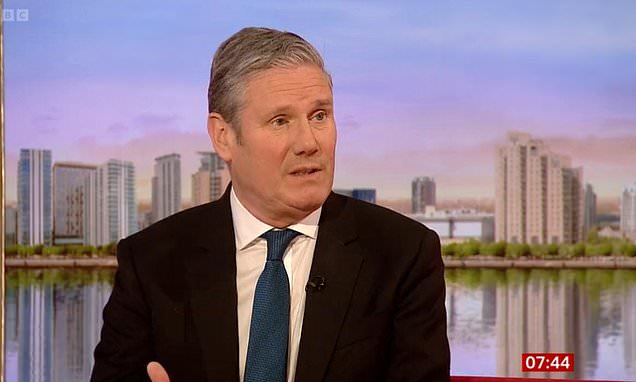 Keir Starmer braces for civil service verdict on Sue Gray's recruitment as his chief of staff today saying he is 'confident' no rules were broken – but Tories warn he 'has serious questions to answer'
Keir Starmer insisted Sue Gray did not break civil service rules today as he awaits the verdict on recruiting her as his new chief of staff.
The Labour leader said he is 'confident' that the proper process was followed over the mandarin's prospective move into politics.
He stressed that there were no contacts between the party and Ms Gray while she was conducting the Partygate probe into Boris Johnson's Downing Street. 
However, Tories have warned Sir Keir has 'serious questions to answer', with calls for the appointments watchdog to impose a long cooling off period before she can take up the new post. 
The Labour offer to Ms Gray has triggered a huge row over the neutrality of the civil service and infuriated Mr Johnson's supporters.
A Cabinet Office review of the circumstances is being published today, with insiders predicting it will conclude that talks were kept secret in breach of the Whitehall code.
It follows reports last week that the ACOBA watchdog could ban Ms Gray – who was recruited to head Labour's efforts to 'transition' into Government – from working for the party until after the next election, expected by autumn 2024.
A Cabinet Office minister is due to issue a written statement to the House of Commons later containing an 'update into the circumstances leading to the resignation of a senior civil servant'.
Sir Keir denied that any approach was made while Ms Gray was investigating Mr Johnson.
'I am confident she hasn't broken any of the rules… that is the process she is going through quite rightly.'
He said the government was trying to 'resurrect' the story about Ms gray 48 hours before the election to distract from the cost of living crisis. 
Labour sources insisted she had not been involved in advising the Privileges Committee probe into whether the former 'recklessly' misled Parliament about Partygate.
However, there are claims that Ms Gray was involved in the Propriety and Ethics Team at the time, and Foreign Secretary James Cleverly told Sky News: 'If that is what the report says, I do think Keir Starmer has got some serious questions to answer.' 
The Gov.uk website states that the last role Ms Gray held before her resignation earlier this year was second permanent secretary to the Cabinet Office.
She was seconded to Northern Ireland from 2018 to 2021 and before that was director general of the propriety and ethics team between 2012-18.
Her Partygate probe was published in full in May last year, having been held up after the Metropolitan Police announced a separate inquiry into the allegations of lockdown-busting events.
Sir Keir wants Ms Gray in place to help ready his party for power should he win the next general election.
The Civil Service Code stipulates that officials of Ms Gray's seniority must wait a minimum of three months before taking up outside employment.
But Acoba could recommend that it is a longer wait, with a maximum delay of up to two years.
Labour has pledged to abide by any recommendation fro the watchdog in relation to the hiring of Ms Gray.
Source: Read Full Article