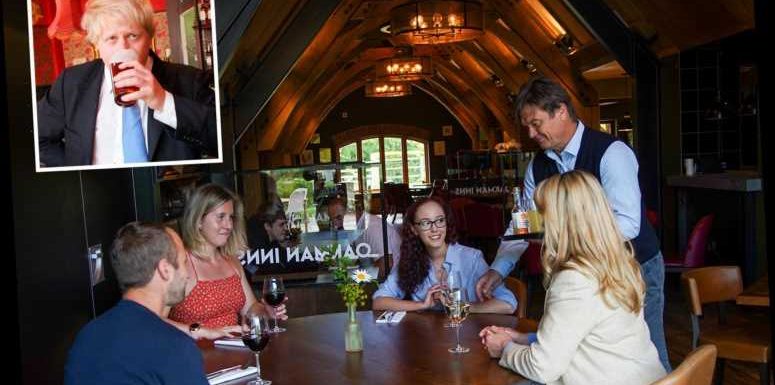 PUBS will be able to welcome thirsty Brits again from April 12 with drinkers allowed inside again from May 17 – Boris Johnson announced today.
The Prime Minister has today unveiled his roadmap out of lockdown as he prepares to lift restrictions and "reclaim our freedoms" in the coming months.
? Read our coronavirus live blog for the latest news & updates…
The PM said from April 12, Brits will be able to meet in beer gardens as either six people or two households.
This will be followed by the opening of pubs and restaurants indoors on May 17, with social distancing measures remaining in place.
The hated 10pm curfew will be scrapped as well as rules meaning customers must order food to be able to enjoy a pint.
The PM joked the catering rules meant: "The scotch egg debate is now over".
He told MPs: "We will begin to reopen our pubs and restaurants outdoors.
"Honourable members will be relieved there will be no curfew and the Scotch egg debate will be over as there will be no requirement for alcohol to be accompanied by a substantial meal."
On June 21, nightclubs will be allowed to welcome party-goers for the first time since last March.
All restrictions will be lifted at the same time across England – with no more tiers in sight.
The PM told MPs today: "Today the end really is in sight. A wretched year will soon give way to spring and summer."
And as long as the data allows and there are no more new variants which could wreck the plans, the PM aims to review and relax more rules every five weeks.
Boris vowed his map was a "one way road to freedom" and insisted there would be no turning back.
And he hinted that furlough would be extended further, saying that he would do whatever it takes to continue to provide support for people throughout the pandemic and "the rug will not be pulled out".
The lockdown roadmap includes:
Schools to return from March 8 for all pupils, and two people from different households can meet outside
But kids will have to wear masks in classrooms at first
From March 29 the rule of six returns outdoors and outdoor sport will resume with golf and tennis courts back open
April 12 will see shops reopen for customers again, with hairdressers and barbers back – along with nail salons
Brits will be able to go on a staycation with their family as the stay local rules will be lifted from the end of April
From May, pubs and restaurants will be allowed to have indoor service again – with the rule of six or two households in place
Gyms will then be allowed to reopen and other indoor activities like cinemas and bingo halls
From May two households will finally be able to mix indoors – and stay overnight
After June it's hoped that all other restrictions on where people can go are hoped to be lifted
Nightclubs and theatres can finally reopen – likely with rapid testing schemes
The PM will allow schools to reopen on March 8, with people also able to sit down for a drink outdoors or in a park with their family, or with one friend or relative.
It comes after the Sun revealed Boris had been given the confidence to unlock the UK faster thanks to the success of the jabs programme.
More than 17million people have already received their first dose of the vaccine.
And Boris has vowed to offer every adult in Britain a Covid jab by the end of July.
STEPS TO GO
It came as a poll for The Sun on Sunday found some 81 per cent rated the country's jabs programme a success.
In a boost for millions, the PM said outdoor sport will resume from the end of March.
Team games including football, rugby and hockey will be allowed.
By May, gyms and salons will also open with rules and self-catering holidays will be permitted in the UK in April.
Our poll found people are willing to carry a vaccine passport to show they've had a jab if it means pubs and restaurants can open sooner.
Some 62 per cent would be happy to do so in all circumstances. Only 15 per cent were totally opposed, the poll for The Sun on Sunday found.
It is feared, however, that the roadmap will have too many speed restrictions for thousands of pubs, cafes and restaurants.
Mr Johnson looks set to delay full reopening until May. Bosses fear partial reopening — with outdoor seating — will not save them.
Source: Read Full Article