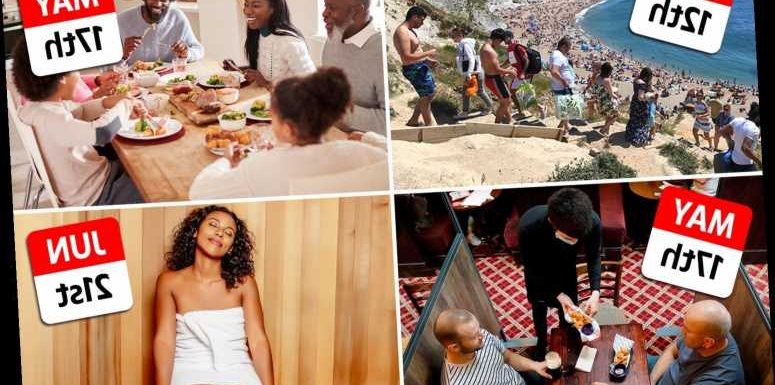 BORIS Johnson has revealed his step-by-step plan for unlocking the UK economy and returning Brits freedoms over the coming months.
The unlocking will start with the return of all school pupils on March 8 with Brits able to meet friends and family outdoors by the end of the month.
🦠 Read our coronavirus live blog for the latest news & updates…
Here's how the unlocking will take shape throughout spring and summer.
March 8
All schools will return in two weeks time on March 8.
Boris Johnson made the commitment earlier this month in order to give schools time to prepare before pupils re-enter the classroom.
The Prime Minister is preparing a major school safety campaign this week to convince parents children are safe, despite nine teaching unions saying they want a staggered return. 
He will also unveil millions in support for a major catch up push and a Covid mass-testing regime for all schools to follow in the coming days. 
Two people from different households will also be able to meet outdoors and sit in a park for the first time since lockdown began.
Currently, a maximum of two people are only able to meet for exercise.
March 29
The national stay-at-home order will be scrapped on March 29, with outdoor team sports back on from that date.
Other outdoor activities such as tennis and golf will also return with people able to head to their local sports clubs again.
Although friends and families will be able to meet outdoors from March 29, they will not be able to enter each other's homes until May.
Indoor household mixing has been identified as a key area of infection during the pandemic.
April 12
In the first major easing of restrictions, non-essential shops and hairdressers will reopen and restrictions on people's travel will also be relaxed.
Families who live in different areas of the country will also be able to travel to meet outdoors, as long as they don't enter each other's homes.
Brits can enjoy a pint in pub beer gardens once again as long as they stay seated. Rules about ordering food and a 10pm curfew. from previous lockdowns will not return
Pubs and restaurants will be able to offer outdoor seating with table service. Social distancing and the Rule of Six will stay in place.
Unkempt Brits have been unable to visit a barbers or hair salon since January under the current lockdown.
But the nightmare will be over when hairdressers are be able to reopen on April 12.
Restrictions on weddings will be eased from April 12, with the number of attendees limited to 15 people.
On the same day, a further update is expect on international travel rules.
The lifting of restrictions on domestic travel from April 12 will give the go-ahead for domestic holidays to resume after Easter.
Staycations will allow members of the same household to stay in self-contained accommodation.
May 17
May 17 will mark the lifting of many indoor restrictions currently in place across the UK.
Gyms and pubs will reopen their doors to allow customers inside and fans will once again be able to watch live sport and music, with social distancing.
Indoor mixing in people's homes, including overnight, will be allowed once again with Rule of Six and a limit of two households.
The number of attendees allowed at weddings will rise to 30.
Stadiums, live venues and cinemas will be able to welcome fans once again, with caps on numbers to help maintain social distancing.
A maximum of 10,000 spectators will be allowed in stadiums and arenas.
The move means the final round of 2020/21 Premier League could see fans return to stadiums – some for the first time since last March.
Wembley Stadium is scheduled to host the semi-finals and final of Euro 2020 in July.
June 21
Nightclubs will be allowed to welcome party-goers for the first time since last March.
It is also hoped restrictions round weddings will also be scrapped, with a decision due to be taken nearer the time based on the numbers of deaths and the success of the vaccination rollout.
Source: Read Full Article