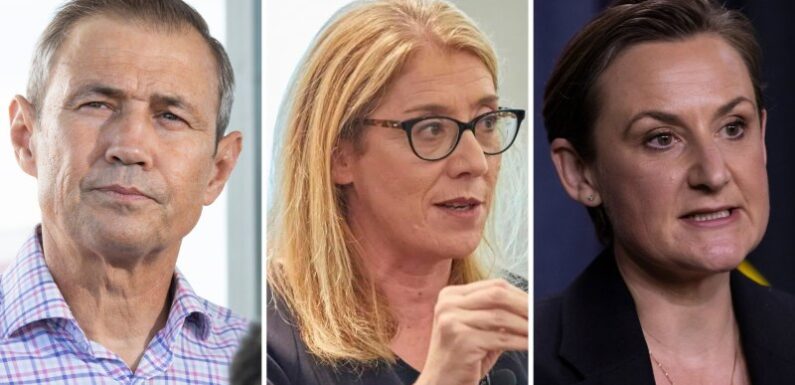 Save articles for later
Add articles to your saved list and come back to them any time.
It was a resignation no one saw coming. And while it's still early, there are already three key WA Labor figures tipped to take on the task of filling Premier Mark McGowan's shoes.
McGowan's successor will not be chosen by a vote, but rather by a series of internal party discussions designed to gauge alliances and support.
WA premier contenders: Deputy Premier Roger Cook, Transport Minister Rita Saffioti, Health Minister Amber-Jade Sanderson. Pictures: Getty/Supplied
While the party is still digesting the shock retirement news, internal party meetings are expected to begin as early as tomorrow. So, who's next in line?
Roger Cook
As second in command, Deputy Premier Roger Cook is considered the most likely to be next-in-line.
Cook, a member of the ever-powerful United Workers Union, has held the seat of Kwinana since 2008 and rose to prominence as Health Minister during the COVID-19 pandemic.
While McGowan was publicly revered for his pandemic-related policies and rewarded with a record-breaking approval rating, credit for Cook was offset by heavy scrutiny over the state of the healthcare system.
He was relieved of the troubled portfolio during a cabinet reshuffle in December 2021 and handed State Development, Jobs and Trade, Hydrogen, Tourism, and Science.
Cook will be keeping the seat warm when McGowan vacates it later this week, but his alignment with the party's dominant left faction could keep him in it.
Rita Saffioti
Another understood to be interested in the top job is Transport Minister Rita Saffioti, the person entrusted with delivering the McGowan government's landmark Metronet election pledge.
Saffioti rose to prominence at WA Labor's landslide 2017 election when she gained the Transport, Planning and Ports portfolios. But Saffioti's position on the fringes of WA Labor's centre of power long preceded her promotion to cabinet.
The 51-year-old served as director of the economics policy unit of the Department of the Premier and Cabinet and as then-Premier Alan Carpenter's chief of staff before securing the seat of West Swan in 2008.
Her time in office hasn't been without its challenges, however, with Metronet suffering major cost blowouts in an overheated construction market.
Saffioti is unaligned to a Labor faction but benefitted greatly from being inside McGowan's inner-circle.
Being unaligned could be a hurdle for Saffioti. If not Premier, Saffioti is expected to be the lead contender for deputy and possibly Treasurer.
Amber-Jade Sanderson
Relative newcomer, Health Minister Amber-Jade Sanderson, is also tipped to be interested in the leadership but as of Monday afternoon she was still considering her position.
The Morley MP, who is aligned with the party's left faction, was elected to parliament in 2013 after serving as assistant state secretary for the United Workers Union.
She garnered attention for her role in delivering the state's Voluntary Assisted Dying legislation before joining the ministry with the Environment, Climate Action, and Commerce portfolios in March 2021.
Sanderson was quickly catapulted into the role of Health Minister as part of a major cabinet shakeup just six months in and has been lauded for her leadership potential.
But whether she will have the numbers to oust her left faction colleague Cook is yet to be seen.
With Hamish Hastie
Most Viewed in National
From our partners
Source: Read Full Article