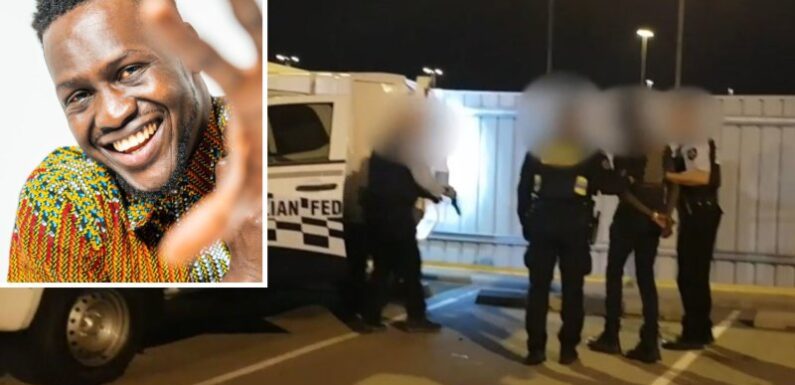 Save articles for later
Add articles to your saved list and come back to them any time.
A Melbourne man who was Tasered by Australian Federal Police three times after refusing to take his designated seat on a flight from Perth has been fined $1500.
Bolic Malou, 30, was booked on a Jetstar flight in March when he got into an argument with his partner in the airport terminal and pushed ahead of her and others in the line to board the plane.
Musician Bolic Malou (inset) has been fined $1500 after being arrested on a Perth to Melbourne flight for refusing to take his seat. Credit: AFP / The Local Frequency
The woman asked airline staff if she and her child could change seats to no longer be sitting with the musician, known as Rockstar Bo La, which was granted.
When Malou realised his family had changed seats, he moved and sat with them and refused to get back up.
Three AFP officers were called in to help move the man, who authorities believed was drunk.
During attempts to physically lift him, Malou tried to place one of the officers in a headlock and take his Taser.
He was eventually Tasered three times by police, arrested and charged with disorderly conduct and obstructing a Commonwealth public official.
During his sentencing in Perth Magistrate's Court on Thursday, Magistrate Elizabeth Woods told Malou that once AFP officers had the perception he was refusing to leave, "it was never going to end well".
AFP Superintendent Peter Hatch said the force would not tolerate disorderly or violent behaviour on aircraft.
"Our officers and airline workers are there to ensure everyone has a safe journey, it's important for the public to treat everyone at the airport with respect," he said.
"The AFP will continue to have zero tolerance for anyone choosing to behave poorly on aircraft, or in and around Australia's airports.
"This kind of behaviour is unacceptable from any passenger, if the man had simply complied with the directions of airline staff and the police, the incident could have been avoided."
After pleading guilty, Malou was fined $1500 and placed on a 12-month Commonwealth conditional release order.
The Morning Edition newsletter is our guide to the day's most important and interesting stories, analysis and insights. Sign up here.
Most Viewed in National
From our partners
Source: Read Full Article