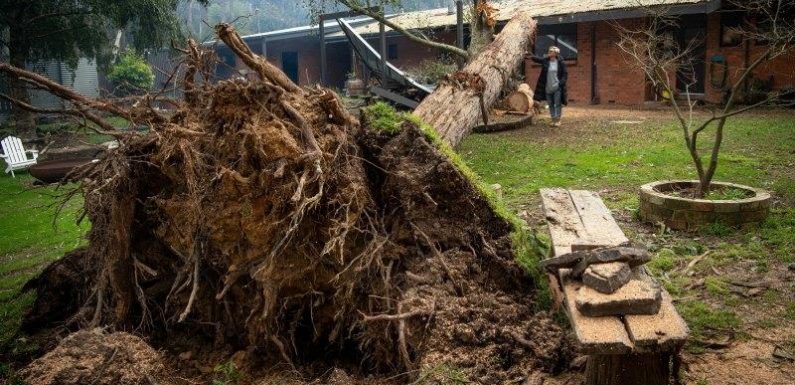 Victoria's emergency management centre is warning Melburnians against rushing to areas battered by floods and storms once travel restrictions are lifted as one power distribution company warns some Dandenong residents will be without power for another three weeks.
Unstable and severely damaged trees are hampering electricity workers' access to power infrastructure as they try to restore connections for thousands of households and businesses after storms left widespread destruction in the Dandenongs.
Kallista resident Jeff Seigerman carries bottles of water brought in for residents after they were warned not to drink water from their taps. Credit:Eddie Jim
On Wednesday night power distribution company AusNet Services said customers in the worst-affected parts of the Dandenongs should prepare to be without power for another three weeks.
"The initial estimates provided to customers were wrong," the company tweeted. "We are deeply sorry. We now understand the extent of the damage and scale of the recovery and repair ahead."
A State Control Centre spokeswoman said forecast rain and winds up to 60 kilometres an hour in Gippsland on Friday and Saturday would put further stress on trees already buffeted by floods and strong winds.
"Emergency services and residents in flood and weather-affected areas are at risk as trees may fall without warning," she said.
On Wednesday the state government announced Melburnians could travel beyond their 25-kilometre bubbles. But the State Control Centre spokeswoman said parts of Victoria hammered by extreme weather last week should be off limits.
"Many roads remain closed and emergency services and power utility companies are continuing work to clear trees and restore power."
James Pickford was very lucky to escape after a large tree smashed through his Olinda bedroom.Credit:Joe Armao
Earlier this week Emergency Management Commissioner Andrew Crisp said he had been told there were about 30 "killer trees" in the Kalorama area that were at risk of falling.
The warnings came as almost 10,000 households and businesses remained without power on Wednesday afternoon with the Dandenongs the worst affected. Parts of Lilydale, Belgrave, Mooroolbark and Gippsland were also cut off from power.
AusNet Services spokeswoman Helina Lilley said access to electricity infrastructure remained a major challenge in some areas.
"Damaged trees remain a concern particularly with the weather that's forecast for the rest of the week," she said.
Ms Lilley said the power distribution company hoped electricity would be restored to many households by Sunday although it may take significantly longer for some customers.
She said fallen power lines should be treated with extreme caution.
"Assume they're live and stay well clear of them."
Fresh drinking water being trucked in to Kallista. Credit:Eddie Jim
A spokeswoman for Yarra Valley Water confirmed 704 households were likely to be without drinking water for three days in Kallista, Sherbrooke and The Patch.
In Kallista, residents have had no power, internet and phone coverage, and now the water supply has been tainted by contamination concerns because of equipment failure.
After residents were told not to turn on their taps on Wednesday, trucks carrying tens of thousands of litres of water drove up the mountain to help meet the needs of a community still trying to clean up the damage caused by fallen trees.
In nearby Sherbrooke, Hillary Morris has not had power for seven days and is now getting used to the "bush bath" of heating water on the gas stove for her showers.
Two giant trees now lie in her backyard, leaving a crater big enough for someone to stand in. Luckily, they crashed down the other way from the house she's lived in for 34 years.
"It was absolutely horrific, things were just falling down the whole time," she said.
Storms wrought widespread destruction in Olinda and other parts of the Dandenongs last week. Credit:Joe Armao
Acting Premier James Merlino said he had been talking to local councils about additional support required in their communities.
Asked on Wednesday whether the government would consider laying power cables underground to avoid damage by the elements, he said there were no immediate announcements about "big infrastructure responses".
"The assessment of the damage is taking place right now, so it's a bit early at this stage to talk about the extent of the damage and what will be done in response," he said.
Mr Merlino said he was leading a security and emergency management meeting of cabinet ministers on Wednesday afternoon, which would consider what other support was necessary.
The Morning Edition newsletter is our guide to the day's most important and interesting stories, analysis and insights. Sign up here.
Most Viewed in National
From our partners
Source: Read Full Article