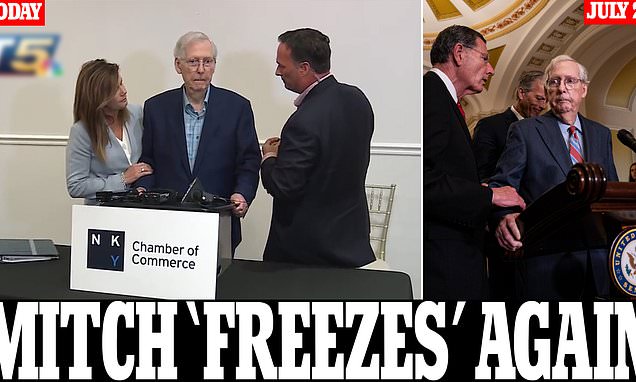 Mitch McConnell freezes AGAIN: Senate Minority Leader, 81, doesn't respond to questions for 30 seconds in another worrying episode
The concerning episode happened weeks after an incident in the Senate
McConnell was asked about whether he plans to seek reelection in 2026
He froze and stood mostly silent, then was escorted away 
Mitch McConnell froze again while answering questions from reporters in Kentucky, in another troubling on-camera appearance just weeks after he froze mid-press conference while speaking just off the Senate floor.
The 81-year-old Senate Minority leader didn't respond for 30 seconds when he suddenly stopped speaking in the middle of a press event in a scene eerily similar to a Capitol Hill press conference last month.
McConnell appeared to register the question, chuckling at first, before an aide had to step in and repeat it for him as he addressed the Northern Kentucky Chamber of Commerce Government Forum in Covington.
He was then led away. 
The incident happened right after McConnell, first elected in 1984, was asked a about whether he would seek reelection, after speaking for about 20 minutes.
Mitch McConnell froze again while answering questions from reporters in his home state of Kentucky 
That followed a worrying incident in the Capitol in July where McConnell also froze during a televised event. In that incident, senators including Sen. John Barrasso (R-Wyo.) led him back to his Senate office. 
During that incident, McConnell returned to address the media, shaking off the event with a joke about President Biden, who had phoned him after it happened. He had frozen in mid-remarks for about 21 seconds.
'I got sandbagged,' McConnell said minutes after the incident, pointing to Biden's stumble after delivering the Air Force Academy commencement address. 
During Wednesday's jarring apparent repeat, an aide went up to McConnell's ear to ask if he could hear the question – repeated that it was about running for reelection in 2026.
Republican Senate leader Mitch McConnell suddenly stopped talking and had to be walked away from the podium during his press conference on Wednesday
He suffered a concussion and broken rib when he tripped and hit his head at the Waldorf Astoria and was admitted to hospital for treatment for a week
McConnell mustered only a quiet 'yes,' and was otherwise speechless.
'I'm sorry, we're going to need a minute, the aide said. 
At the White House, press secretary Karine Jean-Pierre was asked about it, but said she was unaware if the president had been informed. 
Both events follow the powerful Senate leader taking a fall at the Waldorf-Astoria hotel, the former Trump hotel in Washington, D.C. 
He suffered a concussion and broken rib in March when he tripped and hit his head at the Waldorf Astoria and was admitted to hospital for treatment for a week.
He needed six weeks to recover.
Minutes before the incident Wednesday, McConnell was speaking cogently about world events. He questioned why fellow Republicans would oppose U.S. aide to Ukraine, noting that no Americans had died as a result and that Russia was being weakened. 
McConnell is the longest-serving Republican Senate leader, and has earned a reputation as a wily tactician – helping install a bevy of conservative judges under the Donald Trump presidency, while also stalling President Barack Obama's nomination of Merrick Garland to the Supreme Court.
He voted against both Trump impeachments, but his relations with Trump ruptured over January 6, and Trump regularly goes after him publicly. 
With Democrats facing multiple forced to defend multiple seats and Biden's approval underwater, Republicans have a strong chance to take over Senate control, which would put McConnell back into the powerful post he has wielded before.
McConnell's difficulties come at a time of increased scrutiny on the health of some aging senators, including California Sen. Dianne Feinstein, 90, whose absences have hampered the majority Democrats' ability to move nominations through the Judiciary Committee. 
McConnell's former colleague Biden, 80, could end up in a rematch with Trump, 77. 
Source: Read Full Article