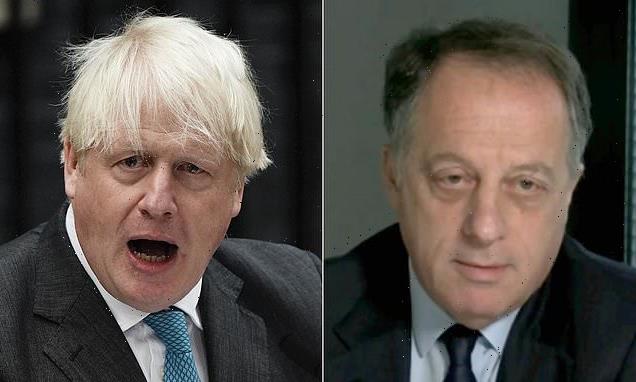 MPs call on BBC boss Richard Sharp to explain his role in Boris Johnson loan furore
Richard Sharp helped sort a guarantor for a £800k loan to Boris Johnson in 2020
Weeks after deal, Sharp was recommended for role of BBC chairman by Johnson
BBC chairman Richard Sharp has been summoned by MPs to explain why he did not tell them about his alleged role in Boris Johnson's finances.
He did not disclose any involvement in helping the then-prime minister obtain a personal loan in his pre-appointment hearing before the Commons digital, culture, media and sport committee.
Mr Sharp is said to have agreed to help with Mr Johnson's finances after a dinner with him and the then-PM's distant cousin Sam Blyth, a multi-millionaire who had offered to act as a guarantor for a credit facility of up to £800,000.
Yesterday the £160,000-a-year BBC boss, pictured, told BBC News he was 'comfortable' with the way the process had been carried out.
BBC chairman Richard Sharp has insisted there was no conflict of interest in his appointment to the role as he faces question over his alleged involvement in helping Boris Johnson secure a six-figure loan
'Having had a discussion with the Cabinet Secretary about avoiding conflict, and the perception of conflict, I felt comfortable and I still feel there was no conflict because at that stage what I was seeking to do was ensure that the process was followed exactly by the book,' he said.
Late in December 2020 Mr Sharp went to Downing Street to discuss the matter with Cabinet Secretary Simon Case and introduced him to the Canadian businessman, an old friend of his, The Sunday Times reported.
Former PM Boris Johnson is facing criticism over allegations of a conflict of interest involving BBC Chairman Richard Sharp and financial help
The Cabinet Office is said to have told Mr Johnson to stop seeking Mr Sharp's advice about his personal finances, given the imminent BBC appointment.
The following month Mr Sharp was announced as the Government's choice for the £160,000-a-year role at the head of the corporation. 
Neither Mr Sharp nor Mr Johnson disclosed the matter in their register of interests.
On Monday, public appointments commissioner William Shawcross announced he is to investigate Mr Sharp's appointment as BBC chairman in February 2021 to ensure the process was conducted 'fairly, openly and on merit'.
Source: Read Full Article