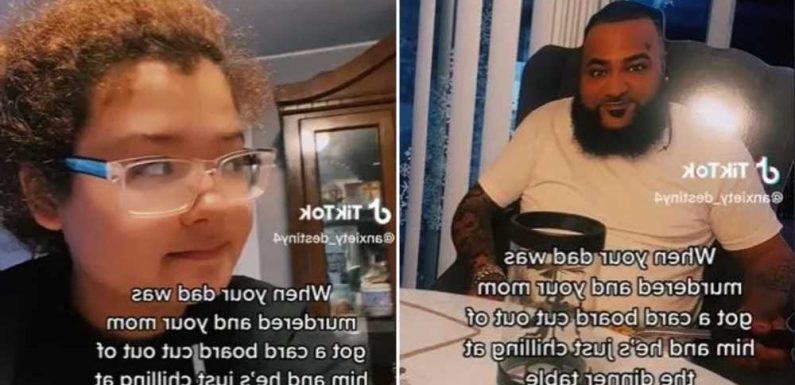 A GRIEVING teenager has told how her mum bought a cardboard cut out of her dad for the dinner table after he was shot dead.
TikTok user Destiny, 18, shared a video of the cardboard version of her dad "chilling" at the table with her.
She captioned the video: "When your dad was murdered and your mom got a cardboard cut out of him and he's just chilling at the dinner table."
It shows Destiny sitting at the dining table sipping on a drink through a straw before the camera flips to show a life-like cut out of her dad.
She jokingly gives him the side-eye while lip syncing an awkward "hey" to him across the table.
"Scared the s*** out of me when she first got it, still does at times," the caption said.
READ MORE IN WORLD NEWS
Trolls mock me for spending £50k on surgery to look like Marilyn Monroe
Horror as popular giraffe dies after breaking his own neck in enclosure gate
Destiny's dad, Eddie Sáez, was shot dead on January 4, 2021 at his own business.
The father-of-seven, from Fayetteville, North Carolina, was found in a pool of blood after two armed men were seen fleeing from Eddie Sáez's store.
He was tragically pronounced dead at the scene. 
Destiny's TikTok video was posted over the trending sound of two people saying "hey" to each other.
Most read in The Sun
Energy firm flies reps to Maldives resort as Brits struggle to afford heating
Rugby ace's alley sex act was with pal's MISSUS – as wife dumps him over clip
Stacey Solomon reveals baby daughter's name after birth of fifth child
Nicola cops search caravan site yards from where mum's phone was found
And her followers were quick to offer their support and take part in the light-hearted joke.
One user wrote: "Omg but I had to watch it a second time to catch that he is a cardboard cutout!"
Another joked: "Y'all ain't gon give him a plate??? He hungry."
A third came and offered her support, saying: "Awwww lol felt so many emotions in this video. You look just like your dad though."
In another video, Destiny told how her dad tragically died four months before she graduated.
Her comment section was flooded with kind messages from her 1,900 followers followers.
One message read: "I know you miss him, my special young lady… know he is always with you… remember you made him a dad… love you infinity and beyond beyond".
Another read: "Omg this man was awesome! I can not believe I came across this! He did a poker run on the boat's with us! Keep your head up girl you're dad was great".
Two arrests have currently been made over the death of her dad.
Rasheem Lopez Grant, 28, in Columbia, South Carolina, was arrested on charges of first-degree murder, robbery with a dangerous weapon, possession of a firearm by a felon and conspiracy. 
Read More on The Sun
Job with £460k salary & FREE 4-bed house & no one wants to do it
I moved into a SKIP to save money on rent – it costs just £50 a month
Harley was then transferred to the Cumberland County jail, police said.
Quinteel Pierre Harley, 34, of South Carolina, was also on charges of first-degree murder, robbery with a dangerous weapon, possession of a firearm by a felon, and felony conspiracy.

Source: Read Full Article