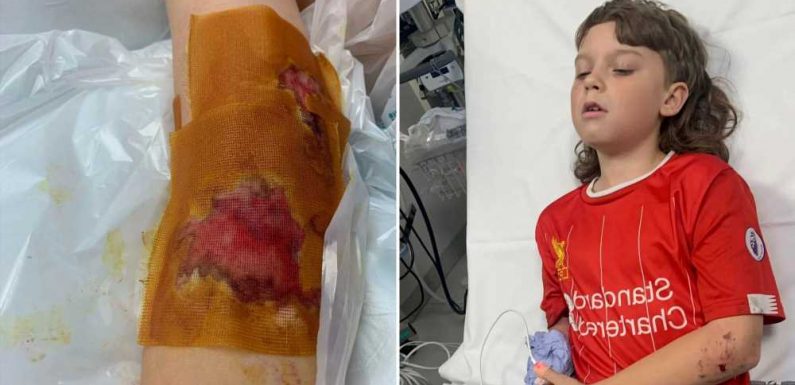 A MUM has revealed that her young son was left "unable to walk" after being savaged in a bloody dog attack while playing football.
Kimberly Fullbirg, 34, said her son Giorgi Fullbirg-Taylor, 10, suffered "severe" bite wounds after being set upon by the jet-black "mixed terrier" mutt during a kick about with his brother Blake and friend Jimmy on February 14.
Kimberly, from Bradford, Yorkshire, said: "They had been playing for half an hour when they saw the dog as Giorgi was taking a shot at my other son. The dog came running over and popped the ball.
"Blake, who has autism, was quite angry that it had popped the ball. So he walked off the field to find an owner.
"But before they had even got off the field to the footpath, they heard a scream, and they turned round to see the dog attacking Giorgi."
She added that the dog "wouldn't let go" and that its jaws had to be forced open by a brave bystander with a paint scraper.
READ MORE UK NEWS
Moment gangster's moll plots murder of ex-husband hours before torture death
I'm investigating woman who claims to be Maddie – I'll reveal true identity
The dog then tried to attack Jimmy before it was chased off and the boys were brought home by a local man named Dean, according to the distressed mum.
Giorgi was rushed to the hospital, where the extent of his wounds became clear.
Kimberly recalled: "I said to Giorgi, 'Come in the house' but he said, 'I can't walk'.
"I initially saw the puncture wound on his left arm. But it wasn't until I got to the hospital, and they cut off his tracky-pants, I saw several bite wounds to both sides of his legs."
Most read in The Sun
I have the 'world's biggest lips' – but now I'm going to set a NEW world record
Manchester Arena girls never came home so why should Begum, says survivor
Three arrests after top cop gunned down in front of son while coaching football
I refuse to go back to Home Bargains after I was fined £100…I spent more than £300
The young lad sustained a puncture wound to his right elbow, three or four deep cuts on his left arm and bite marks on his legs.
He went under the knife for plastic surgery to repair the damage on February 15 and remained in hospital overnight.
His mum called for tougher restrictions on dangerous dogs, saying: "There needs to be tougher laws around dog ownership, and if you are found responsible, you need to respect the consequences.
"Sorry is not enough. I could never forgive myself if it was one of my dogs that had gone and bitten not just one child but two children and caused significant injuries.
"Owners need to be more accountable. Giorgi hasn't been back to school yet. He is stills scared, and he won't go back to the football field."
Jimmy also received treatment for his less severe injuries.
West Yorkshire Police are appealing for information regarding the attack, which is currently under investigation.
A spokesperson for the force said: "Police are investigating after reports of two people being bitten by a loose dog on a field in Bierley.
"It happened on Tuesday, 14 February sometime between 2.15pm and 3pm on a field just off Bierley Lane.
"Both victims required hospital treatment for their injuries. Enquiries are now ongoing with the owner of the dog and an investigation is underway."
Read More on The Sun
I have the 'world's biggest lips' – but now I'm going to set a NEW world record
I don't use loo roll, we have Family Cloth instead – we make it from old PJs
Anyone with information is encouraged to contact the force on 101.
Those who wish to make an anonymous report can contact independent charity Crimestoppers on 0800 555 111.

Source: Read Full Article