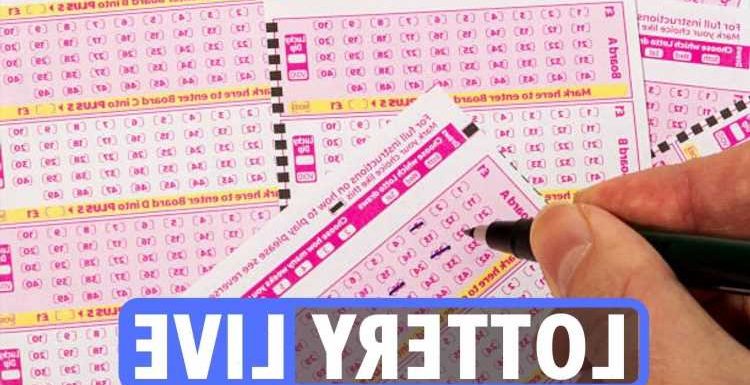 The National Lottery's Lotto draw has taken place with a cool £2m jackpot to be won by a lucky ticket holder.
Wednesday's winning Lotto numbers, which were drawn shortly after 8pm, are:
Tonight's winning numbers are: 13, 24, 34, 35, 49 and 55, while the bonus ball is 53.
Meanwhile, a £98million EuroMillions jackpot was not won in last night's draw – meaning Friday's jackpot is now a whopping rollover of £110million.
The winning numbers were 9, 19, 21, 32 and 36, with two Lucky Stars are 03 and 04.
Read our EuroMillions live blog below for the latest updates…
Joseph Gamp




Fraudster who swindled £2.5m in fake ticket scam still owns £466k house

A RAPIST who scammed millions on the Lotto ten years ago still owns a posh four-bedroom house he allegedly bought with the tainted dosh.

The home in commuter haven Kings Langley, Herts, just minutes from the M25 has fallen into serious disrepair.

Docs show it is still owned by convicted rapist and fraudster Edward Putnam who is currently serving nine years for his despicable part in the biggest scam to ever hit the National Lottery.

He was jailed for seven years in 1993 for raping a terrified pregnant 17-year-old girl.

Putnam, now 56, "scooped" £2.5 million on the National Lottery in 2009 after conspiring with a Camelot employee to craft a fake ticket.

Joseph Gamp




Tonight's Thunderball numbers REVEALED

The Thunderball draw has taken place.

The winning numbers are: 19, 21, 22, 29 and 33.

And the Thunderball itself is 13.

Joseph Gamp




Thunderball up next

Thunderball takes place at 8.15pm.

You could win a cool £500,000 in tonight's jackpot.

Numbers at the ready- and good luck!
Joseph Gamp




Tonight's Lotto results REVEALED

The Lotto draw has just taken place.

Tonight's winning numbers are: 13, 24, 34, 35, 49, 55.

Meanwhile, the bonus ball is 53.

Were you a winner?

Joseph Gamp




Lotto draw in 15 minutes times

The jackpot tonight is a call £2m.

To win the jackpot, ticket holders must match all numbers plus the bonus ball.

Good luck!

Joseph Gamp




The couple who won lottery twice after losing their son to Covid

A couple won two lottery prizes in two weeks, just months after tragically losing their son to Covid.

Susan Slater and her husband won more than £30,000 on the People's Postcode Lottery twice in July of this year.

They now want to use the cash to remember their son Steve, who died with coronavirus.

Susan, 74, said she couldn't believe it when she found out that she had won again: "When I got the phone call for this, I'd told quite a few people that I'd won £1,000 and I thought 'this is a wind-up, someone is winding me up!'

"Nowhere in my imagination did I think I was going to be lucky enough to win £30,000."

Joseph Gamp




Euromillions explained

EuroMillions is a lottery game in which players from participating European countries join in the fun to win huge life changing jackpots.

Players can pick five numbers from 1-50 and two Lucky Stars from 1-12, or they can try a Lucky Dip for randomly selected numbers. 

The EuroMillions runs on Tuesday's or Friday's every week. Remember, to play on a draw day, you'll need to buy your ticket before 7.30pm.

All results are published here on the blog from around 8.30pm.

Joseph Gamp




Mapped: 10 luckiest cities in the UK

Lottery data shows the areas with the cities and towns with the highest number per capita of high-tier winners to scoop £50,000 or more on the National Lottery.

The National Lottery has now made over 6,100 millionaires in the UK.

Data taken from the launch of the lottery in 1994 until Sept 2019 reveals the luckiest regions.

Joseph Gamp




Family drama

In 2016, the Davies family won £61million on the EuroMillions.

Stephanie Davies, then 23, reluctantly bought a ticket after mum Sonia phoned from Florida and begged her to buy one.

Sonia, who worked as an administration assistant, was in the US having vital keyhole surgery to remove a cancerous tumour from the parathyroid glands in her neck, and had a feeling she would go on a winning streak after the op was a success.

But even this happy family couldn't avoid controversy as it was reported father of the family Keith, of Ross-on-Wye, Herefordshire, would share his cash with his daughters with ex Mandy – but his wife's son was allegedly snubbed.

Keith's partner Sonia's estranged son Spencer Pugh claimed he would not see a penny of the £61million EuroMillions win.
Joseph Gamp




Prince Harry on 'tackling misinformation'

Harry has recently released a report on "tackling misinformation" in technology, media and social media.

It comes as last week he blasted sections of the media as "pirates with press cards".

He said he had warned the boss of Twitter of a potential "coup" the day before the attack on the US Capitol.

Joseph Gamp




Ex-footballer turned builder forced to retire from injury wins £1m on lottery

An ex- Championship footballer who was forced to retire due to injury has bagged himself a life-changing £1million on the National Lottery.

Terry Kennedy, who played for Sheffield United and Harrogate Town, has gone viral on social media after a video was posted of him being informed of his sensational win.

After celebrating his 28th birthday on Monday, footage emerged of Kennedy anxiously clutching his lucky ticket and speaking to what appears to be a member of the lottery to confirm his winnings.

Upon being told he had indeed scooped the cash, his co-workers erupted in celebration, with the former professional footballer staring at the ceiling in disbelief.

Joseph Gamp




A thank you from Bolton's deaf community

Charity worker reveals how the National Lottery funding helped transform his life.

Imagine growing up unable to understand the people around you, and having no way of communicating except through gestures.

This was the world Philip Bridge faced as a child after being born with a genetic disorder called Waardenburg syndrome, which left him profoundly Deaf.

"My family didn't know sign language, so they'd be talking to each other and I couldn't join in," Philip says. "Mum did her best to talk to me, but it was hard for us to understand each other. I wanted to get involved but felt left out.

"I ended up playing on my own a lot – I was frustrated, and really struggled. I went to a mainstream school where making friends for me was difficult, so I'd just play football with the kid next door."

Philip, now 42, was 16 when he started to learn British Sign Language, which is when he began to blossom.

"I was learning sign language at Bolton College when a friend recommended that I join the Bolton Deaf Society (BDS)," he says. "It was quite a shock for me at first, as I hadn't had much connection with the Deaf community before, but it was fantastic to suddenly make friends. We'd go out as a group to pubs and other Deaf clubs and feel safer together."

Joseph Gamp




What are the most common EuroMillions numbers?

For EuroMillions, you pick five main numbers and two Lucky Stars, with draws taking place every Tuesday and Friday.

The five most drawn main numbers since EuroMillions launched in February 2004 are 23, 19, 44, 50 and 5

The two most drawn Lucky Stars are 2 and 8.

The least drawn numbers are 22, 33, 46, 18 and 47

The original Lucky Stars were 1 to 9 – of those, the least drawn are 4 and 1.

The more recently added Lucky Stars 10, 11 and 12 have been drawn less.

In the UK, a single entry to a EuroMillions draw costs £2.50.

EuroMillions is different to the main Lotto draw.

Joseph Gamp




Scratchcard winners jumping for joy

Among those lucky enough to bank a small fortune on a scratchcard is Sean Irwin, who bought a £3 Ruby Doubler while popping to the shops earlier this year.

The plumber screamed for joy after discovering he had scooped £300,000 after matching two number 22s.

A furloughed barman and his NHS wife also nabbed a big win on a National Lottery Win All scratchcard.

Jonny Wright, 40, said his "legs went to jelly" after realising they had bagged a £100,000 golden payout.

And mum Sandra Davine got the shock of her life when she realised she hand won £300,000 after initially believing her winnings were just £1,000.

Stunned Sandra said at the time: "You must be joking. There's no way."

Milica Cosic




The Lotto winning couple robbed at knifepoint

Dave and Angela Dawes couldn't believe their luck when they scooped a incredible £101,203,600.

And shift supervisor Dave and his charity volunteer wife Angela, from Wisbech in Cambridgeshire, ensured they shared the love with their nearest and dearest.

The pair are reported to have handed out £30million to their family and closest friends, while also setting up a charity.

Treating themselves, the pair bought a £4 million home, Socknersh Manor, in Burwash, East Sussex – previously owned by the likes of Tom Jones and Engelbert Humperdinck.

However, they went through hell last year when they were tied up and robbed by a gang at their luxury home.

The robbers fled with jewellery and around £20,000 cash in the couple's Range Rover. They later beefed up security at their home to protect themselves.
Milica Cosic




The age range…

It is illegal for any retailer to sell these goods to anyone under the age of 18 – and will apply to favourite games like Lotto and the EuroMillions.

Online sales of lottery tickets and scratchcards have already been banned – this came into force in April this year.

The new age restriction, which was exclusively revealed by The Sun, aims to make sure the lottery is not a "gateway to problem gambling", minister for sport, tourism and heritage Nigel Huddleston previously said.

Gambling is illegal for under-18s, but until now anyone 16 or over has been able to play National Lottery games.

Milica Cosic




The Catering Girls won big

A group of NHS dinner ladies who call themselves the "Catering Girls" ditched their jobs after scooping a £25m lottery jackpot in November 2017.

The lucky six all quit the health service after scooping the EuroMillions prize of £25,476,778.30.

The "Catering Girls" have been playing together for six years at their hospital in Port Talbot, South Wales.

They promised to have "one hell of a Christmas".

In November 2018 they revealed that despite quitting their jobs, their lives are very much the same despite being millionaires.

Milica Cosic




Who are the biggest Euromillions winners in history?

Your chances to win may be remote but if you do you could win big.

If you don't try your luck, you'll never know. But ALWAYS remember to play responsibly, and when the fun stops, stop.

Here are some of the record prizes one by UK winners in the past:

Milica Cosic




Lost opportunities

The UK's biggest unclaimed win was from June 2012, when a Euromillions prize worth £63.8 million.

The prize money was never picked up by its unfortunate owner.

The ticket was bought in the Stevenage or Hitchin areas of Hertfordshire but, after the allowed time period to claim expired, the money was instead distributed among charitable causes.

Milica Cosic




That's one lucky man!

In an interview with ABC News, Richard Lustig explained that his method was to re-invest all of his winnings back into the lottery, and also recommended using hand-picked sequential numbers, as well as using the same numbers repeatedly.

Lustig's total wins amount to a value of $1,052,205.58, which is about £766,736.95.

Win 1: January 1993 (scratch-off ticket) – $10,000
Win 2: August 1997 (Florida Fantasy 5) – $13,696.03
Win 3: June 2000 ("scratch-off ticket "2nd chance drawing") – $3,594.66
Win 4: October 2001 ("scratch-off ticket "2nd chance drawing") – valued at $4,966
Win 5: January 2002 (Florida Mega Money) – $842,152.91
Win 6: November 25, 2008 (Florida Fantasy 5) $73,658.06
Win 7: August 9, 2010 (Florida Fantasy 5) – $98,992.92

Sisters treated to boob jobs after lottery win

Sarah Cockings from Whitley Bay, Tyne and Wear won a whopping £3million in April 2005 when she was just 21.

She claimed to "live a very normal life" despite her vast fortune, and after the money dropped in her account she treated her siblings Emma and Alex to matching boob jobs.

"Just after I won, I bought my two sisters boob jobs but now I've had one myself, because mine were wrecked by breastfeeding," she told the Daily Mail in 2019.

Sarah, who said she "loved" her surgically enhanced chest, also went back to university so that her mum could have a "picture of me graduating".

Eight years after winning the lottery she decided to quit her job as a social worker and pursue modelling opportunities, where she's found ultimate happiness. 

"Up until now there's no bad part of being a millionaire – I've loved every minute," Sarah added. 

Milica Cosic




Sign most likely to pick the right balls

The moment we've all been waiting for. Which sign is most likely to win the lottery? Well, it's good news if you're born in February or March.

According to research from Lott and MailOnline, dreamy Pisces is the luckiest sign of the zodiac when it comes to winning the lottery.

The data, which was based on those winning the top lottery jackpot, found that 11.6% of the winners were Pisces – meaning, on average, they were more likely to pick the golden ticket.

Go-with the-flow Pisces will stumble upon extraordinarily lucky breaks and often find themselves effortlessly attracting most things on their wish list.

The masters of manifestation, this sign is often found dream journaling and asking the universe for their heart's desires.

So, Pisces, if you're reading this maybe you should get down to the shops and buy a lottery ticket.

Milica Cosic




Count your lucky stars

According to the stars, it seems that some of us are much more likely to get it than others.

Leo – Oh, Leo we knew you'd be one of the lucky ones. You always look good, have a string of admirers and just tend to always be prowling on the bright side of the street.

Virgo – It's no coincidence that planner extraordinaire is one of the luckiest signs of the zodiac. Their MI5-level attention to detail and incredible work ethic may make it seem as if things just fall in their lap.

Scorpio – They'll often find themselves in the right place at the right time as if by magic, much to the annoyance of some less fortunate souls.

Milica Cosic




Odds of winning the EuroMillions

The life-changing jackpot is hard to scoop. With between 80 to 100 million people purchasing a ticket for a EuroMillions draw each week, it proves stiff competition.

In order to win the cash prize, players need to match all five main numbers and both lucky star numbers.

But punters only have a 1 in 139,838, 160 chance of bagging the top prize.

Matching five numbers and one star has odds of 1 in 6,991,908.

There is a 1 in 22 chance of matching two numbers in the draw.

The approximate overall odds of winning a prize in EuroMillions are 1 in 13.

According to the EuroMillions website, the chances of winning the UK Millionaire Maker game can be estimated as 1 in 1,900,000.

But winning in this game depends entirely on the number of the payslips sold, so the odds therefore fluctuate.

Milica Cosic




£148m winners took a chance on random numbers

When playing the Lottery, Brits can choose their usual numbers, or take a pot-shot on the Lotto's Lucky Dip.

Gillian and Adrian Bayford, who won £148m in 2012, took a chance on random numbers.

The couple snapped up a fleet of luxury cars and splashed the cash on property before their nine-year marriage broke down.

The UK's biggest ever jackpot winners are still anonymous, with their prize draw of £170m.

Source: Read Full Article