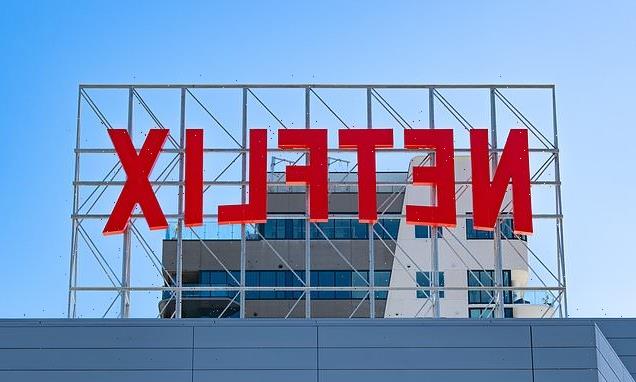 Netflix shares drop 25% after LOSING viewers for first time: US streaming giant sheds 200,000 subscribers as it battles Disney+, Amazon and Now TV
Netflix shares crashed by an eyewatering 25% after it revealed that it had lost hundreds of thousands of subscribers this year – bringing its many years of uninterrupted expansion to a juddering halt, and even throwing it into reverse. 
The US streaming giant's customer base fell by 200,000 subscribers during the January-March period, the company admitted in a quarterly report released Tuesday – and it is now projecting a loss of another 2million during the April-June period.
Netflix said the Covid boom had 'created a lot of noise' and blamed the large number of households 'password-sharing' for the slowdown.
The California-based company estimated that about 10 million households worldwide are watching its service for free by using the account of a friend or another family member, including 30million in the US and Canada. 
However, it also claimed that the market had now been 'saturated' by rising competition from streaming services including Disney+, Apple TV, Now TV, Warner Bros Discovery and Paramount, the cost-of-living crisis gripping the US, Canada and Western Europe, and its decision to quit streaming in Russia after Putin's invasion of Ukraine in February.
Upon news that it had shed 200,000 subscribers, its shares plunged by 25%. So far this year, its shares are down about 40%, after markets jolted in January when it said that subscriber growth would slow significantly in 2022. If the stock drop extends into Wednesday's regular trading session, Netflix shares will have lost more than half of their value so far this year – wiping out about $150billion (£115billion) in shareholder wealth in less than four months. 
The sudden sharp drop in subscribers has now caused Netflix to consider curbing password-sharing and creating a low-cost subscription supported by advertising.
Responding to the development, billionaire Tesla magnate Elon Musk – who is Twitter's second-biggest shareholder and is attempting to takeover the social media company for $43billion – taunted: 'The woke mind virus is making Netflix unwatchable'.
It is the first time that Netflix's subscribers have fallen since the streaming service became available throughout most of the world outside China six years ago. 
General views of the Netflix Hollywood campus on Vine on April 19, 2022
Upon news that it had shed 200,000 subscribers, its shares plunged by 25%. So far this year, its shares are down about 40%, after markets jolted in January when it said that subscriber growth would slow significantly in 2022
Responding to the development, Elon Musk taunted in a tweet: 'The woke mind virus is making Netflix unwatchable'
Netflix is losing billions of dollars a year because of illegal password-sharing 'marketplaces' that offer access for just $1, experts have claimed. The popular streaming app is missing out on up to $6.25billion annually as customers use the services to dodge the $19.99 a month premium account fee. But the firm last month launched its first major counteroffensive to password sharing by letting watchers add up to two other users for just $2 in some countries. Netflix is not the only website to be hit by the scams, with HBO Max and Disney+ subscriptions also being ripped off by dodgy so-called marketplaces
Big-budget shows and competing for eyes… why has Netflix ramped up prices?
Netflix this year ramped up the prices for its subscription service. Its standard plan went up by $1.50, to $15.49, its basic plan went up by $1 to $9.99 and its premium plan went up by $2 $19.99.
The move in January raised its stock price but infuriated watchers.
Experts claim it is trying to offset slower growth with a higher costing product in the US.
Andrew Hare, from media consulting firm Magid, told CNN: 'They clearly believe they still have the pricing power to do so and that they provide an exceptional value for the money.
'Raising prices is just one lever they can continue to pull right now, though I'm not sure for how much longer.'
Meanwhile others believe Netflix is spending huge sums creating content across the world but it is not being justified by the US market.
Mark Zgutowicz, a senior analyst with Rosenblatt Securities, added: 'We're estimating that Netflix will spend $17 billion [in 2021] globally and that's [coming] off $12 billion in 2020, which happened to be a down year because of Covid.'
The company told shareholders on Tuesday: 'Our revenue growth has slowed considerably. Streaming is winning over linear, as we predicted, and Netflix titles are very popular globally. However, our relatively high household penetration – when including the large number of households sharing accounts – combined with competition, is creating revenue growth headwinds.'
Netflix was previously stung by a customer backlash in 2011 when it unveiled plans to begin charging for its then-nascent streaming service, which has previously been bundled for free with its traditional DVD-by-mail service before its international expansion. 
In the months after that change, Netflix lost 800,000 subscribers, prompting a apology from Hastings for botching the execution of the spin-off.
Tuesday's announcement was a sobering comedown for a company that was buoyed two years ago when millions of consumers corralled at home were desperately seeking diversions – a void Netflix was happy to fill. Netflix added 36million subscribers during 2020, by far the largest annual growth since its video streaming service's debut in 2007.
But Netflix CEO Reed Hastings now believes those outsized gains may have blinded management. 'Covid created a lot of noise on how to read the situation,' he said in a video conference Tuesday.
Netflix began heading in a new direction last year when its service added video games at no additional charge in an attempt to give people another reason to subscribe.
Escalating inflation over the past year has also squeezed household budgets, leading more consumers to rein in their spending on discretionary items. Despite that pressure, Netflix recently raised its prices in the U.S., where it has its greatest household penetration – and where it's had the most trouble finding more subscribers.
In the most recent quarter, Netflix lost 640,000 subscribers in the US and Canada, prompting management to point out that most of its future growth will come in international markets. Netflix ended March with 74.6million subscribers in the US and Canada.
The news deepens troubles that have been mounting for the streaming service since a surge of signups from a captive audience during the pandemic began to slow.
It marks the fourth time in the last five quarters that Netflix's subscriber growth has fallen below the gains of the previous year.
Now investors fear that its streaming service may be mired in a malaise that has been magnified by stiffening competition from well-funded rivals such as Apple and Walt Disney.
Jefferies analyst Andrew Uerkwitz told the FT that the announcement was a 'change in tone' from Netflix, which he said rarely acknowledged that it faced competition in the past. He added: 'It sounds like they're in rebuilding mode.'
Paolo Pescatore, an analyst at PP Foresight, said the subscriber loss was a 'reality check' for the company, as it tries to balance retaining subscribers with raising its revenue.
'While Netflix and other services were key in lockdown, users are now thinking twice about their purchasing behaviour based upon changing habits,' he told the BBC.
Aptus Capital Advisors analyst David Wagner said it's now clear that Netflix is grappling with an imposing challenge. 'They are in no-(wo) man's land,' Wagner wrote in a research note Tuesday.
The Los Gatos, California, company estimated that about 100million households worldwide are watching its service for free by using the account of a friend or another family member, including 30million in the US and Canada. 'Those are over 100 million households already are choosing to view Netflix,' Hastings said. 'We've just got to get paid at some degree for them.'
To prod more people to pay for their own accounts, Netflix indicated it will expand a trial program it has been running in three Latin American countries – Chile, Costa Rica and Peru. In this locations, subscribers can extend service to another household for a discounted price. In Costa Rica, for instance, Netflix plan prices range from $9 to $15 a month, but subscribers can openly share their service with another household for $3.
Netflix offered no additional information about how a cheaper ad-supported service tier would work or how much it would cost. Another rival, Hulu, has long offered an ad-supported tier.
While Netflix clearly believes these changes will help it build upon its current 221.6million worldwide subscribers, the moves also risk alienating customers to the point they cancel the service.
Source: Read Full Article