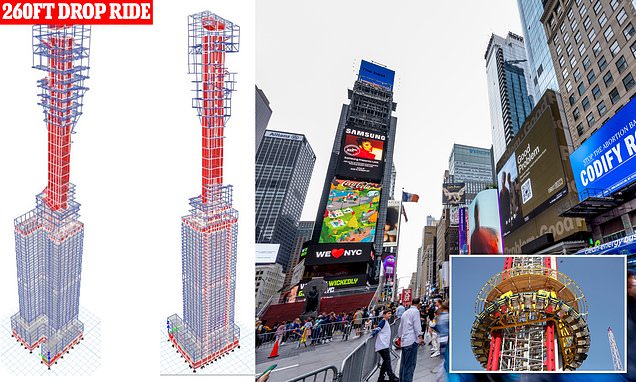 NYC approves 'thrill ride' for Times Square which will drop people 260 FEET – or 40 stories – atop 51-story skyscraper – but critics slam the idea because the tourist area 'is not an amusement park'
The New York City Department of Buildings approved Extell Development's plan to build a 51-story, 1,067-foot tower in the heart of Times Square
The top 40 stories would feature a 260-foot drop thrill ride
It is expected to be completed in 2027, but critics say it violates zoning laws 
A new thrill ride that will drop people 260 feet — or 40 stories — on top of a skyscraper may be coming to the Big Apple.
The New York City Department of Buildings has approved Extell Development's plan to build a 51-story, 1,067-foot tower in the heart of Times Square that will include a drop ride as an 'accessory.'
The building will also feature hundreds of hotel rooms, restaurants, bars, meeting rooms, retail space and an observation deck.
'It's going to be a great addition to the neighborhood,' Tom Harris, president of the Times Square Alliance, told FOX 5, adding that it will bring in more revenue for the city.
But others argue its development violates the city's zoning laws, with Committee for Environmentally Sound Development President Olive Freud saying: 'Coney Island is an amusement park. Midtown is not.'
Renderings for the new skyscraper in Times Square shows where the 40-story drop would be in red
The ride would be located on West 46th Street, right in the heart of Times Square
In its application for the new skyscraper, which is already under construction, Extell Development argued: 'Transient hotels have evolved over the past decades from being places to eat and sleep to centers within which have a wide range of activities, including virtually all forms of entertainment.'
Real estate lawyer Paul Selver said in the application that the ride would be an 'accessory to the hotel,' like other amenities, and would therefore be in compliance with zoning laws.
He also pointed out that many hotels in Las Vegas offer similar thrill rides for their guests.
The building department seemed to agree, with spokesman Andrew Rudansky telling the New York Daily News: 'It doesn't violate zoning.'
He cited the stated purpose of having the Theater District subzone, which in part aims to 'preserve, protect and enhance the scale and character of Times Square, the heart of New York City's entertainment district.'
Under the city's zoning code, Rudansky said, the area is 'characterized by a unique combination of building scale, large illuminated signs and entertainment and entertainment-related uses.'
He also pointed out other amusement park-style attractions in nearby skyscrapers, such as The Summit, a glass-floored observation deck at One Vanderbilt, and City Climb at Hudson Yards, which offers guests the chance to strap on a harness and hang 1,000 feet above street level.
Plans for the ride compare it to the Zumanjaro at Six Flags, New Jersey, noting that braking would be magnetic and the ride would come to a stop on hydraulic dampers.
There would be three individual rides holding four passengers each, with each ride lasting just 84 seconds total. 
Plans for the ride compare it to the Zumanjaro at Six Flags, New Jersey
Brakes on the ride, which would be similar to the Free Fall at ICON Park,  would be magnetic and the ride would come to a stop on hydraulic dampers
But George Janes, an urban planner hired by the Committee for Environmentally Sound Development, disagreed with the city and said the ride could only be included in areas zoned for these types of attractions — a majority of which is located in Coney Island.
He said that adding the ride as an 'accessory' is 'entirely irrational and a distortion of plain, unambiguous meaning of the zoning resolution.'
Janes sent the Building Department a challenge to Extell's application, writing that it 'lacks the discretion to grant the request, and the approval should be revoked.
Mayor Eric Adams, pictured earlier this month, has proposed the building department update its zoning laws to allow for more amusements
Speaking to the Daily News, Janes explained: 'I'm not saying if this is right or wrong. I'm just saying that this is against zoning.
'If you want this to be legal change the zoning.'
The city may just do that, under Mayor Eric Adams' City of Yes for Economic Opportunity proposal, which aims to 'update the 1960s-era rules that limit where amusements are allowed so experiential retail and family-friendly activities can be located closer to where New Yorkers live' according to a press release.
A community board committee was set to have a public hearing on the plan for the West 46th Street site Wednesday night.
But Janes said the vote would have little impact on the project, which is slated to be complete in 2027.
'It is an as-of-right project and it needs no approval from anyone else,' he explained.
'They are allowed to continue until the zoning challenge is resolved.' 
Source: Read Full Article