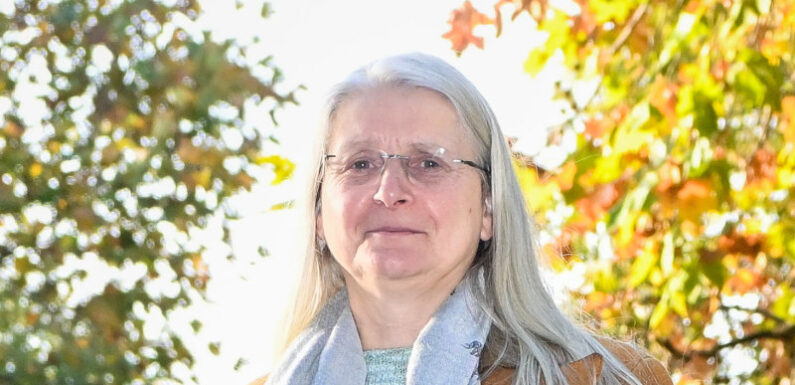 Save articles for later
Add articles to your saved list and come back to them any time.
Key points
Rates of insecure work in Victoria's eight public universities rival those in retail.
Last year, 50.9 per cent of all university staff in Victoria were either casual or on a temporary contract.
Universities say they are working hard to reduce their reliance on insecure employment.
There is a pecking order among academic staff at the University of Melbourne, a sort of unspoken truth that hovers in the hallways, Arts Faculty teaching associate Dr Kerstin Knight says.
"You almost have two classes of staff," she says. "Those who are in a precious secure position and those poor swots who will have to every so often beg and hope that we can continue on."
Teaching associate Dr Kerstin Knight has worked at the University of Melbourne since 2007 but has never been offered a permanent position. Credit: Justin McManus
Knight has taught at Melbourne since 2007, mostly as a casual employee, and more recently on a fixed-term contract. The philosophy and history tutor has applied for a permanent position multiple times.
In 2020 she was elevated from casual to fixed term, but it brought her no more job security, she says.
"I call it a sham conversion because they converted to just about the shortest period they could, which was nine months, two semesters."
Rates of insecure work in Victoria's eight public universities rival retail, one of the most casualised fields of employment in the economy.
Rates of non-permanent employment are highest at Monash, Melbourne and RMIT universities.Credit: Eddie Jim
Annual reports for 2022 reveal that in December last year, 50.9 per cent of all university staff in Victoria were either casual or on a temporary contract. Rates were highest at the state's three largest employers in the tertiary sector, Melbourne, Monash, and RMIT universities.
The issue has become a flashpoint between the universities and the National Tertiary Education Union, which is bargaining with Melbourne, Monash, Deakin, La Trobe, Swinburne and Federation universities over a new enterprise agreement.
The union is asking Melbourne to commit to an 80 per cent permanent employment rate, and asking other universities to give staff who have put in three years' continual fixed-term service, or served two contracts, the right to permanent employment.
Universities say they are working hard to reduce their reliance on insecure employment, having been snared in a $50 million alleged underpayments scandal that is currently before the courts.
But experts say there are structural barriers to their attempts to do this.
Melbourne Law School's Professor Joo-Cheong Tham said Australian universities had an "insecure workforce model" that relied on the heavy use of casual teaching positions to minimise costs.
"Rather than pay for somebody like me who is paid for both teaching and research, you pay somebody for teaching only," says Tham, who is also an assistant secretary in the union's Victorian division.
Consultant Liz Bare, an honorary fellow at the University of Melbourne's Centre for the Study of Higher Education, said the use of casual academic employment was a threat to the sustained high quality of tertiary education in Australia but also ingrained in universities' operating model.
The model has entrenched a divide between permanent university staff with excellent working conditions and fixed-term and casual staff who enjoy fewer benefits and have lower status, Bare said.
In her submission to the Albanese government's Universities Accord consultation, Bare said previous agreements between unions and universities over the past 20 years to improve working conditions for casual staff had had limited or no effect.
The University of Melbourne said it was committed to increasing rates of permanent employment but rejected binding targets.
Academic casual staff numbers reduced by an average of 16 per cent in 2022, and the total permanent headcount increased by 142 positions, a university spokesperson said.
"The university has been undertaking a comprehensive program of work, aimed at challenging the complex ways in which we work in order to improve sector-wide work practices, and to deliver enduring change," the spokesperson said.
"Reducing our reliance on insecure work with opportunities for ongoing employment will not be achieved by simply adopting workforce composition targets and set numbers of conversions to permanent employment."
Monash University has tabled a new job security clause in its offer to staff, which outlines the university's goal to reduce the numbers of sessional staff and provide more fixed-term and continuing roles.
Progress was already made last year, including converting 540 casual staff to fixed-term roles, and 227 fixed-term staff to permanent roles, a Monash spokesperson said.
"These are part of the university's negotiations toward greater job security for relevant sessional academic and casual staff, while balancing the need to attract the best teaching and research talent to the university."
ANU higher education expert Professor Andrew Norton said the traditional employment model, in which an academic is employed both to teach and to conduct academic research became less affordable when research funding was tied to international student revenue.
The old "ideal model of joining teaching and research" is not easy for universities to sustain when research is heavily funded by revenue from international students.
"Profits from international students are under significant strain, and because universities don't want to hire someone to teach and research – because they have to pay research costs they can't afford – they hire teaching casuals just in semester," Norton said.
The Morning Edition newsletter is our guide to the day's most important and interesting stories, analysis and insights. Sign up here.
Most Viewed in National
From our partners
Source: Read Full Article