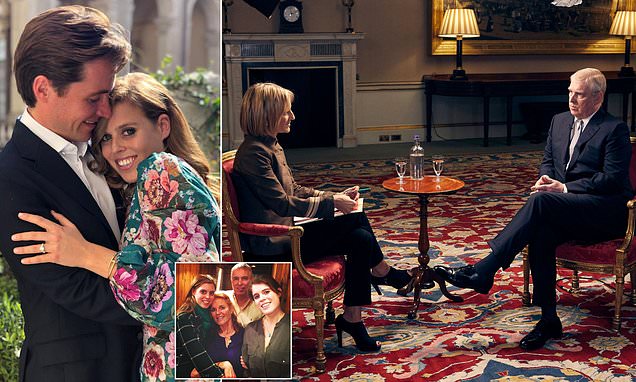 Prince Andrew 'may have given his disastrous Newsnight interview to help daughter Beatrice', reveals interviewer Emily Maitlis in new Channel 4 documentary
Andrew may have been thinking of his daughter when agreeing to Newsnight 
Interviewer Emily Maitlis shared her thoughts in a Channel 4 documentary 
Prince Andrew may have made his disastrous Newsnight appearance in a bid to help his daughter Princess Beatrice, his interviewer Emily Maitlis said yesterday. 
The Duke of York brought his eldest daughter to behind the scenes negotiations with the BBC team behind the interview, journalist Miss Maitlis and producer Sam McAlister.
Miss Maitlis said she thought at the time that he might have agreed to speak in an attempt to make amends with his daughter, who had recently got engaged to her now-husband, Edoardo Mapelli Mozzi.
She told the Channel 4 documentary: 'It's the first time the thought crossed my mind that maybe he was doing it for her.
'Your life has been hellish. You've had to read these headlines. You're trying to get married. I'm going to do this to make it better for you. I don't know if that's true, but it crossed my mind.'
The Duke of York , speaking for the first time about his links to Jeffrey Epstein in an interview with BBC Newsnight's Emily Maitlis
Princess Beatrice with her husband Edoardo Mapelli Mozzi
Producer Miss McAlister said the duke had announced he had brought someone with him to the negotiations, and said she had thought he meant a lawyer.
She told the documentary: 'Instead around the corner comes his daughter, Princess Beatrice. That was really quite a curve ball of curve balls.
'Can you imagine being in Buckingham Palace about to talk to a member of the Royal Family about sexual offences? That's pretty tricky. And now I've got to do it in front of his daughter.'
Miss McAlister has previously described how Beatrice took notes on a clipboard at the meeting and appeared 'anxious'.
The Princess is set to appear in the new Netflix drama which details the runup to the Newsnight interview given by the Duke of York, The Telegraph reports.
The Duke and Duchess of York with their daughter Beatrice and Eugenie
Actress Charity Wakefield will star as Beatrice in Scoop, which stars Gillian Anderson as Emily Maitlis, Rufus Sewell as Prince Andrew and Billie Piper as BBC produce Sam mcAllister.
The film follows the book by Sam McAlister, who managed to scoop the bombshell interview about Prince Andrew's with Jeffrey Epstein, widely believed to have backfired.
Ms McAlister revealed Beatrice's role in an ITV This Morning interview two years after the Newsnight interview aired.
She said: 'The only thing worse than speaking to a prospective interviewee about allegations of sexual impropriety and sex with a 17-year-old girl is having to do so in front of his daughter.'
Source: Read Full Article