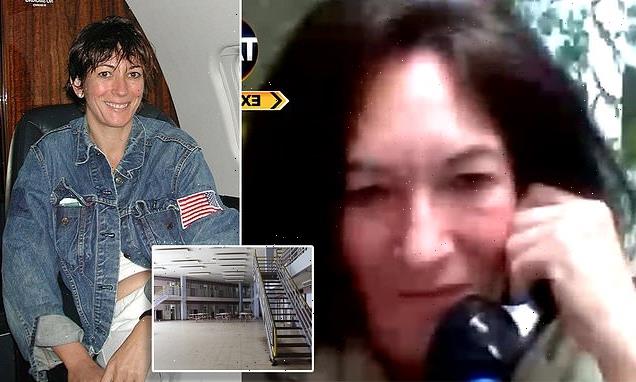 EXCLUSIVE: No special treatment! Prison guards are 'screwing' with 'entitled' Ghislaine Maxwell by 'clanging their keys and flashing a light in her eyes every night' because they 'don't like her attitude'
Prison guards at FCI Tallahassee have not gone 'easy' on Ghislaine Maxwell because of her 'entitled attitude', sources tell DailyMail.com 
Holli Coulman, of Pink Lady Consultants, said guards 'like screwing with her by shining their lights at night, clanging their keys, and talking really loud' 
Maxwell, 61, had previously complained about having a light shone at her every 15 minutes when she was held at the Metropolitan Detention Center in Brooklyn 
Ghislaine Maxwell has been targeted by prison guards who have been bringing down the hammer because they think she's 'entitled,' DailyMail.com can reveal.
Inside sources say the 61-year-old has been subjected to harsher treatment by staff in federal prison in Tallahassee, Florida, where she has been serving out her 20-year sentence for recruiting and trafficking underage girls for the pedophile Jeffrey Epstein.
They claim guards have been 'screwing' with the disgraced socialite by flashing a light in her eyes at night, 'clanging their keys, and talking about her loudly in unflattering terms.' 
Prison guards at FCI Tallahassee have not gone 'easy' on Ghislaine Maxwell because of her 'entitled attitude', sources tell DailyMail.com. She is pictured in the first video speaking to a British TV show from prison last month 
The 61-year-old is serving out her 20-year sentence at the low security prison, where she mostly 'keeps close to her pod mates'
Maxwell had previously complained about having a light shone at her every 15 minutes when she was being held at the Metropolitan Detention Center in Brooklyn, New York, while awaiting trial. 
While FCI Tallahassee, a low security prison, is far more comfortable, it seems the attitude of Maxwell, who was raised in extraordinary wealth by a multi-millionaire media tycoon father, has still managed to rub guards the wrong way at her new lockup where she has been housed since July.
Speaking to DailyMail.com, Holli Coulman, founder of prison consultancy company Pink Lady Consultants, said guards are 'not easy' on Maxwell during routine patrols because of her 'entitled attitude.' 
Coulman, who has a number of clients serving time inside the same prison, added that Maxwell mostly 'keeps close to her pod mates'.
A 'pod' is a group of cells clustered together separately from the rest of the prison with their own common area.
'She rarely associates out of that group. I am told that the guards like screwing with her by shining their lights at night, clanging their keys and talking really loud and derogatory at her,' Coulman said. 
'I know that the guards at night are not easy on her when they come by her bunk and check that she's there.
Maxwell 'rarely associates' outside of her pod group at the facility, where she has used her privileged upbringing to boost her popularity among the 755-strong female population
 Maxwell, inmate 02879-509, works six hours a day in the prison library to pass the time and likes to go jogging around the prison's 400-meter running track 
The disgraced British socialite initially struggled to cope with her new life behind bars, refusing to eat and complaining bitterly to prison authorities that her clothes didn't fit, sources said
'They don't like her because of her entitled attitude. I'm sure it's something she can't change as she has a different demeanor than let's say an inmate serving time for drugs. Her upbringing was upper class.' 
The Bureau of Prisons declined to comment on Maxwell's specific case.
A spokesman said that the Correctional Services Procedures Manual states: 'When counting at night, a flashlight must be used judiciously; however, enough light will be shown on the inmate to leave no doubt the officer is counting human flesh.' 
Sources on Maxwell's legal team, meanwhile, have said she is 'doing well' in prison and has been an 'active participant' in her appeal, which she is expected to file in the coming months.
She has hired Arthur Aidala, who represents Harvey Weinstein in his appeal against his 23-year sentence for rape and sexual assault from his case in New York.
The disgraced film producer is due to be sentenced for a second similar case in Los Angeles later this month.
Insiders have previously told DailyMail.com how Maxwell, who is designated as inmate 02879-509, works six hours a day in the prison library to pass the time.
She has daily access to the sporting facilities at the prison including the 400-meter running track where she has been seen going on hour-long jobs. 
Maxwell's victims had hoped she would languish in grim solitude after she was found guilty of grooming young girls for her pedophile lover Jeffrey Epstein
FCI Tallahassee – potentially Maxwell's home until at least July 17, 2037 – is surrounded by a maze of 30 ft fences and cameras but the elegant, red-brick building behind the rolls of jagged razor wire looks more akin to a high school or college campus
Maxwell has used her Oxford University education to win over some of the 755-strong prison population, who don't seem to mind her poshness.
She hangs out with con woman Linda Morrow, who helped her plastic surgeon husband bilk insurers out of $44million by pretending cosmetic procedures such as tummy tucks, breast augmentations and 'vaginal rejuvenations' were medical necessities.
Another confidante is Narcy Novak, a 65-year-old Florida woman serving life without parole for hiring hitmen to murder her hotelier husband Ben Novak Jr. and his elderly mother Bernice in a grab for their family estate.
During Maxwell's two years at the Brooklyn prison her lawyers complained that she was 'withering to a shell of her former self', was losing her hair and was forced to scrub shower walls after she complained about her mistreatment.
In legal filings they claimed she never had a 'properly heated meal' and the microwave used by guards melted the plastic.
Another problem was that the water in the prison was 'odorous and non-palatable' and so 'clouded with heavy particulates' that it went brown, Maxwell's attorneys griped.
Prosecutors said in legal filings that she was treated the same as any other inmate.
Source: Read Full Article