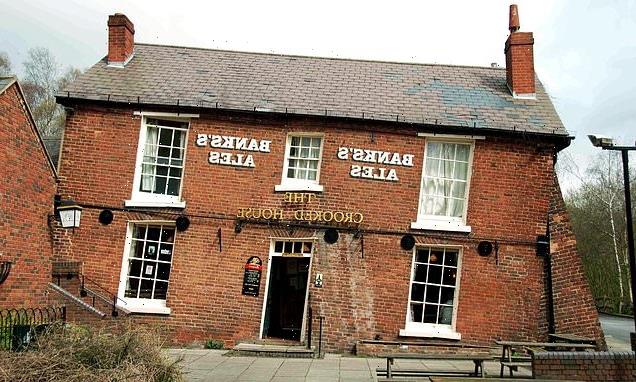 Pub chain Marston's puts more than 60 pubs up for sale.. so is YOUR local on the list?
Dozens of pubs are put up for sale – including one dubbed 'Britain's wonkiest' 
It's the latest in blow to Britain's beleaguered boozer industry as costs balloon 
Dozens of pubs – including 'Britain's wonkiest' could soon be axed after a major chain announced it was putting scores of sites up for sale amid soaring costs. 
Marston's Brewery has put 61 pubs up for sale following a review of its estate – in yet another blow for Britain's beleaguered boozer industry. 
The chain has more than 1,400 pubs across the UK. But it said it now wants to 'maximise returns' by focusing on its core venues, according to The Caterer. 
Pubs in the Midlands, Yorkshire, Sussex and Wales have been put on the market by Marston's. Among them is 192-year-old Crooked House, West Midlands – which is famed for is wonky design. 
The 'leaning boozer of Himley' in Dudley was built in 1765 as a farmhouse but became a pub in the 1830s. Now it faces an uncertain future amid fears it could shut up shop for good if no buyers are found. 
The Crooked House, in Himley, Dudley, West Midlands, is dubbed Britain's wonkiest pub
Inside, it's windows and walls all appear crooked due to a bizarre effect through subsidence caused by mining in the 1800s. The pub is now being sold to punters amid fears it could close
Below is a full list of the 61 Marston Brewery sites up for sale:
Admirals Table, Bridgwater
Albert Vaults, Holyhead
Bax Castle, Horsham
Bedford Arms, Derby
Bellflower, Preston
Blacksmiths, Wakefield
Blenheim, Derby
Blue Pig, Kidderminster
Bluebell, Telford
Bradford Arms, Oswestry
Bridge Inn, Richmond
Bull & Butcher, Nottingham
Bush Inn, Dudbey
Crates & Grapes, Mansfield
Crooked House, Dudley
Cross Keys, Colwyn Bay
Derwent Walk, Consett
Duke of Wellington, Wrexham
Evergreen Inn, Tenby
Firebug, Leicester
Floaters Mill, Fence Houses
Fountain Inn, Stourbridge
Garibaldi Inn, Stourbridge
Gate Inn, Matlock
George Hotel, Penrith
Griffin, Halifax
Hampden Arms, Wrexham
Harlequin, Kettering
Harry Watkins, Llanelli
Heart of England, Northampton
Jacksons Wharf, Hartlepool
Jubilee Inn, Leicester
King Charles, Ross-on-Wye
King William, Dudley
Malt Shovel, Matlock
Marquess of Exeter, Oakham
Mitre Oak, Stourport-on-Trent
Oak Inn, Coventry
Oxleathers, Stafford
Pelican, Sailsbury
Plough Inn, Newark
Randlay Farmhouse, Telford
Red Lion, Burton-on-Trent
Red Lion, Telford
Ring O'Bells, Mexborough
Rising Sun, Huddersfield
Rossmere, Cleveland
Rutland Arms, Nottingham
Saddlers Arms, Cardigan
Spills Meadow, Dudley
Spital Vaults, Chester
Strickland Arms, Penrith
Tafarn Pennionyn, Caernarfon
Tipsy Terrace, Cleethorpes
Top Monkey, Mold
Twthill Vaults, Caernarfon
Victoria Hotel, Dorchester
Wellington, Pretson,
Wheatsheaf, Mansfield
White Lion, Wigan
White Swan Inn, York
Pubs have been savaged by rising costs as inflation cause prices to sky rocket.
Meanwhile, demand from punters has dipped, leading to a double-whammy for boozers already struggling to make ends meet.  
Last year Marston's ramped up the price of a pint by 45p, breaking the £4 barrier in many areas for the first time. 
In a sign of how the industry is struggling, Wetherspoons was also forced to increase the cost of its beer and food amid ongoing closures.   
Last week the pub giant announced it had shut two pubs for good – while dozens more boozers remain in the firing line.
Wetherspoons pubs that are closing or being sold in 2023
Southport's The Willow Grove, in Merseyside, was one of the latest sites to be axed, closing on Sunday
The Cliftonville, in Hove, East Sussex was also closed over the weekend – as the fate of dozens of other boozers remains uncertain
Hove's The Cliftonville, in East Sussex, Southport's The Willow Grove, in Merseyside, were the latest sites to be axed. 
The full list of pubs that are under offer – but remain in the firing line
Here is the full list of pubs currently under offer
The Butlers Bell, Stafford
The Percy Shaw, Halifax
Foxley Hatch, Purley
Tollgate, Turnpike Lane
Asparagus, Battersea
Millers Well, East Ham
Hudson Bay, Forest Gate
Angel, Islington
The Billiard Hall, West Bromwich
Capitol, Forest Hill
The Bankers Draft, Eltham
Moon on the Hill, Harrow
Last Post, Loughton
The closures come ahead of the shutdown of The Sir John Stirling Maxwell in Glasgow, which is pour its final pint on March 26. 
Meanwhile, dozens of other Wetherspoons sites remain at risked of being axed nationwide, in a fresh blow to Britain's pub trade.
The sites are risk are currently on sale. But if no buyer is found, they will be permanently wrapped up.   
A total of 13 are currently under offer, reports the Mirror, which means an offer has been received by no sale has been made. 
The news comes just weeks after Wetherspoons has confirmed that 10 of its pubs will be closing for good after being sold – with another 35 branches up for sale.
Among those purchased are the Harvest Moon in Orpington, Moon on the Square in Basildon and the Postal Order in Worcester.
Chapel an Gansblydhen, in Bodmin, and Bootle's Wild Rose will also close their doors for ever.
In January, the pub chain said sales jumped at the end of 2022 but it is still struggling to keep up with its pre-pandemic performance.
Like-for-like sales rose 18 per cent in the last quarter of 2022 at the firm's 844 pubs, but are still 2 per cent behind 2019 levels.
Wetherspoons also noted that costs were far higher than three years ago, especially for labour, food, energy and maintenance.
North and South Wales Bank, Wrexham, is another branch which has been confirmed as sold
Its chairman Tim Martin said: 'The aftermath of the pandemic and lockdown restrictions have been far more difficult than anyone thought. That is the picture for the whole pub and restaurant industry.
'People thought that after lockdown there would be a boom in people suffering from cabin fever but, instead, it has almost been the opposite situation as people have got in the habit of staying in.
'That's the big thing that means sales are down on 2019. Things are improving now but it's slow.'
Wetherspoons is one of the most popular pub chains in the UK, employing about 43,000 across its 800 sites in England, Wales, Scotland and Northern Ireland. 
Source: Read Full Article