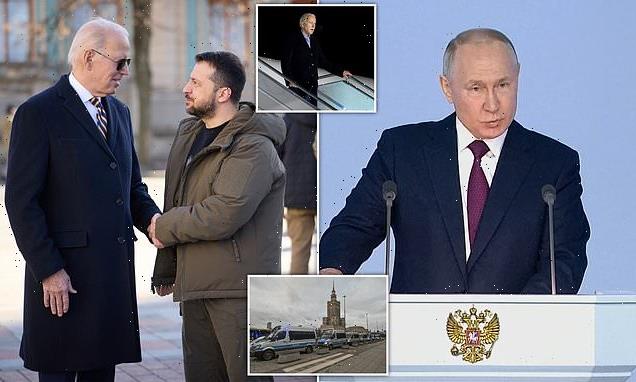 'It's absurd that Russia was under military threat from the Ukraine': US slaps down Putin's claims that the West is to blame for the war
President Biden arrived in Warsaw, Poland, Monday to consult with NATO allies

He will deliver a speech to mark the anniversary of Russia's invasion of Ukraine 

It follows Putin's speech in which he again accused the West of starting the war 
The White House slapped down President Vladimir Putin's claims on Tuesday that the West was to blame for the war in Ukraine, hours before President Joe Biden delivers his own speech to mark the anniversary of the Russian invasion.
Putin has frequently accused Western nations of threatening Russia and triggering the war. And he used a major speech to again claim that Moscow was a force for peace.
Nonsense, said Jake Sullivan, Biden's national security adviser.
'This was a war of choice Putin chose to fight it. He could have chosen not to,' Sullivan told reporters in Warsaw. 
'And he can choose even now to end it, to go home and nobody is attacking Russia. 
'There's a kind of absurdity in the notion that Russia was under some form of military threat from Ukraine or anyone else.'
President Joe Biden was in Kyiv on Monday where he was President Volodomyr Zelensky. He traveled on to Poland where he will deliver a major speech on Tuesday evening
President Vladimir Putin of Russia railed against the West in a speech on Tuesday. 'It's they who have started the war. And we are using force to end it,' he told an audience of lawmakers'
Expect to hear that line from Biden, added Sullivan, when he delivers his speech in the Royal Warsaw Castle gardens on Tuesday evening. 
It follows Biden's surprise visit to Kyiv a day earlier, where he announced another $500 million in weapons for Ukrainian forces and promised fresh sanctions on Russia. 
It says up a day of dueling speeches after Putin delivered his own verdict on the war in Ukraine earlier in the day. 
'It's they who have started the war,' he told an audience of lawmakers, as he railed against the West. 'And we are using force to end it.' 
Flanked by four Russian tricolor flags, Putin said the U.S. and its allies were sowing chaos and war.
'The people of Ukraine have become the hostage of the Kyiv regime and its Western overlords, who have effectively occupied this country in the political, military and economic sense,' he said.
The West, he claimed, wanted a global conflict in its bid for 'limitless power.' In contrast, Moscow did 'everything possible to resolve Ukraine peacefully.'
Biden arrived in Warsaw late on Monday night, after making the 10-hour train journey in and out of the Ukrainian capital under a cloak of secrecy.
The Polish capital was a scene of high security on Tuesday morning ahead of Biden's meeting with his counterpart Andrzej Duda to discuss reinforcing Poland's security and increasing the NATO presence in the country.
The President will also consult with allies from NATO's eastern flank in Poland as the Russian invasion of Ukraine edges toward an even more complicated stage.
A line of police cars seen in front of the Palace of Culture and Science, in front of the Marriott Hotel where US President Joe Biden is staying during his visit to Warsaw, Poland on Tuesday
A huge security operation is underway in Poland as President Joe Biden prepares to meet his Polish counterpart Andrzej Duda to discuss reinforcing Poland's security and increasing the NATO presence in the country on Tuesday. Pictured: Police officers in Warsaw on Tuesday
Police officers are seen in front of the Palace of Culture and Science, in front of the Marriott Hotel where Biden is staying during his visit to Warsaw, Poland on Tuesday
President Joe Biden arrives at a military airport, in Warsaw, Poland on Monday, after spending the day in war-torn Ukraine
Biden promises artillery, ammunition and air surveillance radar to Ukraine
After President Biden's visit, the Pentagon detailed the new arms being sent to Ukraine. They are: 
Additional ammunition for High Mobility Artillery Rocket Systems (HIMARS);
Additional 155mm artillery rounds;
Additional 120mm mortar rounds;
Four air surveillance radars;
Additional Javelin anti-armor systems;
Approximately 2,000 anti-armor rockets;
Four Bradley Infantry Fire Support Team vehicles;
Two tactical vehicles to recover equipment;
Claymore anti-personnel munitions;
Demolition munitions;
Night vision devices;
Tactical secure communications systems;
Medical supplies;
Spare parts and other field equipment.
Sullivan Tuesday's speech would be 'vintage Joe Biden.' 
'The president has believed passionately in the themes he will discuss tonight for decades,' he said. 
'And he is applying them at what you have all heard him described as at an inflection point today, where the next few years are going to determine the course of the next few decades. 
The conflict – the most significant war in Europe since World War II – has already left tens of thousands dead, devastated Ukraine's infrastructure system and damaged the global economy.
'(We will discuss) the security of the Polish state and allied cooperation with the USA, also within NATO, what can we do to make the eastern flank, including Poland, safer,' Duda's foreign affairs adviser, Marcin Przydacz, told private broadcaster TVN 24.
'It is no secret that we will talk about increasing the presence, also in terms of infrastructure, of NATO.'
On Wednesday, Biden will consult with Duda and other leaders of the Bucharest Nine, a group of Nato's easternmost members, as part of his mission to solidify Western unity as both Ukraine and Russia prepare to launch spring offensives.
Biden's trip to Kyiv was weeks in the planning. The president himself signed off on th decision to go only on Friday.
And he played a major part in pulling the wool over the world's eyes by going out to dinner with first lady Jill on Saturday night, looking for all the world as if he only had 'date night on his mind.'
While the White House press corps thought he was tucked up in bed later that night, he was spirited to Joint Base Andrews in the early hours of Sunday morning. Instead of his usual 747-based Air Force One jet, he boarded a smaller 757 version for his transatlantic version.
The first the world knew of his undercover trip was when photographs emerged of him on a downtown Kyiv walkabout with Zelensky.
'I thought it was critical that there not be any doubt, none whatsoever, about US support for Ukraine in the war,' said Biden earlier as he sat for talks with Zelensky. 
'The Ukrainian people have stepped up in a way that few people ever have in the past.' 
He announced a fresh package of weapons, including $450 million worth of artillery ammunition, anti-armor systems and air defense radars, and $10 million for energy infrastructure, and promised further U.S. support. 
Biden's covert mission to Kyiv. He flew out of the U.S. at 4:15am with a stripped down team and just two journalists, instead of the usual 13. After a stop in Germany, it was on to Poland
Biden and Zelensky pay their respects at the Wall of Remembrance for the Deceased for Ukraine in Kyiv. President Biden made a surprise visit to Kyiv on Monday
Ukrainian soldiers fire US-made "M109" self-propelled howitzer on the frontline, in Donetsk Oblast, Ukraine on February 17 
Later this week, the United States will announce additional sanctions against individuals and companies that are 'trying to evade sanctions and backfill Russia's war machine,' a White House spokesperson said.
Russia was notified before Biden's departure to Ukraine, officials in Washington and Moscow said, apparently to avoid the risk of an attack on Kyiv while he was there.
The trip took place a day before Putin was due to make a major address on Tuesday, setting out aims for the second year of what he now calls a proxy war against the armed might of Washington and the trans-Atlantic military alliance NATO.
A year ago, Biden warned sceptical allies that a massive buildup of Russian troops along Ukraine's borders was the precursor to war. At the time, even some inside his own government questioned the ability of the Ukrainians to withstand an invasion, predicting the imminent fall of the capital, Kyiv.
Instead, Ukrainian fighters have held the capital and have resisted Russian attempts to control territory, helped by a massive influx of Western weapons, ammunition and equipment.
The war has become a grinding conflict that U.S. officials say could last for months or even years.
Since the beginning of the war, the United States has sent more than $24 billion in security assistance to help Ukraine. 
President Joe Biden made the 10-hour overnight journey from Poland to Kyiv, arriving in the war-torn city on Monday morning. He traveled back again later that aftenoon
President Joe Biden arrives for a surprise visit with Ukrainian President Volodymyr Zelenskyy,
While Biden is looking to use his whirlwind trip to Europe as a moment of affirmation for Ukraine and allies, the White House has also emphasised that there is no clear endgame to the war in the near term and the situation on the ground has become increasingly complex.
The administration on Sunday revealed it has new intelligence suggesting that China, which has remained on the sidelines of the conflict, is now considering sending Moscow lethal aid.
Secretary of State Antony Blinken said it could become a 'serious problem' if Beijing follows through. 
Biden and Zelensky discussed capabilities that Ukraine needs 'to be able to succeed on the battlefield' in the months ahead, Mr Sullivan said.
Zelensky has been pushing the US and European allies to provide fighter jets and long-range missile systems known as ATACMS – which Mr Biden has declined to provide so far.
With no end in sight for the war, the anniversary is a critical moment for Mr Biden to try to bolster European unity and reiterate that Mr Putin's invasion was a frontal attack on the post-Second World War international order.
The White House hopes the president's visit to Kyiv and Warsaw will help bolster American and global resolve.
'God knows what he's thinking': President Biden says Putin is reeling against a united West and announces fresh aid for Ukraine 
President Biden spoke for 10 minutes at the Mariinsky Palace in Kyiv on Monday morning. He expressed his continuing commitment to Ukraine's fight and announced fresh aid. 
These were the main points: 
'Democracy stands' 
'One year ago, the world was literally at the time bracing for the Fall of Kyiv … Perhaps even the end of Ukraine.
'One year later Kyiv stands. Ukraine stands. Democracy stands. 
'The Americans stand with you and the world stands with you.'
On aid 
'Today, that announcement includes artillery ammunition for HIMARs … more Javelins, anti-armor, air surveillance radar to protect Ukrainian people. 
'Later this week we will announce additional sanctions against elites in companies that are trying to evade sanctions and back the Russian war machine borders. 
'And thanks to a bipartisan support in Congress, this week we're delivering billions in direct budgetary support, billions in direct support which the government can put to use immediately to help provide basic services to citizens.'
Putin is losing
'Russia's aim was to wipe Ukraine off the map. Putin's war of conquest is failing. Russia's military has lost half the territory it once occupied.
'Young talented Russians are fleeing in the tens of thousands, not wanting to come back to Russia. Not just fleeing from the military, fleeing from Russia itself because they see no future in their country.'
On Putin's miscalculation
'When Putin launched his invasion nearly one year ago, he thought Ukraine was weak and the West was divided. He thought he could outlast us. But he was dead wrong.
'As you know, Mr. President, I said at the beginning, he's counting on us not sticking together. He was counting on an inability to keep NATO United
He was counting on us not to be able to bring in others on the side of Ukraine. 
'He thought he could outlast us. I don't think he's thinking that right now. God knows what he's thinking.'
Source: Read Full Article