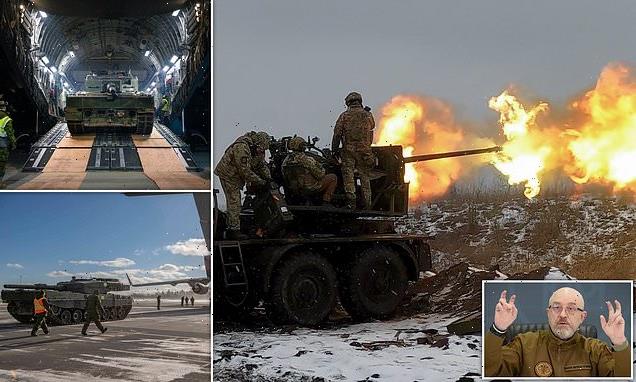 Putin's major new offensive is imminent, with Russia looking to make gains before more western firepower arrives, Ukraine warns – as first Leopard 2 tanks are delivered
Ukraine's defence minister warned of a likely Russian offensive in coming weeks
Western allies sent tanks to Kyiv but they will take weeks to arrive at frontlines
Comes as Russia claimed to make gains around embattled city of Bakhmut 
Ukraine's armed forces are preparing for an imminent all-out assault by renewed Russian forces, officials have claimed, as Putin and his commanders seek to make gains before Western tanks can reach Kyiv.
Ukraine's outgoing defence minister Oleksiy Reznikov yesterday said he was expecting Russia to launch a fresh attack on the partially occupied south and eastern regions on or around the anniversary of the war on February 24.
'They like symbolism,' said Reznikov, who is set to be replaced by military intelligence chief Kyrylo Budanov. 
'Of course we expect possible offensives. Not all western weapons will arrive by then, but we have the resources and reserves to help stabilise and sustain the offensive.' 
Ukrainian intelligence official Andriy Chernyak meanwhile told The Kyiv Post: 'Putin gave the order to seize all of Donetsk and Luhansk regions by March.
'We've observed the occupying forces are redeploying additional assault groups, units, weapons and military equipment to the east.'
Ukrainian soldiers fire an anti-aircraft gun at a position near Bakhmut, Donetsk region, eastern Ukraine, 04 February 2023
The first Canadian Leopard 2 main battle tank to be donated to Ukraine arrives by air transport in Poland in a photograph released February 5, 2023. Kyiv expects Putin's troops to launch an all-out assault to capture as much ground as possible before Western tanks can be deployed
A Leopard 2A4 tank is loaded onto a Royal Canadian Armed Forces (RCAF) CC-177 Globemaster III to be sent overseas as part of Canada's aid to Ukraine in Halifax, Nova Scotia, Canada February 3, 2023
The US and UK in recent weeks pledged battalions of M1 Abrams and Challenger 2 tanks to help Kyiv beat back the occupiers.
READ MORE: 'Putin couldn't give a s**t about his people dying': War in Ukraine is set to be 'much longer and bloodier' with 'the world economy thrown into chaos', former head of the Royal Navy warns
Germany will also send its Leopard 2 tanks while giving the green light to other countries with stocks of the German-made war machines to do the same.
But the machines are expected to take weeks to reach Kyiv and Ukraine's armed forces will need to be trained on their operation and maintenance before they can be deployed. 
Ukrainian defence officials therefore expect Putin's troops to mount a large offensive later this month in an attempt to extend the paltry gains they have made in Donetsk over winter and capture more ground before Kyiv's soldiers can bring their new armour to the fore. 
Ukraine's president Volodymyr Zelensky said as much in his nightly video address to the nation on Saturday, warning that the country was entering 'a time when the occupier will throw more of its forces to break our defences.'
But heavy fighting is already raging in some parts of Donetsk, particularly around the embattled city of Bakhmut, which has been the flashpoint of bitter urban combat as well as World War I-style trench warfare in the surrounding countryside for months. 
Russia has in recent days claimed gains around the war-ravaged hotspot, but the head of Russia's mercenary group Wagner said Sunday that the Ukrainian army was not retreating and that fighting had not abated.
Ukraine's outgoing defence minister Oleksiy Reznikov yesterday said he was expecting Russia to launch a fresh attack on the partially occupied south and eastern regions of Ukraine
Black smoke rises after shelling in Bakhmut on February 3, 2023, amid the Russian invasion of Ukraine
The look of Soledar, a small city in the east of Ukraine close to Bakhmut, of which Russian mercenaries of the Wagner group claimed control on January 10 2023
Head of Wagner group Yevgeny Prigozhin said his forces were making gains in and around Bakhmut but that the Ukrainian military was refusing to retreat
'In the northern quarters of Artemovsk, fierce battles are going on for every street, every house, every stairwell,' Yevgeny Prigozhin said in a statement, referring to Bakhmut by its old name.
'The Ukrainian armed forces are fighting to the last,' he said.
Russian forces have been trying to seize control of Bakhmut and nearby towns for months in what has become the longest and bloodiest battle since Russia invaded Ukraine last February.
The fight for Bakhmut has turned the town with a pre-war population of roughly 75,000 into a ghost town dotted with hedgehog anti-tank defences and burnt-out cars. The town has no water, gas or electricity. 
Zelensky said on Friday that Kyiv's troops would fight for Bakhmut 'as long as we can.'
He urged the West to supply Kyiv with sophisticated weapons to help his forces retain control of Bakhmut and speed up deliveries of heavy tanks, acknowledging that the situation in Donetsk was getting tougher.
'It is very difficult now in Bakhmut, Vuhledar, Lyman and other areas,' he added, referring to the frontline towns in the east of the country.
Ukrainian rescuers work at the site of a damaged residential building following a missile strike in Kharkiv, 05 February 2023
A wounded local resident stands next to his apartment building damaged by a Russian missile strike in Kharkiv, 05 February 2023
The British defence ministry said on Sunday that over the past week, Russia had made 'small advances' in its attempt to encircle Bakhmut.
The two main roads into the city for Ukrainian troops 'are likely now both threatened by direct fire, following the Russian advances,' the British defence ministry said.
'Bakhmut is increasingly isolated.'
Elsewhere, Moscow has continued to systematically target Ukraine's civilian infrastructure with missile strikes, leaving millions in the dark and cold in the middle of winter.
In Ukraine's second city Kharkiv, a missile strike hit a residential building on Sunday, wounding four people, said Oleg Synehubov, head of the regional administration. Another strike left a security guard injured when a missile hit an institute in the northeastern city, he said.
On Saturday, 'the Russians killed four residents of the region of Donetsk,' said Pavlo Kyrylenko, head of the regional administration, adding that another 11 people were injured.
Source: Read Full Article