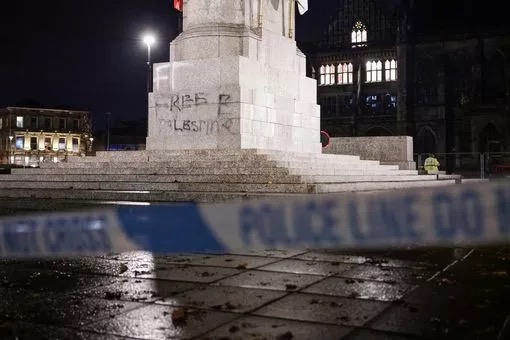 TWO teens have been charged with racially aggravated criminal damage after a war memorial was defaced.
Police were forced to stand guard at the Cenotaph in Rochdale after two incidents at the site this week.
Shocking photos showed "Free Palestine" had been spray painted over the war memorial.
It happened on Tuesday amid the second attack in as many days.
It is alleged that it was pro-Palestine protesters who defaced the foot of the Cenotaph – which is dedicated to brave servicemen who gave their lives during the First World War – with the slogan.
Cops were then forced to patrol the area, while CCTV was set up.
Read more on UK news
ON GUARD
Fury as pro-Palestinian supporters deface war memorial with cops standing guard
TUBE CHANT STORM
Fury as pro-Palestine protesters on Tube call for uprising against Israel
Greater Manchester Police today said two teens had been charged with racially aggravated criminal damage – and one of them had an additional charge of theft.
Due to their age, they cannot be legally identified.
The pair have since been released on bail.
Detective Chief Inspector Stuart Round said: "I hope the swift charges provide some reassurance to the public that our investigation is moving at pace.
Most read in The Sun
FINAL GOODBYE
Home And Away star Johnny Ruffo dies aged just 35 after brain cancer battle
THE LOST GIRL
Inside the appalling murder of missing teen Charlene Downes in Blackpool
WHERE EVIL BEGAN
Inside lair where Hamas plotted Israeli kibbutz atrocity with 3D model
GET THEM IN
I'm A Celeb official line-up as Nigel Farage and Britney's sis head into jungle
"I understand the emotional distress that has been caused in the local community by the damage to the Cenotaph and our team of detectives will continue working tirelessly to hold those responsible to account."
Anyone with information about the incident should contact GMP by calling 101 quoting incident 1294 of 07/11/23. Anonymous reports can be made via the independent charity Crimestoppers on 0800 555 111.
Fears are also growing that far-Right thugs planning on "protecting" London's landmarks, including the capital's Cenotaph, may descend over Armistice weekend.
Metropolitan Police are under pressure to cancel pro-Palestine protests in London this weekend amid fears of an outbreak of violence.
Met police have urged protesters to "urgently reconsider" any demonstrations in London over the Armistice weekend.
There are reports that yobs may descend on the city to "protect" London's landmarks, fuelling already heightened tensions.
PM Rishi Sunak dubbed the protests "provocative and disrespectful", especially on Armistice Day, a marking of the end of World War One.
An emergency Cobra meeting was even called on Tuesday in No10 with police chiefs and intelligence officials in attendance.
Source: Read Full Article