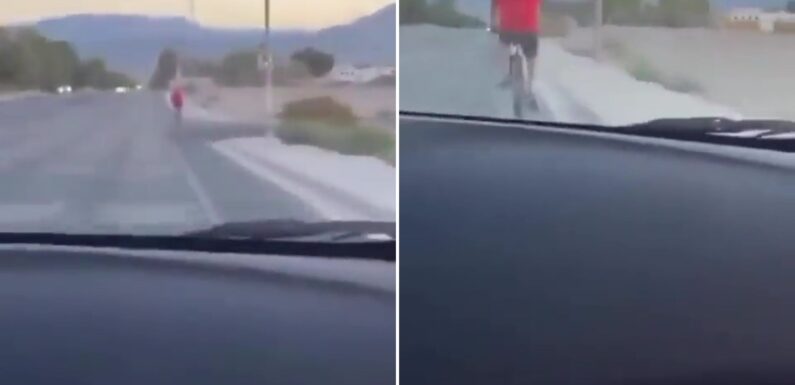 THIS is the shocking moment a pair of thugs mow down a cyclist on purpose before they abandoned him dying on the side of the road.
Distressing footage shows the former police chief Andreas Probst, 64,riding his bike on a quiet Las Vegas road as he is being followed by a car.
The clip shows the vehicle approaching the man from behind at speed before he was struck and thrown against the windshield.
A disturbing final image shows him lying helpless on the ground next to the curb.
Two teenagers have been arrested and face murder charges as adults after Las Vegas police said they were linked to at least three hit-and-run incidents on the morning of Aug. 14.
Deputy Police Chief Nick Farese called the recording from inside a stolen vehicle appalling and a cowardly act."
read more on World
I put up a privacy fence so my 'Karen' neighbour hacked my trees & called cops
Iconic £8bn Olympic park left abandoned with ancient marble arena crumbling
Clark County District Attorney Steve Wolfson said he has taken a personal interest in the case and vowed to charge both teens as adults. Until then, he said they wouldn't be identified.
"Justice will be served in this case," Wolfson said.
Speaking about her dad, known by loved ones as Andy,during a news conference, Taylor Probst described him as a man of honour and integrity who worked for more than 35 years in law enforcement.
"We are devastated by the senseless murder of Andy, " she said.
Most read in The Sun
SKY IS FALLING
Thousands of Sky Broadband customers left unable to go online in huge outage
HUMBLE HEROES
Medics who saved mum after she was hit by 2 trains dedicate WCW gong to her
BACK ONLINE
Katy Perry breaks silence after ex Russell Brand accused of rape
PIERS MORGAN
Brand treated women like prey – he told me all about his 'seduction' technique
"Andy's life was robbed by two individuals who did not believe that lives of others matter."
The 17-year-old driver was arrested the same day on traffic charges related to the fatal hit-and-run.
Police said they initially weren't aware of the video but upgraded the driver's charge to murder weeks later after a school resource officer provided the video to investigators.
According to police, the crime spree began just before dawn when the teenagers allegedly struck a 72-year-old bicyclist before driving off and crashing into a Toyota Corolla.
The driver wasn't injured in the crash, police said, although they didn't detail what injuries, if any, the bicyclist suffered.
Seconds after striking the Toyota, the teenagers drove into Probst as he rode his bicycle in a designated bike lane, police said.
They took off while laughing, said Farese, the deputy police chief, leaving him for dead on the side of a road.

Source: Read Full Article