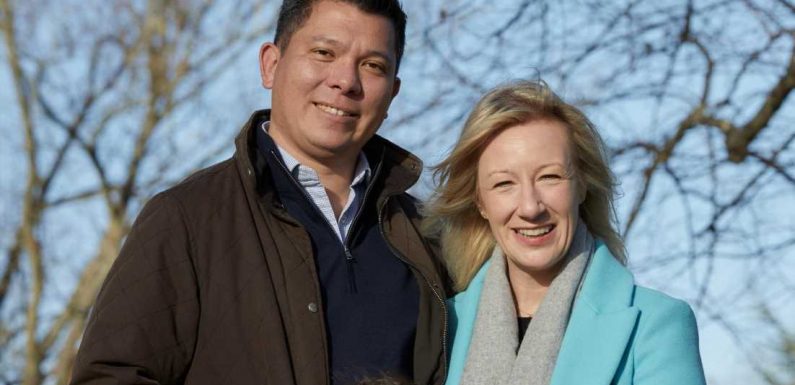 GUNSHOTS were heard before the bodies of a headteacher, her husband and seven-year-old daughter were found on school grounds, it is reported.
Emma Pattison, 45, her partner George, 39, and young Lettie were discovered at Epsom College, Surrey, in the early hours of yesterday.
A source told The Telegraph a member of staff living nearby raised the alarm services at around 1am.
The Pattison family home is understood to be surrounded by other properties occupied by teachers and school workers.
It is just yards from the college's indoor rifle range, which appeared to be cordoned off this morning.
No live ammunition is kept on the premises, an insider claimed.
READ MORE UK NEWS
Tributes pour in after Epsom College headmistress Emma Pattison found dead
Epsom College release statement after tragic death of head & her family
Cops said they are not seeking anyone else in connection with the "isolated" incident at the £42,000-a-year school, but an investigation is underway to establish the circumstances of deaths.
Epsom College remains open as normal, but pupils were this morning marshalled through the gates and to class.
They will attend chapel services throughout the day and counselling will be made available to all, a spokesperson said.
A staff member told The Sun before the morning bell: "Today will be difficult for everyone."
Most read in The Sun
Nicola cops call in specialist divers with special sonar today in hunt
I had to tell dad about romp with Harry after he wrote about it… it was awkward
Headmistress, seven-year-old daughter & husband found dead on school grounds
Corrie legend reveals he's split from his wife and is getting divorced
The sudden death of the headmistress and her family has sent shockwaves through the school and community.
Dr Alastair Wells, chairman of the board of governors at Epsom College, said: "On behalf of everyone at Epsom College, I want to convey our utter shock and disbelief at this tragic news.
"Our immediate thoughts and condolences are with Emma's family, friends and loved ones, and to the many pupils and colleagues whose lives she enriched throughout her distinguished career.
"Emma was a wonderful teacher, but most of all she was a delightful person.
"In time we will commemorate Emma and her family, in the appropriate way, and in line with the wishes of her family.
"But for now, we ask that we are all given the time, space and respect we need to come to terms with this tragic loss."
'WONDERFUL TEACHER'
Emma was appointed the first female headteacher at Epsom College in September 2022 after six years at Croydon High School in South London.
Late last year, she shared that her family had faced "really big changes" during the transition period – including two new jobs, a new house, a new school for Lettie and a new puppy.
She told sixth form students on the school podcast Epsom Insight: "It has been a really big change for my family. 
"We've obviously moved house, we've bought a dog, I've got a new job, my husband's got a new job which wasn't meant to happen but did, and my daughter has started a new school.
"There has been a lot of change for us as a family, but it has been wonderful."
The "gorgeous" pup, a Labrador called Bella, joined the family days before the episode was recorded.
Emma recalled how Bella "barked all night" in the days that followed, forcing her to apologise to her neighbours.
Epsom College won the top prize at the Independent Schools of the Year Awards 2022, with judges calling it a "beacon of excellence".
The school was also named the winner of the Student Wellbeing Award at the October ceremony thanks to its "whole-school approach to mental health and the wellbeing of both its staff and pupils".
More than 850 boys and girls attend the school, which was founded in 1853, and its acting head has been listed as Paul Williams.
Read More on The Sun
Pro piercer reveals the four piercings everyone should steer clear of
My girl, 10, wears makeup daily & spends £100 a month, I'm judged, it's NOT neglect
Its alumni include Conservative MP Sir Michael Fallon, broadcaster Jeremy Vine and comedian Tim Vine.
Source: Read Full Article