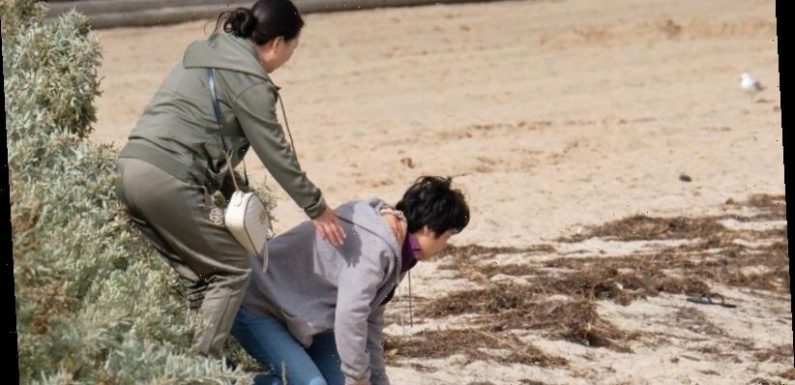 Specialist divers and water police have resumed the search for a woman who went missing while snorkelling near the pier on Altona beach on Saturday afternoon.
The 20-year-old woman from Ashwood in Melbourne's east, was in the water with friends when she disappeared from view on Saturday.
Divers search for the missing woman on Sunday. Credit:Luis Ascui
A search continued until close to midnight on Saturday.
Distraught family and friends returned to the scene on Sunday morning and watched on as police and Life Saving Victoria continued to search for the woman.
The young woman went missing while swimming on Saturday afternoon.Credit:Luis Ascui
The alarm was raised around 11.15am Saturday, a Victoria Police spokesman said.
Police airwing wrapped up the search just before midnight and resumed at about 7.30am on Sunday.
Distraught family returned to the scene on Sunday as the search continued. Credit:Luis Ascui
Altona pier, in Melbourne's west, is a drawcard for locals in the warmer months. It is a popular spot for fishing and swimming and is occasionally used by recreational boats.
The search and rescue operation comes just days after Victoria marked its deadliest period for drownings on record. Forty-two people have drowned since July last year, including seven in the past month. The death toll is well above the state's five-year average.
Police searched the water off Altona beach on Saturday afternoon.Credit:Chris Hopkins
Earlier this month, a 58-year-old man died near Angelsea after his boat overturned. The same a day, a man was pulled from the water near Barwon Heads but died at the scene.
At the beginning of summer, Life Saving Victoria warned of a "perfect storm" for drownings across the state after a year in which Victorians – particularly in Melbourne – were not able to travel far from their homes to swim, let alone access a public swimming pool.
Life Saving Victoria's Kane Treloar said Victorian beaches had been incredibly busy this year and it was difficult to convince people to swim between the flags.
"People frequently find themselves in trouble 500 metres away from a flagged area," he said.
Most Viewed in National
Source: Read Full Article