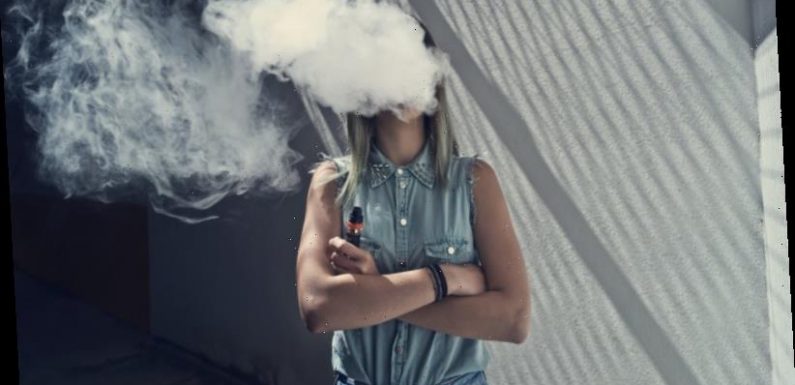 Seventeen-year-old Peta was introduced to e-cigarettes by her older brother over summer and now vapes most days.
"Most of my friends vape," said Peta, who declined to use her last name. "People my age feel as though it won't affect them because it's not tobacco.
Vaping is becoming more common among young people, Health Department figures show.Credit:Getty
"It's become an issue at my school that the younger year levels are hanging out in the bathrooms vaping together."
Peta, a year 12 student from Melbourne's south, says vaping gives her the same rush as a cigarette but with no foul aftertaste.
Teenagers are selling vape pipes to other high schoolers through Instagram and TikTok, offering to meet to drop them off in the inner northern and eastern suburbs. Credit:TikTok
Black-market sellers use social media platforms TikTok and Instagram to sell teenagers e-cigarettes, which are often sold in fruit and confectionery flavours that appeal to young people.
Vaping is a problem for teenagers and schools, says Quit Victoria director Dr Sarah White, and as a result her organisation is developing an anti-vaping resource for schools and parents.
Health Department figures show e-cigarette use by young Australians increased 96 per cent between 2015 and 2019.
"We are getting reports that kids are vaping in schools, in bathrooms," Dr White said. "It's appearing to be more of a problem in private schools … but we do know it's in state schools."
E-cigarette products are regulated in the same manner as tobacco products in Victoria. They cannot be bought by people under the age of 18. They cannot be displayed or advertised, or consumed in settings where children are likely to be present, including all educational facilities.
Adults can import nicotine-containing cigarettes with a prescription, and buy e-cigarettes which do not contain nicotine in retail stores as long as the manufacturers do not make "therapeutic" claims.
Dr White said NSW testing showed e-cigarettes were regularly labelled non-nicotine when in fact they contained nicotine, leaving teens vulnerable to addiction.
"Nicotine is very addictive, particularly for adolescents. They get that dopamine rush that they don't get from much else," she said.
"Adolescent brains are exquisitely sensitive to that, and they [manufacturers and sellers] get a lifelong or close to lifelong customer if they can get someone dependent when they they are in their teens.
"This is a new market and that's why they're being pushed so hard by channels like TikTok, and video games and streaming services that young people are more likely to be using."
Quit Victoria director Dr Sarah White says vaping is a problem in schools and puts teens at risk of nicotine addiction. Credit:Jason South
Eighteen-year-old Ben, who declined to use his last name, sells vape pens on social media for between $15 and $20.
"Ninety per cent of texts I get for product are aged between 15 and 17; you can see from their profiles and bios," he said.
"One post on Instagram and the business took off. There's no regulation, there's nothing."
A spokeswoman for TikTok said the platform was committed to the safety and wellbeing of their users, and accounts that appeared to promote vaping would be removed.
"We strictly prohibit content that depicts or promotes the possession or consumption of tobacco and drugs by minors," she said.
A spokesman for Instagram's parent company Facebook said the sale of tobacco products between private individuals is not allowed on Instagram, including e-cigarettes and vaping products.
"We also do not allow accounts to advertise the use or sale of these products. When we detect content that violates these policies, we will remove the posts and can disable the entire account," he said.
However, The Sunday Age has seen a number of live profiles on both platforms offering vaping products with drop-off available around "Camberwell, Glenferrie" and Melbourne's inner-northern suburbs.
A Victorian Health Department spokesman said the sale, advertising and use of e-cigarettes was strictly regulated in Victoria and across Australia.
But Dr White said vaping was on the rise due to an enforcement gap. "We definitely need to close down the online options but there needs to be enforcement of retail stores, too," she said.
Nicotine vaping pens and fluid shot Credit:Cole Bennetts
Year 12 student Peta and her older brother buy vaping products from a tobacconist in Melbourne's south-east.
"I've never bought them online via a social media platform, but I have purchased a pack of disposable from a website," she said.
"I know a few of my friends from school in particular have suppliers [on social media] that they'll message to go get them to go buy vapes for them."
While the Victorian government funds local councils to carry out tobacco enforcement, Dr White said local councils didn't have a register of which businesses sold e-cigarettes and were therefore unable to check if vaping products were being displayed or sold according to laws.
Start your day informed
Our Morning Edition newsletter is a curated guide to the most important and interesting stories, analysis and insights. Sign up to The Sydney Morning Herald's newsletter here, The Age's here, Brisbane Times' here, and WAtoday's here.
Most Viewed in National
From our partners
Source: Read Full Article