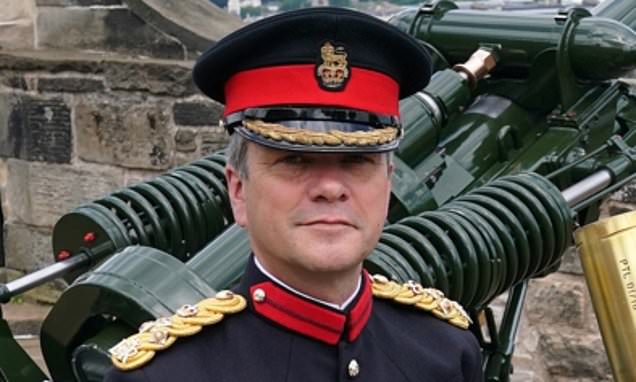 Top army officer is suspended amid inquiry into allegations of bullying and 'toxic leadership'
Brigadier Ben Wrench, who leads thousands of troops, denies the allegations
Read more: Senior officer says British Army no longer able to fight war on its own
One of the Army's most senior officers has been suspended pending an inquiry into claims he made his staff burst into tears.
Defence chiefs acted after a significant number of claims of belittling and bullying behaviour were raised against Brigadier Ben Wrench.
Brigadier Wrench, who leads thousands of troops as the commander of 51 Brigade, denies the allegations.
Sources suggested his reprimands caused civil servants to cry.
Soldiers also complained, including a junior non-commissioned officer, who allegedly requested a transfer because of the officer's 'toxic leadership'.
Brigadier Ben Wrench has been suspended pending an inquiry into claims he made his staff burst into tears
Wrench's brigade, which includes historic fighting regiments such as the Black Watch (rebadged as 3 Scots) is based in Stirling, Scotland.
The brigadier is the British Army's most senior regular serving officer north of the border, having been appointed commanding officer of 51 Brigade in May 2021. Formed in 2014, 51 Brigade comprises regular and reserve units based in Scotland, Northern Ireland and northern England.
READ MORE: British army veteran was killed when ISIS bomb exploded as he tried to defuse it, inquest hears
According to the Army's website, its responsibilities include 'preparing units for operations' and 'providing regional support for resilience and community engagement' – as well as defence engagement in the Arabian Gulf.
The outcome of the investigation will determine whether Wrench returns to his post or faces disciplinary action. He could face a court martial hearing.
Last night, the Army said: 'We do not comment on individual cases. Soldiers at all levels of the British Army are held to the highest standards. If any individual fails to meet these standards, we will take appropriate action.' Brigadier Wrench's suspension follows the removal of three brigadiers from their posts in October 2021.
They were dropped over a host of misconduct allegations, including bullying.
One senior officer was said to have thrown a chair at a colleague. A second was relieved of his responsibilities over bullying claims while a third was removed over suspected fraudulent activity relating to boarding school allowances for his children's education.
The removal of the trio of brigadiers prompted Defence Secretary Ben Wallace to summon Army commanders for a dressing down over the lapse in disciplinary standards.
An Army source said at the time: 'To reach brigadier you've got to be an officer for a long time, sometimes 20 years.
'So these guys should be experienced enough and senior enough to know what is and what is not acceptable behaviour.
'How they treat other officers and how they treat junior soldiers and civilians in their organisation sets a poor example for every- one else, who are not in such fortunate positions.'
Source: Read Full Article