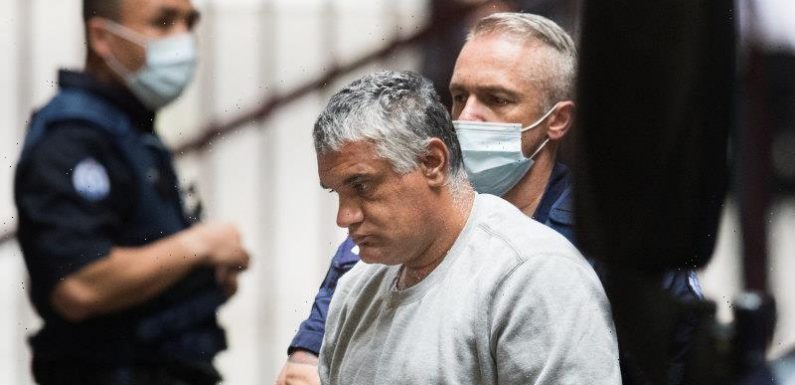 The truck driver who killed four police officers in a road crash on Melbourne's Eastern Freeway has appealed for a reduction of his 22-year jail sentence.
Mohinder Singh was fatigued and drug-affected on April 22, 2020, when his 20-tonne prime mover veered into the emergency lane and crashed into the officers and their stationary vehicles.
Mohinder Singh outside the Supreme Court in April 2021.Credit:Jason South
Leading Senior Constable Lynette Taylor, Senior Constable Kevin King and constables Glen Humphris and Josh Prestney, who had pulled over Richard Pusey's Porsche for speeding, were killed when Singh's truck ploughed into them at between 62km/h and 80km/h at 5.36pm.
Singh pleaded guilty to four counts of culpable driving causing death, three of drug trafficking and other charges, and was ordered to serve 18½ years before he is eligible for parole. Supreme Court Justice Paul Coghlan's sentence was one of the lengthiest imposed in Victoria for a road tragedy.
Singh, now 49, appeared via a video link from prison at the Court of Appeal on Monday, as his barrister argued his sentence was manifestly excessive and should be reduced. Relatives of the police officers were seated in court.
Barrister Peter Morrissey, SC, for the former truckie, argued Coghlan failed to give sufficient weight to Singh's plea of guilty, failed to consider his psychological conditions and vulnerability, and imposed a non-parole period that was overly long.
Senior Constable Kevin King (left), Constable Josh Prestney, Leading Senior Constable Lynette Taylor and Constable Glen Humphris were killed on the Eastern Freeway.Credit:Victoria Police
"It's a very heavy sentence," Morrissey told the court.
Prosecutors are expected to argue in response that the sentencing judge acknowledged the plea, but found that it was Singh's decision alone to use drugs in the days before the crash, and that he would have known he was fatigued.
Singh was an ice user. Police believe he rested only five of the 72 hours before the crash and spent much of those three days dealing and using drugs with associates when not driving.
Pusey was urinating at the side of the freeway when Singh's truck hit the officers and their vehicles.
He was later jailed for speeding and filming the dying officers with his mobile phone.
Singh's appeal hearing continues.
The Morning Edition newsletter is our guide to the day's most important and interesting stories, analysis and insights. Sign up here.
Most Viewed in National
From our partners
Source: Read Full Article