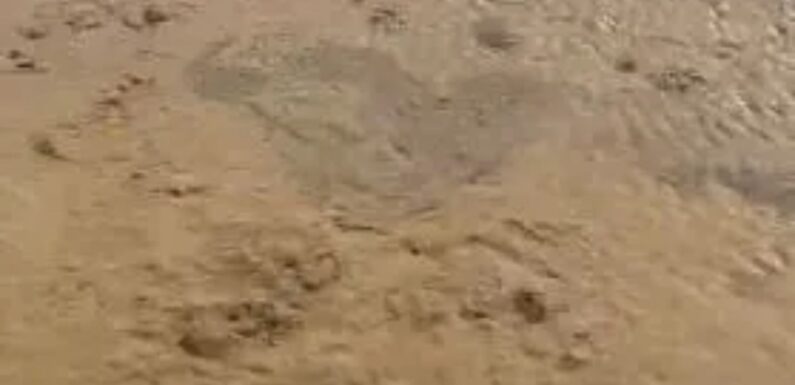 BEACH lovers have been given an urgent warning to be aware of "bubbling sand" in the UK as it could be deadly.
Visitors to the beach at the Welsh seaside town of Porthcawl have reported seeing strange looking bubbles coming from a pool in the sand.
The bubbles could seen in a shallow pool just a short distance from the tide at Rest Bay, according to a Wales Online report.
The pool, which was said to contain very cold water even though it was a gloriously sunny day, could be seen to have soft sand covering the bottom.
People, particularly kids, are advised to stay well away from any areas of beach which look like this due to fears it could be quicksand.
Quicksand, also known as sinking sand, usually consists of sand that has become waterlogged.
Read More on Beaches
Urgent dog warning as pet nearly dies during beach walk after horror encounter
We helped save ANOTHER swimmer at Bournemouth beach on day of double-drowning
The sand becomes so saturated with water that it reduces the friction between the particles, meaning that it cannot hold as much weight from above.
Contrary to myth quicksand does not suck people downwards but movement can cause a person to sink further.
It's thought that quicksand is usually caused by an underground spring.
A couple encountered a similar sight last year in Saundersfoot, Pembrokeshire.
Most read in The Sun
British Soap Awards winners revealed as Corrie wins 6 gongs but misses big one
Tributes paid to girl, 12, killed at Bournemouth beach while swimming
Moment Phillip Schofield comforts his mum after This Morning sacking news
Emotional way Holly Willoughby will address Phil Schofield scandal revealed
The woman who spotted it said at the time: "The sand was like sinking sand. I had wellies on and my whole welly went down and could have kept going further if I didn't pull it out.
"It was quite scary because the tide was coming in. It could be dangerous if someone got stuck."
Previously, boss on Channel 4's A Place in the Sun was left screaming for help after sinking down to their chest in a horror quicksand accident.
Presenter Scarlette Douglas was filming in Sicily on a seaweed covered beach with a producer called Chris when he got into difficulty.
Thankfully Chris escaped unscathed from the surprising incident.
Just a couple of days ago a boy nearly died after almost being buried alive on a packed beach.
The teen was within moments of a horrific death after getting trapped in a sand hole on Exmouth beach, Devon, as the tide came in.
Source: Read Full Article