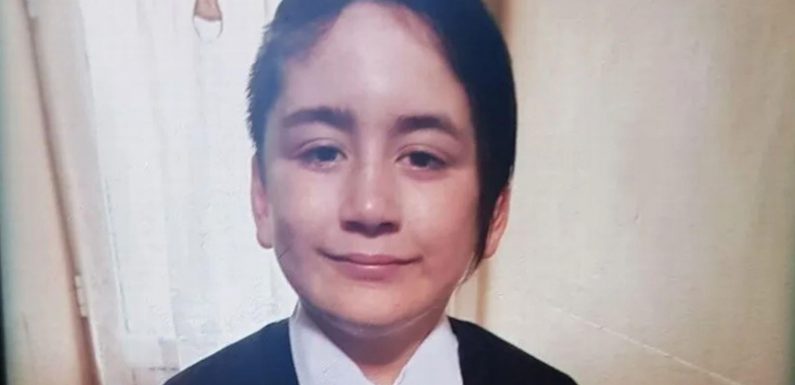 POLICE are urgently searching for a 12-year-old boy who vanished from his home last night.
Alfie was last seen in Llanelli, Carmarthenshire, at around 6.15pm on January 31.
He is described as 5ft tall with long dark hair.
Cops said he might be wearing burgundy/red trousers or jeans with a white T-shirt and black shoes.
Dyfed-Powys Police has urged neighbours in the Havelock Park area to check their garages and sheds for any sign of the youngster, as well as CCTV, Ring doorbells and dashcam footage.
A spokesperson for the force said: "We are searching for 12-year-old Alfie, who has been reported as missing from his home in Llanelli.
READ MORE UK NEWS
Parents of missing mum fear someone 'got her' as they reveal final conversation
Heartbreaking vid shows girl, 4, play in garden where dog mauled her to death
"The last contact with Alfie was at 6.15pm last night, January 31, 2023.
"We are asking local residents to check their outbuildings, such as garages and sheds, in case Alfie has sought shelter.
"We are also asking the public to check their private CCTV cameras, ring video doorbells, GoPros, dashcam footage or any other source of video imagery that may capture Alfie in and around the Havelock Park, Havelock St, Ropewalk Rd, Trinity Rd and New Dock Rd areas of Llanelli."
Information can be reported quoting reference DP-20230131-391.
Most read in The Sun
Blow to drinkers as chain 'set to sell 1,000 pubs' in bid to pay off huge debt
Dani Dyer reveals identical twins' gender with sweet pic of her baby bump
Tragedy as girl, 4, is mauled to death by dog as horrifying screams heard
Retailer 'to disappear from the high street' within weeks
Source: Read Full Article